Use this page to check out the up-and-coming events, which can be online webinars; small in-person meetings to large scale organised rallies.
If you would like your event added to this section, please contact us.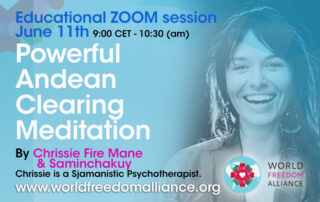 Chrissie Fire Mane & SAMINCHAKUY, Ancient Andean Practice of Clearing Energy. 
Chrissie Fire Mane guides us in a powerful meditation experience taught to her by her Andean family.  This practice centers us, releases heavy feelings and thoughts, and refreshes us with clarity and peace.  Beginning the experience with a short discourse about the difference between our heart + mind and ending with fulfilment.