From the dawn of time, stable societies trade to enrich each other lives and build better relations.  Tyrants know to destabilise a free society, business (especially small, hard to corrupt businesses) needs to be eradicated first, in favour of state/centrally controlled national corporations.  These dispassionate behemoth enterprises, then become tools of the tyranny, along with central bank driven economics and finance policies.
If you would like your videos, organisation, website or media channel to be featured here please contact us.
Achieve Financial Freedom & Money Management
Wheelbarrow Profits: Today, Jake and Gino talk about how to achieve financial freedom and money management with G. Edward Griffin on this personal finance podcast interview.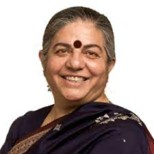 Dr Vandana Shiva is an Indian scientist and passionate activist in a chemical free, bio-diverse, organic farming and food production methods for the betterment of farmers and local communities.  A true humanitarian, Dr Shiva works tirelessly to counter the genetic engineering and unethical narrative from the big globalist agricultural corporations, who with governments promote profiteering policies that are detrimental to farmers and us all.
There is now a telegram group linking vax free carers with people who need personal care
Freethinking Businesses & Customers Directory