The national health regulator has been plagued by reports of widespread bullying, harassment and under-resourcing, creating fears the public is at risk of harm if staff are unable to properly investigate rogue surgeons and doctors.
The Australian Health Practitioner Regulation Agency (AHPRA) hired four external consultants in 2019 after staff raised concerns about a toxic culture causing high turnover within teams responsible for investigating medical misconduct around the country.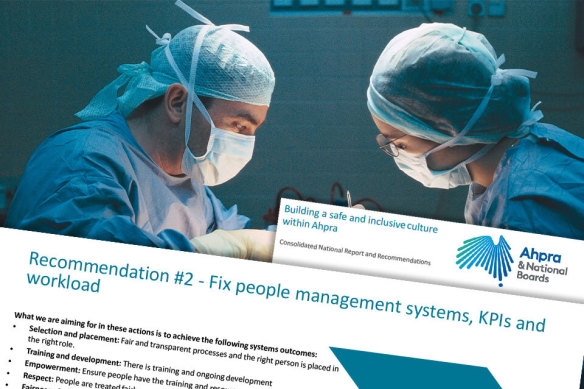 According to a leaked internal presentation circulated in 2020, obtained by The Age and The Sydney Morning Herald, consultants held focus groups with 317 staff across Tasmania, Darwin, Canberra and Sydney offices and held 302 online surveys and 61 individual interviews.
These efforts identified four "thematic findings" about AHPRA's workplace culture, including widespread "inappropriate, uncivil behaviours" between leaders, staff and medical boards that "may increase the risk of psychological safety" of employees.
Another problem identified was workload strain, caused by "inadequate resourcing, poor processes, poor induction, high turnover" as well as "inappropriate KPIs leading to stress and strain" among teams and "helping to perpetuate uncivil behaviours".
The review found "hierarchy issues" within AHPRA, with a corporate culture defined by "command and control styles of leadership" and "too much top down communication and a lack of bottom up 'voice'," which created "siloed working" and "us vs them subcultures" throughout the organisation.
"A multitude of cultures with shared hallmarks of distrust, disconnection and disengagement," was identified, according to the internal presentation.
The Age and the Herald published a number of medical investigations last year, including widespread malpractice in cosmetic surgery, Medicare fraud and concerns about practices of celebrity surgeons Charlie Teo and Munjed Al Muderis around profit-motives and substandard post-operative care.
During each investigation – patients, medical staff and whistleblowers raised concerns about the inadequacy of the regulators to hold the industry to account.
The consultants engaged by AHPRA made wide-ranging recommendations to address the problems within the national body responsible for registering and regulating Australia's health industry, including setting achievable goals, increasing training and improving communication between staff.
However, this masthead has interviewed more than 30 current and former AHPRA staff, most of whom could not be named because of employment obligations, who said little had changed in the years since these recommendations were made.
Across multiple interviews, staff painted a picture within AHPRA where workloads are unmanageable, women are mistreated, badmouthing colleagues occurs in the open and staff are put on stress leave, creating a "super toxic" and "stressful" workplace.
"It's very high pressure, bullying is very, very rife, stress levels of people are very, very high, which is why there is very, very high turnover. Morale in general is very low," said one staff member who worked at the regulator for almost a decade.
The poor culture impacted the quality of work, AHPRA investigators say, creating fears high-risk complaints are slipping through the cracks. Staff reported feeling as though they are unable to voice concerns internally and had no avenue to challenge board decisions they did not agree with. "Lives of people are at stake because of the work we're doing," said another staff member.
AHPRA is broadly divided into two divisions – notifications, where patient complaints are investigated and disciplinary action is recommended to the relevant medical board, and registration, where health practitioners self-disclose changes to their practice when renewing their annual registration.
Investigators working in the notifications team described the highest level of burnout, alleging senior managers pressure staff into working quickly within ever-changing standards for how to assess complaints.
All stakeholders in the investigation process – including patients, health practitioners and AHPRA staff – agreed it takes too long to process these complaints.
But efforts at making the process more efficient or effective have backfired, staff say, which has caused a backlog of complaints to build up. In late 2020 and early 2021, AHPRA quietly launched an internal project known as "Operation Reset" designed to tackle the backlog – with key performance indicators (KPIs) used as a key tool to encourage investigators to work efficiently.
While some staff said the KPIs were manageable, others said that over time, these targets were weaponised to target staff with performance reviews and pressure to "clear" cases caused important regulatory work to be rushed.
"There were serious high-risk matters that should have been caught and they weren't," said one investigator. "That's very dangerous."
In one internal submission made to AHPRA during the internal review process, also obtained by this masthead, a staff member calculated the workload was so high that investigators spent less than one hour working on each case per week.
"This appears to be enough for low-risk matters, however appears insufficient for high-risk and cluster matters [multiple complaints about one practitioner]," the submission stated.
AHPRA declined an interview for this story. However, in a statement, a spokesman said the number and complexity of cases had increased over the past year, which had "placed pressure on notification timeframes".
"Like many organisations, AHPRA also dealt with COVID-19-related resource challenges which had an impact on our performance," the spokesman said.
The spokesman said resources were quickly diverted during the pandemic to establish a separate taskforce to manage the additional workload. He said KPIs were regularly reviewed to determine the best way to reward or review team and staff performance, and pointed to internal policies around bullying.
Source – https://www.smh.com.au/national/hallmarks-of-distrust-ahpra-staff-fear-public-at-risk-due-to-super-toxic-culture-20230117-p5cd1q.html