Appearing with Stella will be Jennifer Robinson, Australian Human Rights Lawyer and Barrister
---
Stella Assange grew up in Botswana, Lesotho, Sweden and Spain. She moved to the UK to study politics and law at SOAS and Oxford University (LMH). Stella worked in East Timor and Botswana before joining Julian Assange's international legal team in London in 2011.
Stella formed an integral part of Julian Assange's legal team since his years of confinement in the Ecuadorian embassy, where her fluency in Spanish and Swedish proved valuable.
She changed her name to Stella Moris in 2012 out of concern for the safety of her family. She and Julian have two children together, born in 2017 and 2019. They got married in March 2022 in Belmarsh high-security prison in south-east London.
Stella has published pieces about Julian Assange's case in The Guardian, El Pais, The Independent, and the Daily Mail. She has also featured on BBC Hard Talk, BBC Woman's Hour, The Sunday Times Magazine, The Guardian Saturday paper and most recently in The Times Weekend Magazine.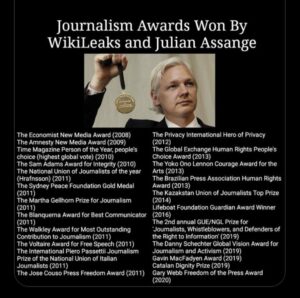 On October 10, 2022, Stella joined thousands of others in a human chain around the Parliament of the United Kingdom, advocating for Assange's freedom and an end to any extradition attempts.  The film Ithaka chronicling Stella's fight to free her husband alongside Julian Assange's father and brother, John and Gabriel Shipton, aired on ABC last year. Their campaign to free her husband has turned Julian Assange's case into a global cause for freedom of press advocates the world over.
Source – https://www.npc.org.au/speaker/2023/1180-stella-assange