Six police officers used two sets of handcuffs on a distressed and frail 81-year-old woman with dementia after she took a lanyard from a staff member at her Sydney nursing home.
Body-worn camera footage shows Rachel Grahame, who has advanced dementia and weighs just 45kg, howling in distress as a team of police surround and handcuff her late at night at St Basil's aged care home in Randwick on 31 October 2020.
At various points, a confused Grahame asks police why they are handcuffing her, tells one he is a "big brute", and screams in discomfort at the tightness of the restraints.
The incident prompted Grahame's family to sue NSW police in the state's district court, accusing officers of assault, battery and false imprisonment. Police settled and paid compensation for their treatment of Grahame in November 2021.
Rachel's daughter, Emma Grahame, is now speaking publicly for the first time, outraged at revelations that police used a Taser on 95-year-old dementia sufferer Clare Nowland in Cooma this week.
"It just showed me that the police have learned nothing from the actions that we took against them," Grahame told the Guardian.
"This is one of the reasons I am happy to go public now, to point out that this is not the first time that this has happened. It might bring other people out as well," she said.
Police were called to St Basil's on the night of Halloween 2020, after Rachel Grahame took some papers and an electronic tablet from a nursing station, documents show.
One of the nurses snatched the items back and Grahame grabbed the nurse's clothes in response. When police arrived, Grahame still had the nurse's badge, lanyard and ID card.
The six officers physically restrained Grahame by holding her arms and legs, video shows.
They then handcuffed her using two sets of handcuffs. Grahame, who was in distress, howled and cried out: "Ow! Help!"
Police continued to restrain her with the handcuffs and held her arms and legs as they attempted to retrieve the items.
One pair of handcuffs was removed because it was too tight. Another set, which police told her was looser, was left on Grahame for more than 20 minutes.
When paramedics arrived, they told police that Grahame needed to be taken to hospital.
Emma Grahame obtained the video and police notes of the incident using the state's freedom of information regime.
The notes say that police were told by the facility's staff that Rachel Grahame was "aggressive" and had snatched the security pass from a nurse, before being "forcefully sat in a chair by multiple nurses".
Police notes say that when they arrived, she "struck out at one officer with her arm, striking the officer on the arm twice".
Police also recorded that Grahame was trying to bite, kick and strike police while they held her arms and legs.
The notes say police were "unable to reason with her" and that she was speaking "incoherently throughout the encounter".
Emma Grahame said her mother received no apology from police.
She received some compensation in November 2021 but the family were frustrated that they could not use the process to compel police to undergo training in dealing with dementia sufferers.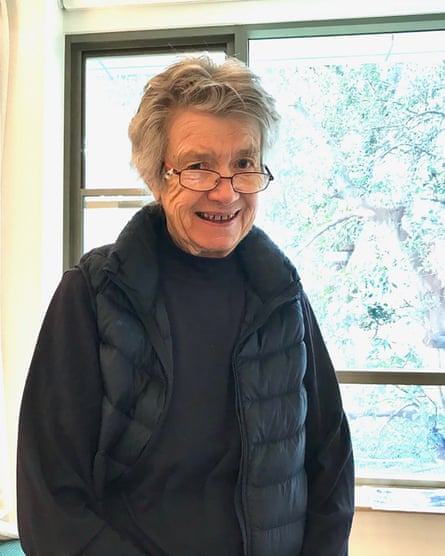 "The point is really, that they shouldn't be there in the first place," she said.
Rachel Grahame spent six weeks in St Vincent's hospital after the ordeal.
Her daughter said her behaviour became so disordered if she saw security guards that she was put on heavy psychoactive drugs.
She says she remains shocked that police were ever called to her mother's dementia unit. She says it should have been immediately clear that it was not an arrest situation.
"Her language difficulties are such that she was incapable of understanding their directions, not out of resistance, but because the language going into her brain is as scrambled as what comes out of her mouth," she said in a statement prepared for the court proceedings. "She can understand tone, however. You can see in the video that she knows how unjustly she is being treated, and her extreme anguish and distress is clear."
The case also prompted a complaint against St Basil's, which resulted in an investigation by the Aged Care Quality and Safety Commission. The commission described the actions of police and staff as "abhorrent" and sanctioned St Basil's.
When asked about the incident, a spokesperson for NSW police said: "This was a civil matter that has been settled. As such, it would be inappropriate to provide comment."
Meanwhile, Nowland on Saturday remained in a critical condition after police used a Taser on her in the early hours of Wednesday morning.
The use of the Taser has prompted widespread condemnation and calls for a broader, independent inquiry into police handling of dementia sufferers.
New South Wales police confirmed on Friday that the homicide squad was investigating the incident and that the senior constable involved, who had 12 years' experience, was under review and no longer working.
On Saturday the police spokesperson said: "As the critical incident investigation is continuing, we aren't able to provide further information at this time."
Source – https://www.theguardian.com/australia-news/2023/may/21/nsw-police-footage-shows-officers-used-two-sets-of-handcuffs-on-81-year-old-woman-with-dementia