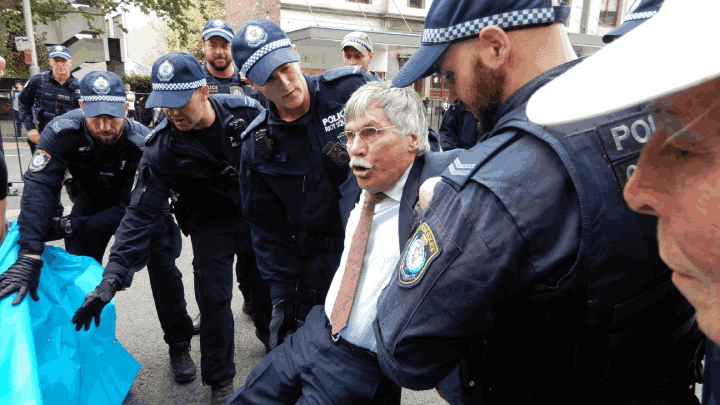 The Perrottet government passed some of the most draconian protest laws on the planet in early April, with the aim of stamping out unauthorised climate protests.
Two years inside and/or a $22,000 fine now apply to nonviolent direct actions that obstruct roads, bridges, tunnels or major facilities.
The chilling effect of these laws has been palpable. Since their passing, the NSW police has been able to take its overreach just that much further. And Labor swept the laws through as swiftly as the Liberal Nationals could put them on the table.
Unsurprisingly, the UK is in the midst of doing the same thing, as the unspoken plan is, rather than attempt to deal with the climate emergency by preventing further fossil fuel expansion, western governments, like ours, have decided to simply lock up those who get in the way of "progress".
Already having passed the House of Commons, the UK's Public Order Bill 2022 is at the committee stage in the House of Lords. And a perusal of the bill reveals that the British are taking their crackdown on climate defenders as extremely as their counterparts over here are.
Yet, there's a further mechanism before British parliament to prevent past protesters from participating in future actions, and whilst we don't have such measures in NSW, the regime the UK is contemplating, mirrors an increasingly favoured system our government has imposed in other areas.
Preventing protest participation
Part 2 of the Public Order Bill provides the serious disruption prevention order (SDPO) regime.
Serious disruption is what UK law terms criminalised protests. These acts must disrupt two or more people or an organisation, and as of this year, noise has been added to the definition of disruption.
An SDPO can be applied to a person over the age of 18, who, over the last five years, has at least twice been convicted of a serious disruption offence, or breached such an order, or even simply participated, encouraged others to partake or contributed to a criminalised demonstration.
Broadly, an SDPO prevents the subject from taking part in future demonstrations.
But more specifically, it requires the subject to present to police when told to or remain somewhere when ordered. There can be stipulations on who they associate with, and they may have to submit to electronic monitoring, including the wearing of an ankle bracelet.
SDPO can be tailored and more specific in their prohibitions. They can pertain to particular events, activities and can bar the subject from conducting certain acts on the internet, like encouraging others to protest. The orders have to apply for a least a week and can continue for up to two years.
Our order regimes runneth over
NSW has no such order regime regarding the act of protesting, but our state does have several similar systems that permit the subject of an order to extra monitoring, which relate to firearms, illicit substances and using digital devices.
Indeed, two of these regimes were only drafted and passed over the last two years.
From the 1 February next year, the dedicated encrypted criminal communication device (DECCD) orders scheme kicks in. It applies to encrypted electronic devices that have been altered in some way and have been used or have the potential to be used in relation to a crime.
The laws include DECCD prohibition orders, which can be applied to a person convicted of a serious criminal offence in the past, and it's deemed is likely to use such a device. These orders allow police officers to stop, search and detain the subject at any time without a warrant or reasonable grounds.
The DECCD prohibition orders can apply for between six months to two years, and they further permit random warrantless searches of the subject's premises and their vehicles.
In 2020, a similar regime was passed, which involves drug supply prohibition orders (DSPO). These can be placed on an individual over the age of 18, who has been convicted of a serious drug crime within the last 10 years.
The warrantless searching of the DSPO subject's person, premises and vehicles can be conducted at any time without a warrant. And these orders must apply for at least six months, with their maximum application being two years.
The DSPO regime was modelled on firearm prohibition orders (FPO). This earliest such regime can apply to those who have been convicted of a serious firearm crime in the past. However from its establishment in 1973 through to 2013, officers had to have a warrant to search the subject.
But in 2013, the requirement of a warrant was removed. And the NSW Ombudsman found that during the first ten months in operation without the need for a warrant, 642 searches were carried out, with no guns found, which compared to 62 orders granted over the scheme's initial 40 years.
So, suffice to say that Dominic Perrottet's ears pricked up when he heard about the anti-protest orders his conservative counterparts have got cooking in the UK.
Source – https://www.sydneycriminallawyers.com.au/blog/uks-anti-protest-prevention-orders-a-sign-of-things-to-come-for-nsw/