Using artificial intelligence to understand how our community use the area along the Blue Mile might sound like something from a science fiction novel.
But it's real life – thanks to a smart video trial conducted by Telstra, in collaboration with Council, along the popular exercising strip.
The trial will use cameras as smart sensors, Artificial Intelligence and "edge computing" devices to survey how pedestrians and cyclists share the space at the tramway cutting on the Blue Mile.
Wollongong City Lord Mayor Councillor Gordon Bradbery AM said it was an important project as the data, which is collected anonymously, will help Council understand how pedestrians and cyclists interact.
"We plan to use this sensor technology to collect meaningful data that can be used to better plan our paths and recreation areas for the future," Cr Bradbery said.
"Council values our community's right to privacy. That's why the data collected will be anonymous and specifically restricted to the purposes on this project."
Wollongong local resident and spokesperson for Telstra, Dr Iain Russell, is thrilled to be supporting council's innovative technology trial.
"Telstra recognises the importance that disruptive technology plays in society. Showing how computer vision and artificial intelligence can bring richer and deeper data insights to a local community problem in a safe and ethical way will be a big factor for our joint success," Dr Russell said.
"By combining a range of technologies this trial will showcase how collaboration between leading global tech providers, and Council can resolve local problems."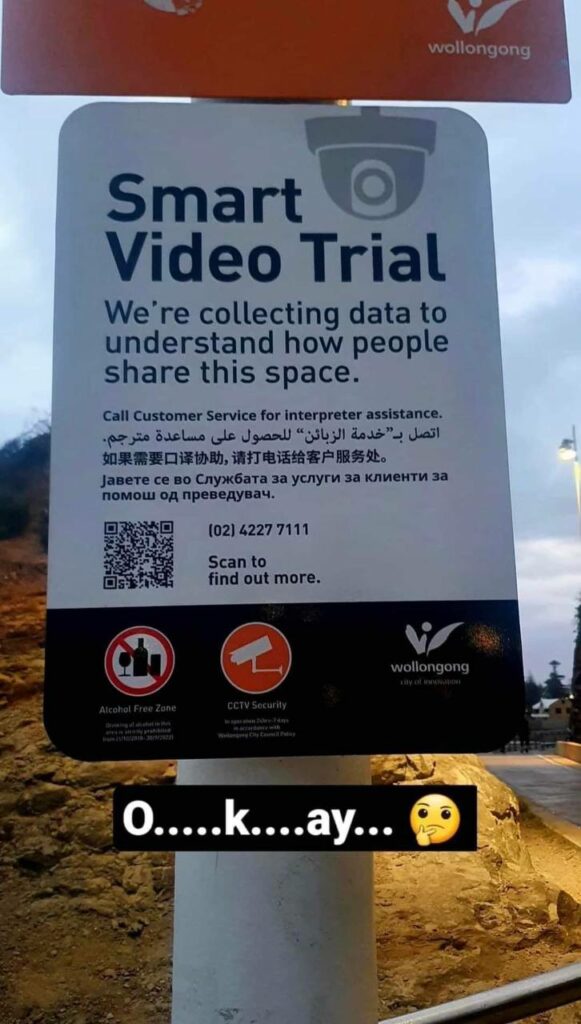 It's not the first time Council has experimented with smart technology. In July, we began a six-month trial of new bin sensors in bins along the Blue Mile to automatically detect the capacity of the bin and alert cleaning crews.
Read more in our media release: 'New smart bin trial for Blue Mile'.
Council's focus isn't just along the Blue Mile link. At the same time, we'll be installing fixed pedestrian and cycling counters at three locations across the Wollongong region, as well as undertaking traditional surveys to monitor how people are walking and riding around the city.
The three fixed counters will be used to collect annual pedestrian and cycling data at the Slacky Creek Bridge in Bulli, Fairy Creek bridge near Puckeys Estate and within the Blue Mile. This data will allow Council to observe how behaviour changes across the seasons and allow greater flexibility in future surveys.
"We're hoping to get a clearer picture of how pedestrians and cyclists share the space at all these different locations," Cr Bradbery said.
"We're investing significantly in shared pathway infrastructure across the city and by undertaking these studies we're able to have data that'll provide useful comparisons now and into the future.
"We recognise that the Blue Mile is an area of concern for some community members especially seeing as COVID-19 has increased the numbers of people using the coastline for exercise and recreation. The aim of this project is to provide Council with greater insights into how we can better manage the area moving forward by giving an accurate picture of how this space is being used on a day-to-day basis. We'll also use traditional counters along the Blue Mile, and we'll be able to determine how effective the new smart video trial is at recording accurate data.
"This is just the next step on our journey for Wollongong to become a Smart City and one that finds new and innovative ways to use technology to our community's advantage. In the future, we hope to explore how we can use similar technology on other Council projects so that we can deliver excellent infrastructure and facilities that can be enjoyed by our community."
Source – https://wollongong.nsw.gov.au/whats-on/news-and-alerts/news/news/2021/september-2021/wollongongs-blue-mile-has-the-smarts-thanks-to-a-new-tech-trial