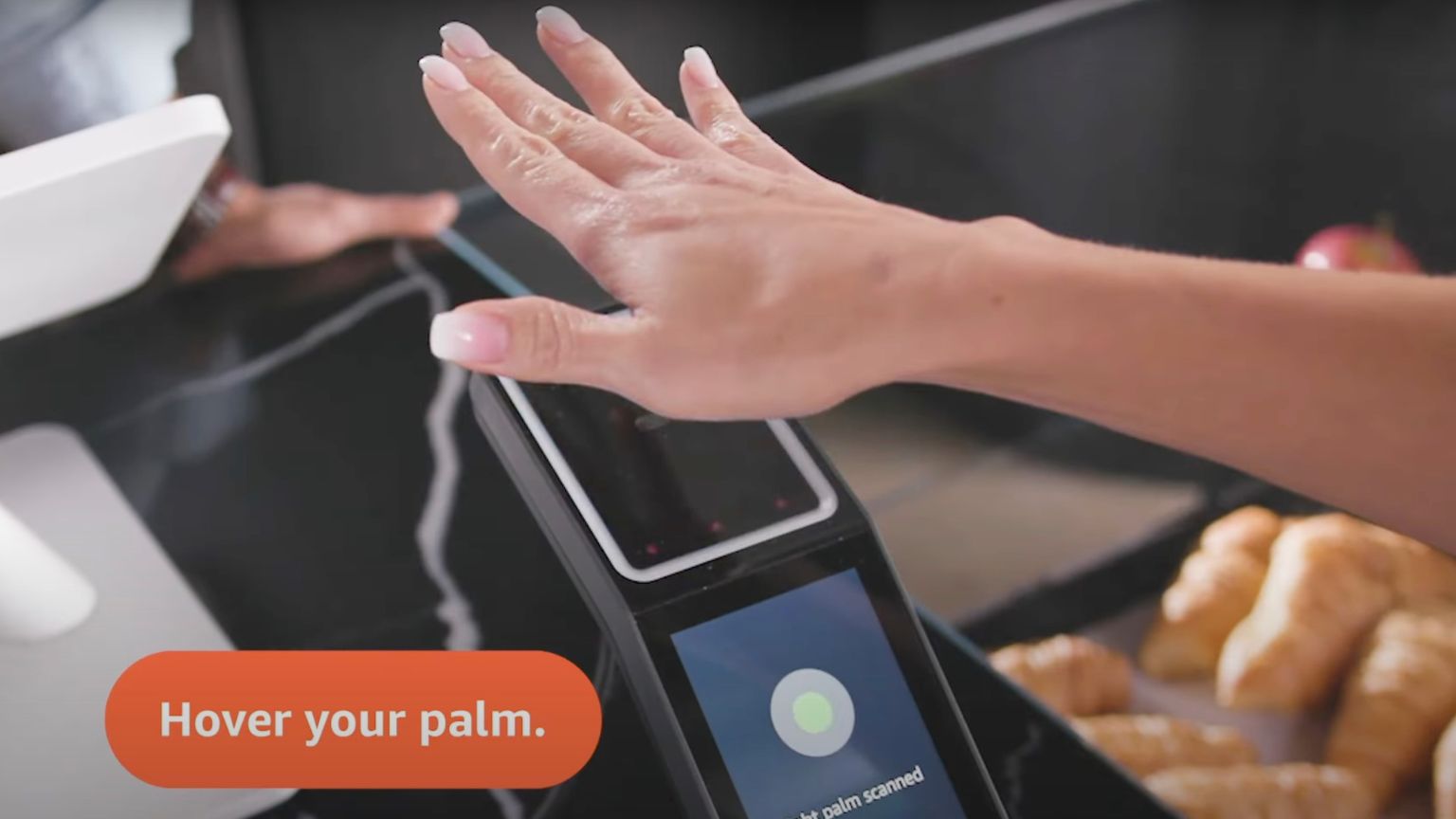 Starbucks is trialing Amazon's biometric payment system, Amazon One, in the Seattle market. The system, which allows customers to pay in-store with the scan of a palm, was spotted in a Starbucks north of the company's Seattle headquarters in Edmonds, Washington.
To sign up to use the system, users can pre-enroll at the Amazon One website or inside Starbucks at the Amazon One kiosk. Since I didn't already have an Amazon One account, I decided to sign up in the coffee shop. The kiosk prompted me to scan the barcode within the Starbucks app on my phone to identify my Starbucks account and recognize my form of payment. From there, it asked me to hover both my left and right palms above the scanner, one after the other. Once each palm was scanned, I was ready to go. It had taken all of about two minutes to sign up.
Since I was already there, I figured I'd try it out. I got in line and asked the barista for an iced tea. When asked for payment, I hovered my palm above the scanner until it recognized it, and that was that.
While Starbucks has trialed Amazon's Just Walk Out technology in the past with Starbucks/Just Walk Out combination concept stores in the New York City market, we were told this is the first time Amazon One has been trialed in an existing Starbucks location.
When I asked a barista if many folks had signed up to use the technology, he shook his head.
"Not yet. Some people were kinda creeped out by it."
And that's before they even read the small print. When I checked out the terms of service (which you can find on the Amazon One website during signup), the small print told me the system would store my palm signature, including on servers that may be outside of my country:
The Service streams data to the cloud when you interact with an Amazon One device and stores your palm signature to authenticate you and provide, personalize, and improve the Service. This information may be stored on servers outside the country in which you live.
While using biometric data doesn't both me that much, I know some do not like the idea. The small print tells Amazon One users they can delete their account whenever they want by deleting their Amazon One ID, which can be done within the app or through this website. The small print also says the system will automatically delete a user's palm signature if they have not interacted with an Amazon One device in two years.
It won't be a surprise if this is a sign that there will soon be an Amazon One palm-pay system at other Starbucks. Both Starbucks and Amazon often trial new technologies in the Seattle market, so there's a good chance they are seeing how this goes before rolling it out to more stores nationwide.
Source – https://thespoon.tech/scoop-starbucks-trialing-amazons-palm-payment-system-at-checkout-in-the-seattle-market/