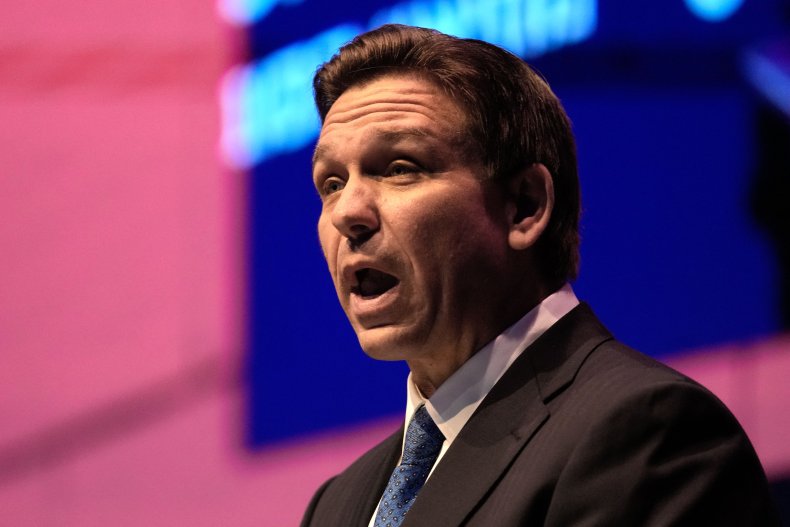 Ron DeSantis is backing a bill that would ban Chinese citizens from owning land or property in Florida.
Critics say it is discriminatory and could violate the Fair Housing Act.
DeSantis has previously said that it is "not in the best interests of Florida to have the Chinese Communist Party owning farmland."
A row has broken out in Florida over proposed legislation that would ban Chinese citizens from owning land or property in the state, unless they are also a U.S. citizen or permanent resident.
The priority bill has the backing of Governor Ron DeSantis, along with Republican and some Democratic legislators, who argue it is needed to ensure national security. However, critics argue it is discriminatory, and could violate the Fair Housing Act of 1968.
Polling indicates DeSantis is Republican voters' second most popular choice to be the party's 2024 presidential nominee, following former President Donald Trump, though he has yet to officially enter the race. Thus any dispute involving DeSantis could have national political implications, either undermining the Florida Republican or strengthening his "anti-woke" credentials.
The legislation, titled "SB 264: Interests of Foreign Countries," was approved by the Florida House this week by 95-17 and will now head back to the Senate, which voted for a previous version unanimously. It also prohibits citizens of Russia, North Korea, Iran, Cuba, Venezuela and Syria from buying land within a mile of a military base or piece of critical infrastructure, though only Chinese nationals face a statewide ban.
There has been growing concern in Congress about the increase in Chinese ownership of U.S. agricultural land, including farmland by an air base in North Dakota which was purchased in 2022. In response, legislation has been introduced at both the national and state level, which would restrict the purchase of farmland by countries deemed hostile to the United States.
However, the proposed bill in Florida has sparked a backlash, with opponents arguing it could violate the 1968 Fair Housing Act. This key piece of civil rights era legislation banned discrimination based on race, national origin, religion or sex in the sale of housing.
On Saturday, dozens of Chinese Americans protested against the bill outside the Florida Capitol, with signs reading "Equality For All" and "No anti-Asian Bill."
Speaking on Wednesday, Democratic state Representative Fentrice Driskell argued the bill appears unconstitutional. She added: "Who is going to enforce this? Realtors? Come on. We are better than this."
However some Democrats support the legislation including state Representative Katherine Waldron, one of its co-sponsors.
She commented: "Do not be intimidated by the vocal and aggressive actors we've seen in the past few weeks, who do not have our country's best interests in mind. The communist threat to our nation is real."
Newsweek has contacted DeSantis by email asking what legal advice his office has received about SB 264, and whether they think there's a danger it could be ruled unconstitutional if passed into law.
He has previously said that the state doesn't want to provide financial holdings to "hostile nations."
"If you look at the Chinese Communist Party, they've been very active throughout the Western Hemisphere in gobbling up land," DeSantis said in a press conference in January. "That is not in the best interests of Florida to have the Chinese Communist Party owning farmland, owning land close to military bases."
DeSantis is also locked in a legal battle with Disney, Florida's largest employer, which alleges the governor violated its First Amendment rights after the company spoke out in opposition to the Parental Rights in Education bill, branded the 'Don't Say Gay' law by critics.
On Wednesday, DeSantis' Tallahassee office was occupied by protesters from the Dream Defenders campaign group, who demanded a meeting with the governor.
Source – https://www.newsweek.com/ron-desantis-bill-against-chinese-citizens-florida-sparks-outrage-1798679