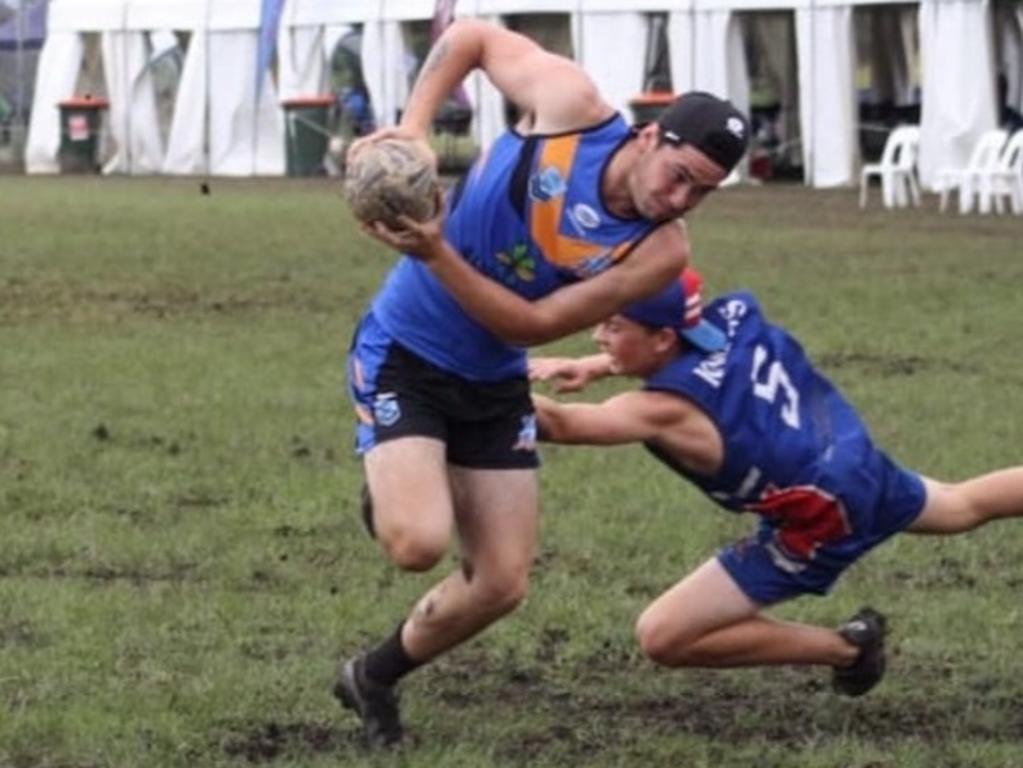 A young NSW tradie left permanently blind after receiving the Covid vaccine has been denied compensation by the federal government, despite two experts agreeing his condition was likely caused by the jab.
Cody Hose-Ross, 21, had his bricklayer apprenticeship and a budding footy career snatched away when he lost total vision in his right eye and partial vision in his left, shortly after receiving two doses of the Moderna vaccine in October and November 2021.
"Maybe four days later I woke up and, you know when your eyes have to adjust when you first wake up? I was finding everything hard to see, I had to wait to get some vision in my eyes," he said.
"I was like, what the hell is going on?"
At first, the Port Stephens man figured he had just gotten an infection or something in his eye and "didn't think anything of it".
"Then I was at work and my boss was like, 'Grab that f**king tool, it's right f**king there!'" he said.
"I was like, 'I honestly can't see it.' He said, 'Are you blind?' That's when it first sort of shook me. I lost my apprenticeship — I was up to my last year as well, would have been fully qualified. Plus I had a contract to go and play footy in Sydney. I was committing to it, then bang, I lost my eyesight."
Two renowned eye surgeons, Professor Peter McCluskey from the Royal Prince Alfred Hospital in Sydney and Dr Peter Davies from Hunter Eye Surgeons in Newcastle, both agreed that Mr Hose-Ross' condition was caused by the Moderna vaccine.
It comes as a new study published this month found a "significantly higher" risk of blindness after Covid vaccination.
Sharee Lake, 45, a family friend and authorised representative, helped Mr Hose-Ross lodge an application with the federal government's Covid-19 Vaccine Claims Scheme last year.
The tier-two claim sought $6.75 million for past and future lost earnings, out-of-pocket expenses, and pain and suffering.
"They've ended this boy's life in a way," Ms Lake said. "He's left with no real future."

'Vaccine-related attack'
In his specialist report provided to Services Australia, Dr Davies said the vaccine was the most likely cause due to the "temporal association with vaccination", noting that "macular neuroretinopathy is very rare until Covid vaccines" and "pathogenesis of localised small vessel occlusion and inflammation now understood from vaccines".
Dr Davies noted in a letter to Mr Hose-Ross' optometrist that he "appears to have had a Covid vaccine-related attack which has damaged the macular photoreceptors".
"His colour photography shows an unusual discolouration in the temporal retina of the right eye which is not seen in the left eye and my interpretation is that it represents area where the vaccine has directly landed in the retinal circulation leading to patchy ischaemia of the outer retinal layers in the deep capillary plexus, which is the most vulnerable and has the slowest blood flow," he wrote.
Prof McCluskey — who first saw Mr Hose-Ross at his RPA clinic in May 2022 at the request of NSW Health Minister Brad Hazzard — conducted months of extensive tests to rule out any other possible cause.
"On the balance of probabilities, in my opinion, it is likely that Cody's retinal problems were triggered by his Covid vaccinations," he wrote, noting that Mr Hose-Ross was a healthy young man with no previous or family history of eye disease.
"There is a strong temporal association between the onset of his ocular disease and his Covid vaccinations. There is nothing to suggest any other diagnosis at this time."
He noted that Mr Hose-Ross was "naturally devastated by this major change in his vision and the effect that it has had on his ability to work and lead an active and enjoyable life".
"The challenge is that we need to help Cody rediscover a new pathway towards leading an active and enjoyable, fulfilling life," he wrote.
'Not claimable conditions'
But in September, Services Australia rejected his claim, finding that compensation was not payable because — among other reasons — the Therapeutic Goods Administration (TGA) does not recognise his adverse reaction for Moderna.
Under the current policy, the only claimable conditions for the Moderna vaccine are myocarditis, pericarditis and anaphylactic reaction.
"I have considered all the available information and have determined that your claim does not meet the requirements of clause 9(1)(b) of the policy which requires the decision maker to be reasonably satisfied that you have suffered harm as you do not have a claimable condition listed in the policy after receiving the Moderna Spikevax vaccine," an unnamed representative wrote in the 18-page letter.
"The documentation provided contains information stating a diagnosis of acute macular neuroretinopathy (AMN), a retinal disorder, which in the opinion of two specialist ophthalmologists, was triggered by the Covid-19 vaccination.
"AMN is a rare retinal disorder, and the exact pathophysiology underlying the disease process is not fully understood, this may include vascular compromise within the deep retinal capillary plexus.
"Ischaemia results in a leakage of capillary contents and retinal haemorrhages. These processes are distinctly different from the diagnosis of capillary leak syndrome and/or thrombosis with thrombocytopenia as listed in the guidance for conditions, per the Covid-19 Vaccine Claims Scheme Policy."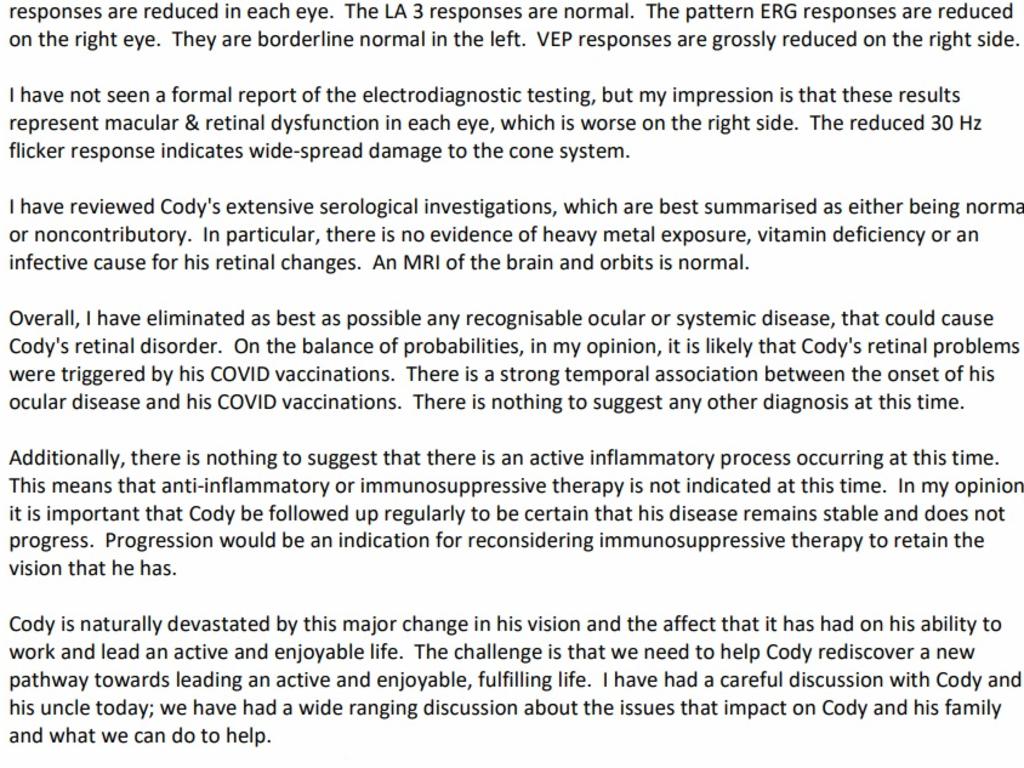 Addressing the two specialists' comments, Services Australia said macular neuroretinopathy was a "clinical condition that currently does not meet the Covid-19 Vaccine Claims Scheme policy requirements".
But Services Australia added that "if the diagnosis had been a claimable injury, based on the evidence provided there is sufficient information to support the opinion that the diagnosed injury is most likely caused by the Covid-19 vaccination".
It also ruled he was not an "eligible claimant" because he did not meet the "hospitalisation requirement", having only been treated as an outpatient.
The rejection letter attached a 16-page opinion from law firm HWL Ebsworth, which identified a number of other "deficiencies" in Mr Hose-Ross' application, saying it "lacks in several areas and does not address a number of the criteria at the level of detail required".
It noted he had not provided evidence of his income as a bricklayer, his football contract, or other detailed records and statements required to satisfy each clause of the policy.
"The claimant has not provided sufficient evidence to support his claim for future lost earnings, particularly at the quantum sought of $6,750,000 plus inflation," the law firm wrote.
But Ms Lake was scathing of the complex and legalistic claims process, saying the government had "set it up to cover their arses".
She wrote to Health Minister Mark Butler and Prime Minister Anthony Albanese about Mr Hose-Ross' case last year, and received a letter back from the Health Department in January.
"If Cody is not satisfied with the decision, Cody or yourself on behalf of Cody, can apply to Services Australia for a review at any time prior to the scheme ending on 17 April 2024," the letter said.
"If the TGA were to determine a clinical condition, such as macular and retinal dysfunction, to be an adverse reaction linked to a specific Covid-19 vaccine, it may be added to the approved Product Information and considered by the department for eligibility under the scheme."
A Services Australia spokesman said while "we can't discuss individual cases, we understand this is an extremely difficult situation for Mr Hose-Ross". "Individual claims are assessed against the criteria listed in the policy," he said.
"The assessment process can be complex, and claims may also be reviewed independently by medical or other appropriately qualified experts."
As of May 7, the scheme has paid 147 claims totalling more than $7.7 million, out of a total of 3552 applications received.
There are 2149 claims still in progress, 447 have been withdrawn and 809 deemed not payable.
Study finds blindness link
Earlier this month, a large study published in Nature found there was a "significantly increased risk of retinal vascular occlusion" after both the Moderna and Pfizer vaccines.
"RVO is related to thromboembolism caused by vessel compression, vasospasm, or degeneration of vascular walls.
"RVO following Covid-19 vaccination is uncommon. However, there is growing literature including case reports on retinal vascular occlusion following vaccination. Intriguingly, some studies on retinal vascular occlusion have been related to mRNA Covid-19 vaccination.
"However, the quality of these data was insufficient to establish a causal relationship between retinal vascular occlusion and Covid-19 vaccination."
The retrospective global cohort study analysed records of more than 7.3 million patients.
For all Covid vaccines, a 2.19-fold increased risk of retinal vascular occlusion was observed.
"Limited evidence and low frequency of the disease has complicated the establishment of a definitive association between both," the authors cautioned.
A Health Department spokeswoman said the TGA was "aware of the article" in Nature.
"However, as stated by the study authors, the quality of these data was insufficient to establish a causal relationship between retinal vascular occlusion and Covid-19 vaccination," she said.
"The conditions of macular neuroretinopathy and retinal vascular occlusion have not been identified by Australian or international regulators as causally linked to either the Comirnaty or Spikevax Covid-19 vaccinations.
"The TGA continues to monitor for new safety signals, including potential ocular disorders arising after Covid-19 vaccination. If a new safety signal is confirmed either in Australia or overseas, the TGA will take prompt regulatory action including updating the Product Information.
"To date, the TGA has initiated over 43 updates to the safety information contained within Covid-19 vaccine Product Information documents."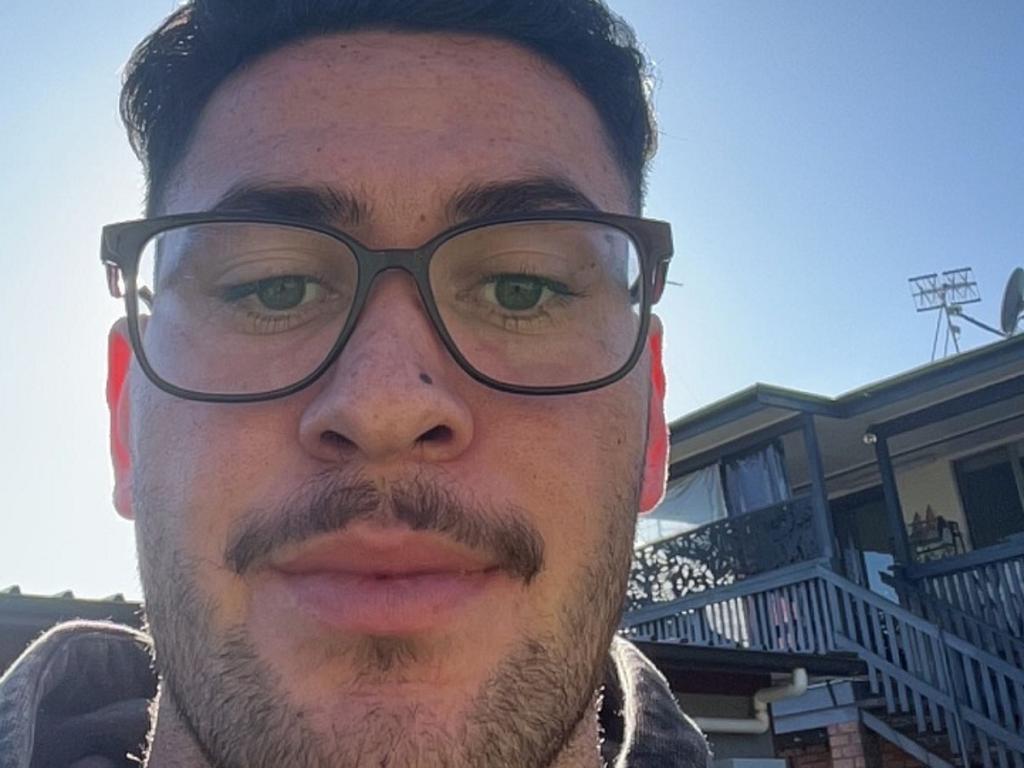 'Life has been on hold'
Now unemployed and sleeping on a friend's couch, Mr Hose-Ross is desperately trying to rebuild his life and find direction as he comes to terms with his disability.
"I try my best to stay active to keep my mental health all sweet, but I have my days," he said.
He said he had initially been through "a really bad mental health stage" but he was learning to "adapt to things".
"I can get around, I've had to train myself the whole time," he said.
"Everyone just expected me to sit around and do nothing but I had to push myself to be normal. It broke me but I honestly had to go through all this to mould me as a person now."
He said he wasn't angry, but "I just don't want anyone going through the same thing I went through".
"I'm over it, honestly over it," he said.
"My whole life has been on hold for the last three years. I've missed so many opportunities, lost so much money, it's crazy.
"The worst part, what p****s me off the most is I don't have any direction or answers, like, 'You can go do this.'
"I've gone to all these places to ask, 'Can I work, can I work?' 'Sorry mate.' I can't go back to work, go back to doing my day-to-day things. It's difficult, it takes me time to adapt to things, it doesn't mean I can't do them.
"I do want to try — I don't want to sit around."
Unable to play sport or work a trade, he is now considering a career in personal training.
"I'm at the point I'm going to have to go do uni stuff, one of these fitness courses," he said.
"It's honestly the only thing I could think of."
Source – https://www.news.com.au/lifestyle/health/health-problems/my-life-is-on-hold-young-tradie-blinded-after-moderna-vaccine-denied-compensation/news-story/ecefe023035617123c78aa4321e8fc9e