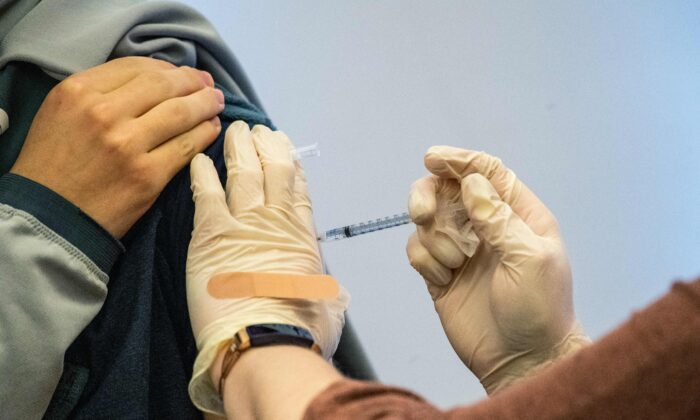 Reports submitted to the U.S. Centers for Disease Control and Prevention (CDC)'s vaccine surveillance system suggest that cases of post-COVID-19 vaccine-linked heart inflammation among young males have risen.
Recent figures published in the CDC's Vaccine Safety Datalink surveillance system show that within a week of getting the two-dose Pfizer-BioNTech vaccine, there were 14 cases of myocarditis or pericarditis among 102,091 males between the ages of 16 and 17. And of the 206,000 12- to 15-year-old males who got the same two-dose vaccine series, there were 31 cases within a week, according to the CDC (pdf).
Those reports were presented to the CDC's Advisory Committee on Immunization Practices on Sept. 1 show that the incident rate for the 12- to 15-year-old group is 150.5 per million—or about 1 in 6,600—and 137.1 per million for the 16- to the 17-year-old group—or about 1 in 7,262.
Following the first booster dose, CDC-presented figures show that it jumps to 188 per million among the 16- to 17-year-old group. But for the 12- to 15-year-old males, 61.3 per million developed heart inflammation after the booster dose, according to the figures.
In August 2021, the figures submitted to the CDC system (pdf) show that of 42.6 myocarditis and pericarditis cases per million and 71.5 per million for 12- to 15-year-old males and 16- to 17-year-old males, respectively. That breaks down to about one in 23,500 for the younger group and around one in 14,000 for the older group.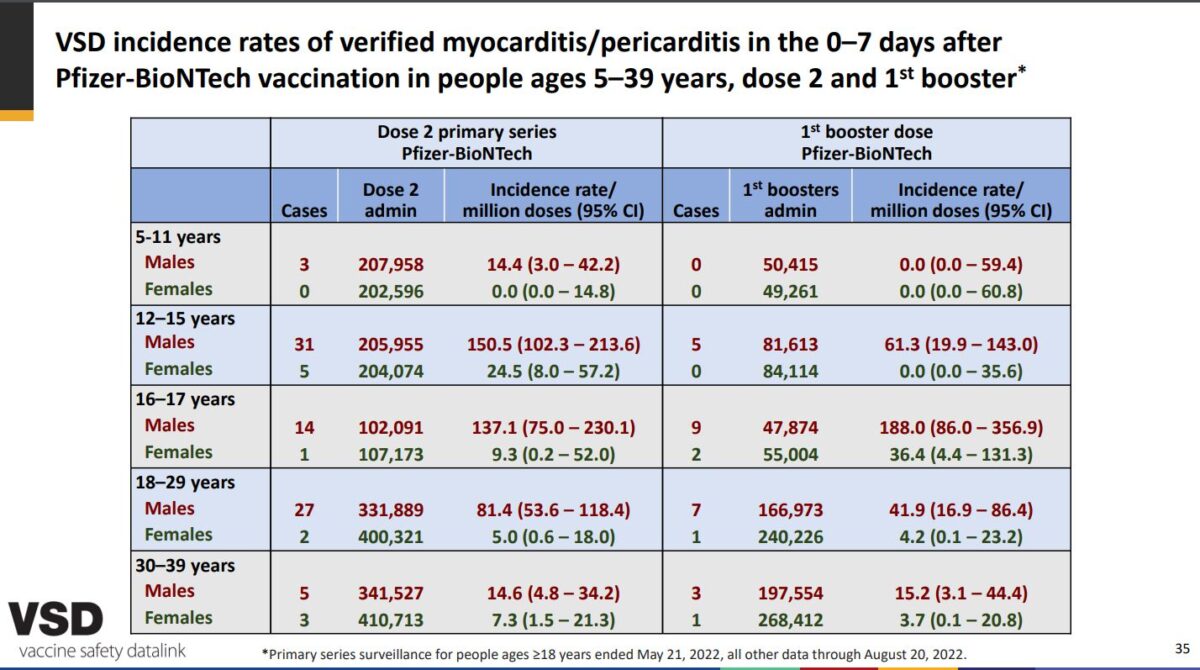 The agency noted that "myocarditis is a rare event following mRNA COVID-19 booster vaccination" and that it has "verified 131 myocarditis case reports to VAERS in people ages [5 years and older] after 123,362,627 million mRNA COVID-19 booster vaccinations."
In analyses of the data, "myocarditis [and] pericarditis incidence following first booster dose and dose 2 of the primary series are similar, though case counts are small and confidence intervals around point estimates are wide," said the CDC.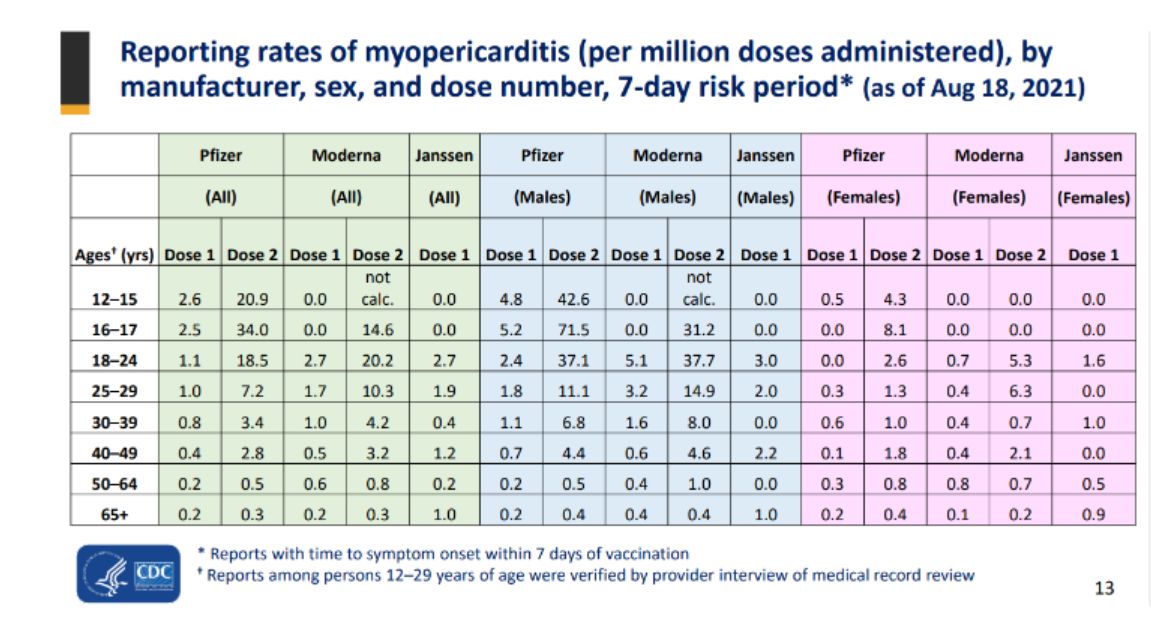 The Vaccine Safety Datalink is described by the agency as "a collaborative project between CDC's Immunization Safety Office and nine health care organizations" and is designed to "monitor [the] safety of vaccines and conduct studies about rare and serious adverse events following immunization."
In May, the CDC said reports of heart inflammation linked to the Pfizer vaccine were much lower in 5- to 11-year-old boys than in adolescents and young males. Among that group, the rate of heart inflammation stood at 2.7 cases per million.
Another Study
After the figures were presented, the Advisory Committee on Immunization Practices recommended updated boosters, which was, in turn, endorsed by CDC Director Rochelle Walensky, the CDC's director.
Walensky said that "updated COVID-19 boosters are formulated to better protect against the most recently circulating COVID-19 variant," adding, "They can help restore protection that has waned since previous vaccination and were designed to provide broader protection against newer variants."
"This recommendation followed a comprehensive scientific evaluation and robust scientific discussion. If you are eligible, there is no bad time to get your COVID-19 booster and I strongly encourage you to receive it," she added on Sept. 1.
A study that was led by Dr. Tracy Hoeg, with the Florida Department of Health, and released in mid-2021 showed figures similar to the ones submitted to the CDC's advisory committee on Sept. 1.
Hoeg said she and others published a preprint study last year showing a rate of 94 instances of myocarditis per million in 16- to 17-year-old males—or 1 in 10,6000—and 162 per one million in 12- to 15-year-old males—or 1 in 6,200—she wrote on Sept. 1.
The CDC "is now finally catching up & reporting similar," Hoeg wrote on Twitter earlier this month.
"If we hadn't been villified as 'anti-vaxxers' spreading 'mis' & 'disinformation,' how would the conversation around minimizing the chance of this adverse event have changed & how many cases of myo/pericarditis in young males would have been prevented over the last year?" she asked.
Source – https://www.theepochtimes.com/cdc-releases-new-data-on-covid-vaccine-linked-heart-inflammation_4723730.html