Experts say the funding may have helped 'legitimize' the Montreal-based charity suspected of supporting efforts to silence critics of China's regime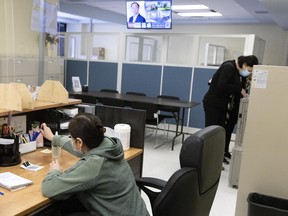 OTTAWA — The federal government gave up to $200,000 in funding since 2020 to a Quebec charity the RCMP suspects may be hosting a secret Chinese "police station."
Experts on Chinese foreign interference fear that funding may have helped pro-Beijing actors expand the Chinese Communist Party's network in Canada, while "legitimizing" the organization police suspect may be supporting efforts to intimidate or silence critics of China's ruling regime.
That organization is Service à la Famille Chinoise du Grand Montréal (SFCGM), a Montreal-based charity that advertises itself as resource for Chinese immigrants to Canada that also promotes initiatives for the community's well-being.
But now the RCMP believes that SFCGM may also be hosting one of two alleged secret Chinese "police stations" in Quebec.
The national police force is investigating the organization as part of a larger probe aiming to "detect and perturb criminal activities supported by a foreign state that can threaten the safety of people living in Canada," according to spokesperson Cpl. Tasha Adams.
Financial records filed by SFCGM to the Canada Revenue Agency because of its charitable status reveal that Ottawa sent a total of $200,000 in public funds to SFCGM between 2020 and 2022 (the last reported fiscal year). Specifically, the charity reported receiving $178,450 from the federal government in 2020-2021 and $21,728 in 2021-2022.
A federal government grants and contributions database lists five contributions from Employment and Social Development Canada (ESDC) to SFCGM going back as far as 2018.
An ESDC spokesperson confirmed the department gave it a $25,000 contribution in 2020 as part of its New Horizons for Seniors program. The project aimed to train seniors in Quebec's Chinese community to use online communication tools "in order to maintain their contact with the community and their families."
The database also shows the SFCGM received funding from the government's Canada Summer Jobs program every year since 2018 (except in 2019) worth $14,822 to $22,989. The program helps organizations employ eligible students during the summer.
According to McGill University professor and pro-democracy group Action Free Hong Kong Montreal spokesperson Benjamin Fung, that's exactly the kind of program a secret Chinese police station would use to build its network and influence.
"If this is really a police station from China, they can use the funds to expand their network and their connections. This is also one way to monitor the many international Chinese students that are here," he said in an interview.
Fung said critics of the Chinese Communist Party have known for years the regime had an "underground" influence network in Canada. He said he was the target of harassment by some Chinese students, including one he had been supervising for two years, after some pro-democracy speeches he gave during the 2019 protests in Hong Kong.
ESDC spokesperson Saskia Rodenburg said the department has no "current" contribution agreements with SFCGM, but would not say if it would consider accepting any future requests from the charity.
She also declined to say if ESDC was investigating the work done by SFCGM.
Conservative MP Kelly McCauley said he was "stunned" that the Liberal government appears to have made no attempts to claw the money back.
Multiple emails to SFCGM and its director, Xixi Li, who is also a municipal councillor in the Montreal-area city of Brossard, went unanswered Wednesday and Thursday. Li also did not respond to a call and voicemail on her cellphone.
In a statement posted on its website on March 14, SFCGM leadership questioned why the RCMP "would publicly name two community centres serving the Chinese communities in Québec, causing serious and potentially irreparable harm to the community." It also called for the respect of the "presumption of innocence."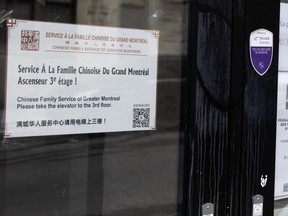 During a press conference in early May, Senator Yuen Pau Woo called on the RCMP to "provide information, clarity, and in the meantime, don't create more problems for the community."
But the links between SFCGM and the Chinese government go back years and the organization likely received funding directly from Beijing, according to a recent report by the Toronto Star.
The newspaper cited Chinese media reports in 2016 that the SFCGM was designated as an Overseas Chinese Service Centre by China's Overseas Chinese Affairs Office (which became part of China's controversial United Front Work Department in 2018). That designation generally comes with funding from the Chinese government.
A 2021 memo by Public Safety Canada on Chinese state harassment on Canadian university campuses stated that Beijing uses the United Front Work Department "to stifle criticism, infiltrate foreign political parties, diaspora communities, universities and multinational corporations."
Dennis Molinaro, an expert on Chinese foreign interference and former national security analyst, said that foreign organizations acting at the behest of Beijing will often seek government funding to make them appear more legitimate.
He said that SFCGM, if it is in fact a covert Chinese police station, is likely only one of many Beijing-funded organizations applying and receiving Canadian government funding.
"Getting funding in Canada legitimizes the group and provides it more of a foothold. It can obviously strengthen it, it can obviously get it closer to fundraising activities and give it more opportunities for influencing people," Molinaro said in an interview.
Over the last three reported fiscal years, SFCGM reported over $4.45 million in government funding, with the bulk of it coming from Quebec's Ministry of Immigration, Francisation and Integration.
In a statement Thursday, spokesperson Arianne Méthot said the department "recently" decided to halt all remaining contracts with SFCGM. The charity was paid to provide French courses as part of the province's immigrant linguistic integration program.
The department also cut nearly $1 million in reoccurring funding to the organization in recent years as the result of an audit launched in 2020-2021 that looked into SFCGM's governance, "sound management" and reporting.
Records filed to the CRA also show SFCGM received $138,628 in donations in 2021-2022 (its most recent reported year) for which it issued a charitable tax receipt, by far the highest amount within the last five years of records on the agency's website.
The Spanish human rights organization Safeguard Defenders, which has identified more than 100 of the alleged police stations in more than 50 countries, has said the stations serve to "persuade" people who Chinese authorities claim are fugitives to return to China to face charges.
Source – https://montrealgazette.com/news/canada/suspected-chinese-police-station-federal-funding