Woolworths is expanding the rollout of its self-checkouts using cameras and artificial intelligence in stores across Australia.
The self-checkouts use camera vision and artificial intelligence to detect when items aren't scanned correctly.
If a product is not scanned a short video is replayed for the customer on the self-checkout and the customer has an opportunity to rescan it.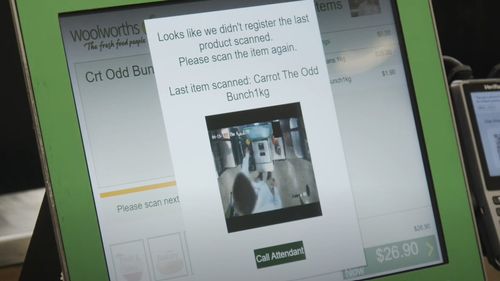 It was first trialled at Woolworths in Seven Hills in NSW a year ago but is now being used at more than 250 stores in three states.
"Following a recent trial phase, we're expanding the rollout of this technology to more stores in NSW, Victoria and Queensland," a Woolworths spokesperson told 9News.com.au.
"It helps reduce mis-scans and is one of a number of initiatives we've rolled out across our checkouts to make shopping more convenient and seamless.
"While most customers do the right thing at our self-serve checkouts, we're all busy and mistakes can easily happen."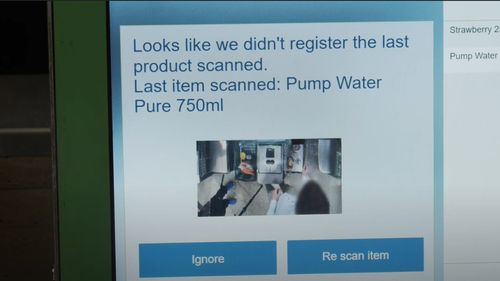 The technology is reportedly not viewed live but if it is viewed back by staff, a customer's face and pin pad is blurred to protect their privacy.
Woolworths said it is also used for training purposes for staff.
The supermarket added it has strict policies in place to protect customer privacy.
Stores using the technology also must have signage at the entrance and front of the supermarket to alert customers.
It comes after calls last year to review the privacy act in lieu of the rise in facial recognition and artificial intelligence technology.
Retail giants Bunnings, Kmart and the Good Guys paused the use of facial recognition technology after consumer advocacy group Choice referred the stores for potential breaches of the act.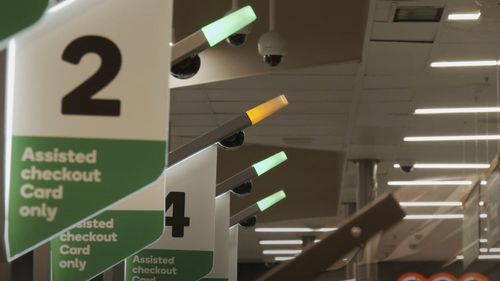 Attorney-general Mark Dreyfus' department released its review of the privacy act last week which found it was not "fit for purpose" and doesn't protect Australian's privacy in the digital age.
"Our current privacy regulations are woefully inadequate, out of date, and not fit for purpose for the technical realities of the modern digital economy," program lead at Digital Rights Watch Samantha Floreani said.
"People deserve meaningful privacy protections and a regulator who can enforce them properly.
"Protecting privacy is an essential component to upholding our democracy, reining in corporate power, and fostering online safety in the digital age."
Source – https://www.9news.com.au/national/woolworths-artificial-intelligence-self-checkouts-expansion-new-south-wales-queensland-victoria/bb5f7b51-73d8-4406-ac3d-f5df4e691fa3