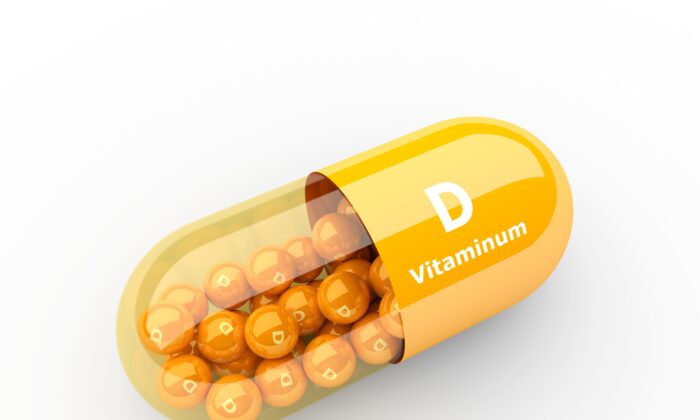 Modern life has taken us away from the sunlight and deprived us of our primary source of vitamin D, a nutrient critical to our health and immune function. (Aleksandra Gigowska/Shutterstock)
Vitamin D supplementation can help prevent COVID-19 without serious adverse events, regardless of the individual's vitamin D status, a study suggests.
The peer-reviewed study, published in the Archives of Medical Research, enrolled 321 frontline health care workers from four hospitals in Mexico City, who all tested negative for COVID-19 at the start of the study.
"The results of our double-blind, placebo-controlled, prospective study demonstrate that vitamin D supplementation is effective in preventing SARS-CoV-2 infection in high risk, frontline healthcare personnel," researchers said in their report.
"To our knowledge, this is the first controlled study evaluating the role of [Vitamin D] supplementation as a prophylactic measure to prevent SARS-Cov-2 infection and therefore has profound clinical and public health implications," the researchers also noted.
In the study, the health care workers were enrolled between July 15 and Dec. 30 in 2020. They were randomly assigned to receive 4,000 international units (IU) of vitamin D, or a placebo each day for 30 days. Real-Time PCR tests were taken at the start of the study, and were repeated if a person showed any COVID-19 symptoms during follow-up appointments.
Researchers also had the study participants undergo serum 25-hydroxyvitamin D3 and antibody tests at the start of the experiment, and again at day 45. The levels of 25-hydroxyvitamin D3 in the blood are generally regarded as a good indication of a person's levels of vitamin D.
A total of 94 people in the vitamin D group and 98 people in the placebo group completed follow-up in the study. Researchers found that the infection rate of COVID-19 in the vitamin D group was lower than in the placebo group, at 6.4 percent compared to 24.5 percent, respectively, with a p-value of less than 0.001. A p-value of less than 0.05 is normally considered statistically significant.
The authors found the risk of contracting COVID-19 was "lower in the [vitamin D group] than in the [placebo group] … and was associated with an increment in serum levels of 25-hydroxyvitamin D3 … independently of [vitamin D] efficiency." They also noted no significant adverse events.
The authors concluded that supplementation with vitamin D in highly exposed individuals "decreases the susceptibility for SARS-CoV-2 infection," and the preventive effect is "independent of vitamin D status." They also said that medium doses of vitamin D (4,000 IU daily) "seems safe for short periods of supplementation."
Vitamin D also contributes to bone, heart, and brain health. Studies have suggested that low levels of vitamin D are associated with autoimmune and inflammatory diseases, cardiovascular diseases, infectious diseases, as well as diabetes and cancer. In foods, vitamin D can be found in beef liver, cod liver oil, egg yolk, herring, salmon, sardines, and mushrooms.
A review published in The Journal of the American Osteopathic Association in 2018 said that vitamin D cannot be metabolized without sufficient magnesium levels. "People are taking Vitamin D supplements but don't realize how it gets metabolized. Without magnesium, Vitamin D is not really useful or safe," a co-author of the study, Mohammed S. Razzaque, said in a statement at the time.
On the other hand, extremely large doses of vitamin D can be toxic. According to the Mayo Clinic, taking 60,000 IU a day of vitamin D for several months has been shown to cause toxicity. In vitamin D toxicity, there is a buildup of calcium in the blood that can cause nausea and vomiting, weakness, and frequent urination.
The U.S. Recommended Dietary Allowance (RDA) for most adults is 600 IU of vitamin D a day.
"Doses higher than the RDA are sometimes used to treat medical problems such as vitamin D deficiency, but these are given only under the care of a doctor for a specified time frame. Blood levels should be monitored while someone is taking high doses of vitamin D," the Mayo Clinic states on its website. "As always, talk to your doctor before taking vitamin and mineral supplements."
Source – https://www.theepochtimes.com/mkt_app/vitamin-d-supplementation-is-effective-in-preventing-covid-19-study-suggests_4427803.html