Twitter blocks the account of Russian Embassy in Berlin, over "dissemination of false or misleading information".
Pertaining to a quote from Russian Foreign Minister Lavrov, about the findings made from the Special Military Operation, specifically the "military biological laboratories" and "direct violations of the Biological Weapons Convention".
Clandestine's Newsletter is a reader-supported publication. To receive new posts and support my work, consider becoming a free or paid subscriber.Subscribe
The Russian Foreign Ministry put this out on telegram to show that the Russian Embassy in Berlin account had been banned.
"Twitter blocked the account of our embassy in Berlin for a tweet with a quote from an article by Russian Foreign Minister Sergei Lavrov. The forbidden quote reads as follows: "The finds of the Russian armed forces within the framework of the SVO in military biological laboratories on the territory of Donbass clearly indicate direct violations of the BTWC."
Now, for this voiced fact, the EMBASSY cannot publish information in its official account for at least a week."
With supporting pictures. These are the screenshots with the English translations.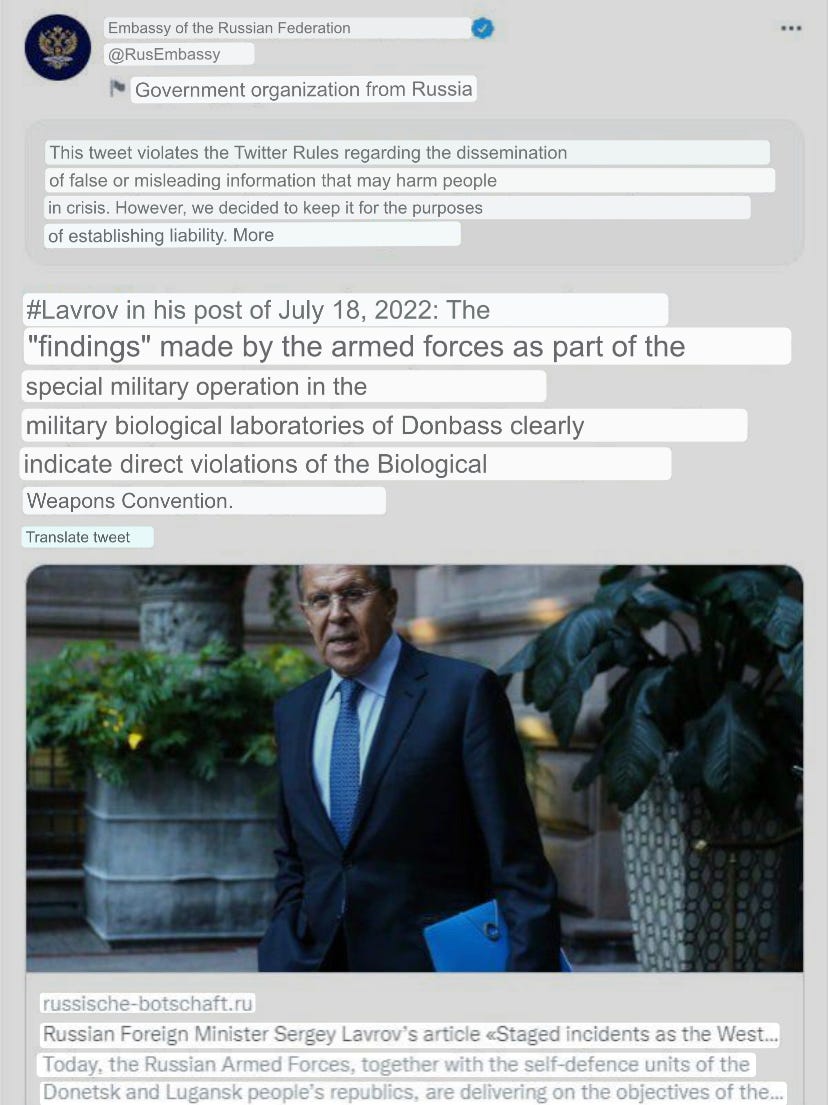 The link to the statement from the Russian Foreign Ministry Telegram page is below:
So there you have it. Twitter openly censoring factual information pertaining to the biggest secret of all secrets. The one button the Deep State Globalists do not want anyone to press. The DNC/Globalist Biolabs in Ukraine.
People wonder why I pay so much attention to Elon and speak of his importance, it's because of this right here. Twitter and all of Western Big Tech are doing their best to suppress this story and cover for the DNC bio-terrorists, just as they did with the Hunter Biden laptop.
If information were to flow freely, the world would already be aware of all of this. But with control over the airwaves, the Globalists can shield their sheep from seeing the inconvenient truth.
Here you see the importance of the Elon deal, and how it can literally shape the perception of reality of the collective normie minds.
Source – https://bioclandestine.substack.com/p/twitter-blocks-russian-embassy-over