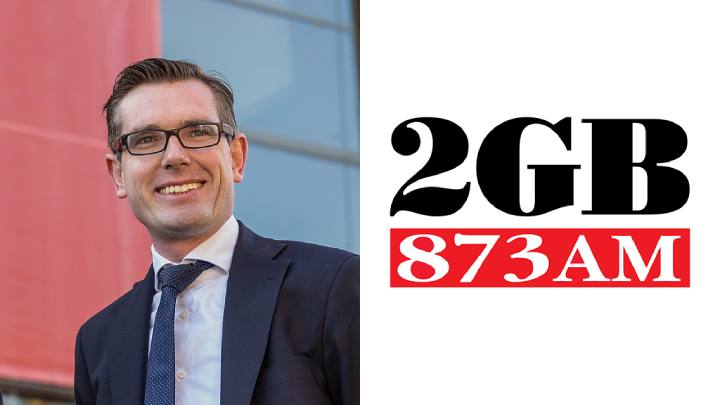 NSW roads minister Natalie Ward called into the 2GB Ben Fordham show on 14 March this year, to complain about climate protesters having blocked traffic on the Spit Bridge, stating "she was sick of it", as she'd been stuck with other commuters and been made late to work.
"We have got to make sure there are stiff penalties for when this happens, because this is a danger to these people, the motorists and a major disruption and distraction for everyone, who's just trying to get on with their lives," Fordham said, as if he was sitting in a NSW Coalition cabinet meeting.
Taking the lead from the radio shock jock, the elected official agreed, stating that she'd be looking into it, as "we have to make sure the penalties are really severe".
So, ten days after the on-air law and order debate, Ward amended delegated legislation, meaning no parliamentary vote was required, so that a law making it an offence to obstruct the Harbour Bridge that carried 2 years and/or a $22,000 fine now applies to all bridges and tunnels.
And obviously being a Fordham fan himself, NSW attorney general Mark Speakman managed to then draft a bill and jam it through parliament one week later, which extended the draconian penalties to blocking roads and created the new offence of obstructing major facilities with the same maximums.
The effect of these laws, first publicly suggested by radio host Fordham, is that effective protest is now dead in this state.
On-air lawmaking
"There is a consistent correlation with what is discussed on 2GB radio and what the government is pushing through parliament," Higginson recently told Sydney Criminal Lawyers.
And this is a point she's been making in parliament. In a 19 October speech, Higginson said that while she'd been aware the Coalition has been attacking civil liberties for over a decade now, what's shocked her since entering parliament is "its populist law and order agenda" and how punitive it is.
"I now see firsthand that, in the law-and-order space, 2GB and Ray Hadley and his mates are the creators of the Coalition law and order policy," the NSW Greens spokesperson maintained, "and it is quite off."NSW Greens MLC Sue Higginson
This alliance between 2GB shock jocks and the Liberal Nationals is nothing new. However, back in the day, it was more centred on federal Coalition ministers speaking with Alan Jones, who would spoon feed them nasty suggestions about current social issues that they could then agree with.
In August 2017, Jones suggested to then immigration minister Peter Dutton that lawyers who assist asylum seekers pro bono are "un-Australian". The minister agreed. And the headline read, "Dutton Thinks Lawyers Who Help Refugees Are Un-Australian."
While 2018 saw Jones discuss a school anti-family violence program with PM Scott Morrison that involved talk about teenage sexuality. Jones asked whether it made his skin curl. Morrison said it did. And the headline read, "PM Sends Kids to Private School to Avoid Skin Curling Sex Discussions."
But now the scenario has changed, as 2GB shock jocks are not only pushing conservative social values, but rather they're assisting in moulding the laws that are shaping the mounting authoritarian state.
Legislating on the go
Higginson points to 2GB host Ray Hadley's part in a recent amendment the Coalition made to the Bail Act 2013 (NSW). This inserted section 22B, which requires bail to be denied to those convicted of a crime but yet to be sentenced if the judge considers that the person will be sentenced to prison.
However, lawyers and legal associations raised issue with the proposal as soon as it was tabled. And a recent court ruling by Supreme Court Justice Peter Garling detailed why the law is unworkable, which is because it's unclear at point of conviction whether prison time will be forthcoming.
So, it might be the case that 2GB shock jock Ray Hadley shouldn't be in the mode of schooling NSW premier Dominic Perrottet on-air about what laws need to be passed and how the legal system should be operating, but that's exactly how it played out.
"When will NSW parliament instruct District Court Judges, they are not to give bail to convicted paedophiles?" Hadley commenced his 18 June discussion with Perrottet, adding that he'd been in contact with the AG about the matter and it had taken a week for Speakman to get back to him.
The NSW premier responded by breaking into some on-the-spot law drafting live on radio where he said, as far as he was concerned if the convicted person "will go to gaol", then he couldn't see any reason why the person should be released on bail "on whatever matter".
Then Hadley really showed who's the chief lawmaker these days, as he said to the state premier, "You say, we are waiting for advice. I wouldn't think you need advice. You need to gather your numbers in the lower house" and enact legislation that sees those convicted refused bail.
The radio host then slipped into a ferocious rant about the convicted felon he was on about before Perrottet came back with, "I'll be speaking with the attorney general later today about how we can work through how we can make the changes in an appropriate way that secures that outcome."
Manufacturing public perception
Higginson went on to drill Speakman about this bizarre on-air exchange between the premier and the all-powerful Ray Hadley during budget estimates on 22 August. And she asked the AG whether he knew that the premier would be making that commitment to pass that law on-air that day.
And Speakman said he was aware that would transpire, and that he'd had a conversation with Perrottet the night before about it.
This was despite the assertions that the premier made during his conversation with Hadley, in which he said he'd be discussing the matter with the attorney general later that day.
And when the Greens MLC quizzed Speakman further on whether the decision to change the law was due to the media outcry over recent controversial bail decisions, the AG confirmed that to be the case.
The media circus continues
During her October law and order speech in parliament, Higginson raised the deplorable "treatment of prisoners in our chronically dysfunctional and unfit prison system" and she provided some detailed and damning examples of this that certainly can make a reader's skin curl.
But despite these issues, a group of UN experts on the prevention of human rights abuses in prison that had been invited by Australian governments to come and oversee our nation's implementation of a protocol to ensure better conditions in gaols, the Perrottet government barred them entry.
The body, known as the UN Subcommittee on the Prevention of Torture, assists nations in their implementation of the OPCAT agreement, which our nation ratified in 2017. And due to our state government's belligerence, the international body went on to cut its visit short.
And during this fiasco, the Liberal Nationals called on their co-conspirators at 2GB to ensure the public supported the UN body being barred, so the rights violations occurring inside NSW correctional facilities can quietly continue.
NSW corrections minister Geoff Lee appeared on Ben Fordham's show on 20 October to discuss why our state had turned UN human rights experts away from a court connected detention facility in Queanbeyan.
And Fordham maintained the party line in introducing the minister by saying, "We've had these UN prison inspectors turn up and demand to go into NSW gaols. And they were told no. They then threatened grave consequences if we didn't agree."
The corrections minister subsequently continued on with framing the situation to sound as if the respected UN body that was here by invitation were a bunch of thugs trying to force their way into our correctional facilities.
Lee stated that NSW has "nothing to hide" in terms of what goes on inside its gaols and he reminded Fordham of his visit to Goulburn prison to underscore that state authorities don't torture inmates.
But according to the examples listed by Higginson, the corrections system certainly does abuse prisoners, and she specifically cited Goulburn as being one of these facilities.
"We need to listen to the experts, not the shock jocks, and we need to look at other jurisdictions," Higginson concluded her mid-October speech. "We need to rethink our approach to law and order, and I am afraid that the only way we are going.
Source – https://www.sydneycriminallawyers.com.au/blog/the-unholy-alliance-between-the-perrottet-government-and-2gb-shock-jocks/