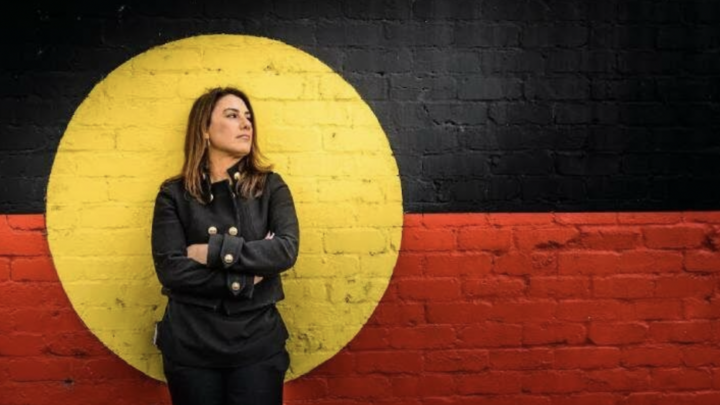 Lidia Thorpe is not someone who made the decision to enter Australian parliament lightly, one would presume. She grew up amongst staunch First Nations rights activists, who vocally assert and continue to uphold their sovereignty over stolen lands.
Australian parliament represents an imposed sovereignty over this continent, which was invaded using the justification of terra nullius: that the non-Christian First Nations peoples did not own the land they'd occupied for millennia, based on 15th century laws enacted by the Catholic Church.
In entering federal parliament, Thorpe did so to represent the rights of grassroots Aboriginal and Torres Strait Islander peoples in the invader's seat of power.
So, when she, as per protocol, was required to swear allegiance to the Queen, the figurehead representing the dispossession and genocide upon her people, Thorpe referring to the monarch as a "coloniser", was not a stunt, as some have lately claimed, but it was a defiant maintaining of truth.
A stunt, on the other hand, is when an individual representing the majority people walks into parliament dressed in the traditional garb of an often-persecuted minority so as to cast fear about and hate towards them, as was the case when Pauline Hanson wore a burqa into the chamber.
Indeed, Thorpe's loud opposition to the Voice to Parliament is no act designed to garner attention, rather the senator has been representing the long-term resistance to it from Blak agitators, since it was revealed at the May 2017 National Referendum Council, prior to its release to the wider public.
A concerted attack
The first paragraphs of this piece are an attempt to negate a growing number of recent articles, especially one by the former co-host of a lowbrow daytime television program, that have been casting Australian Greens Senator Lidia Thorpe as some kind of attention seeking troublemaker.
This mounting pile-on against Thorpe is not the first time white Australia has blatantly attacked an Aboriginal person for upholding their civil, political and cultural rights in the public eye: just think of the appalling attempt to decimate former AFL player Adam Goodes.
As have a large number of key grassroots First Nations advocates, Thorpe has been actively opposing the Voice since 2017. This is way before she ever joined the Greens.
However, as the incoming Albanese government has built a prominent part of its platform upon a Voice referendum, her opposition has become more vital, as well as problematic for Labor.
And this appears to be the sole reason there has been a growing campaign against Thorpe, one involving the mainstream media, federal Labor, and moderate members of the community who have been led to believe that advising parliament somehow constitutes self-determination.
Lidia's strong opposition to the Voice would also seem to be behind the unknown players who've taken a fine-tooth comb to her private affairs to uncover a brief fling the senator had with an ex-bikie leader, which happened some time ago and is being cast as a conflict of interest.
The nation's loss
The ABC broke the news last Thursday, outlining that the senator "briefly dated" ex-leader of the Rebels motorcycle gang Dean Martin in early 2021. The issue is that Thorpe did not disclose this, despite sitting on a law enforcement committee being briefed about bikies and organised crime.
Dean has no criminal record and stepped down as leader of the organisation in 2018. He's now involved in First Nations rights campaigning, and this is how he and Lidia met. The pair, no longer involved, still know each other via Blak activist circles.
In response, Thorpe resigned from her position as deputy leader of the Greens, which was a practical move to counter the predicted fallout that ensued. But it is a shame for the nation as a whole, as having grassroots First Nations representation at such a high-level in politics was a positive for all.
PM Albanese got flustered and called for explanations. But his government has gotten what it wanted with the attempted silencing of the most vocal critic of the Voice, who also represents the most marginalised and abused people in the nation: Aboriginal and Torres Strait Islander women.
While Dutton has gone off calling for her resignation, which is quite rich coming from the leader of a party known for rape allegations, sexual assault coverups, liaisons with sex workers in parliament, and the list goes on. The Liberal Nationals further take no real action about these scandals even after exposure.
Calling for truth and treaty
The Voice to Parliament was the outcome of the May 2017 Uluru Statement From the Heart. It represents a constitutionally-enshrined Indigenous body, which will advise government on affairs that involve First Nations people, but while engage no statutorily required responses or outcomes.
Thorpe points out that the Uluru Statement also contains treaty and truth. She posits that truth-telling about the violent dispossession and genocide against the First Peoples of this continent must be established, prior to then entering into treaties, which would be between two sovereign entities.
"The colonisers say that they are 'sovereign'. We say that we are sovereign," Thorpe said in August this year. "In entering the colonial project, their constitution, we need to be 100 percent satisfied that we're not ceding our sovereign rights by going into the colonisers' 'sovereign' rule book."
"When constitutional lawyers have been asked, the response continues to be that it's up to the interpretation of the law at the time," the Gunnai Gunditjmara and Djab Wurrung woman told Sydney Criminal Lawyers.
Supremacy threatened
Treaty has long been the aim of First Nations communities. These agreements between two acknowledged equal parties would cover land and water rights, recognise First Nations sovereignty, and aim to bring an end to the ongoing colonial project, with its continuing atrocities.
Many broader human rights advocates within the community have joined the chorus for a Voice to Parliament, and Thorpe's opposition to it has proven problematic for them, as they'd like to wash away niggling guilt and the blood off the land via this advisory body that holds no real authority.
And as for the current comparisons between the antics of One Nation Senator Pauline Hanson and Australian Greens Senator Lidia Thorpe, these are ridiculous.
Hanson is from the majority settler colonial population and seeks to maintain white supremacy over the centuries-brutalised colonised First Nations peoples, as well as the ever-broadening cultures represented within the growing multicultural society.
Thorpe, however, represents the most marginalised people in a society established on their land. And she not only seeks self-determination for her people, but to bring an end to systemic racism and brutalisation, ongoing land grabs and destruction of culture: indeed, an end to the colonial project.
Source – https://www.sydneycriminallawyers.com.au/blog/standing-with-thorpe-an-uncompromising-first-nations-voice-in-parliament/