Throwing money at this issue won't fix it, experts have warned, as they call for more drastic measures.
Australia's corporate watchdog will be the subject matter of a new two-year-long parliamentary inquiry after senators slammed it for becoming a "toothless" tiger.
On Thursday, the senate voted in favour of a motion to hold an inquiry into the Australian Securities and Investments Commission (ASIC) over concerns it is "failing to meet its obligations as a regulator".
The vote was spearheaded by Senator Andrew Bragg, who chairs the Economics References Committee. There were 43 votes in favour and 20 against.
In an interview with news.com.au prior to the vote, Senator Bragg said "ASIC is asleep at the wheel".
"I don't think ASIC is focused on law enforcement", he said, adding that he thought it was a "cultural issue" and not a resourcing problem.
That's something he intends to get to the bottom of in the upcoming Senate inquiry.
Senators now have until mid-2024 to carry out an inquiry into ASIC.
It comes just weeks after independent analysis found that a report to the regulator about financial misconduct had a less than one per cent chance of being investigated.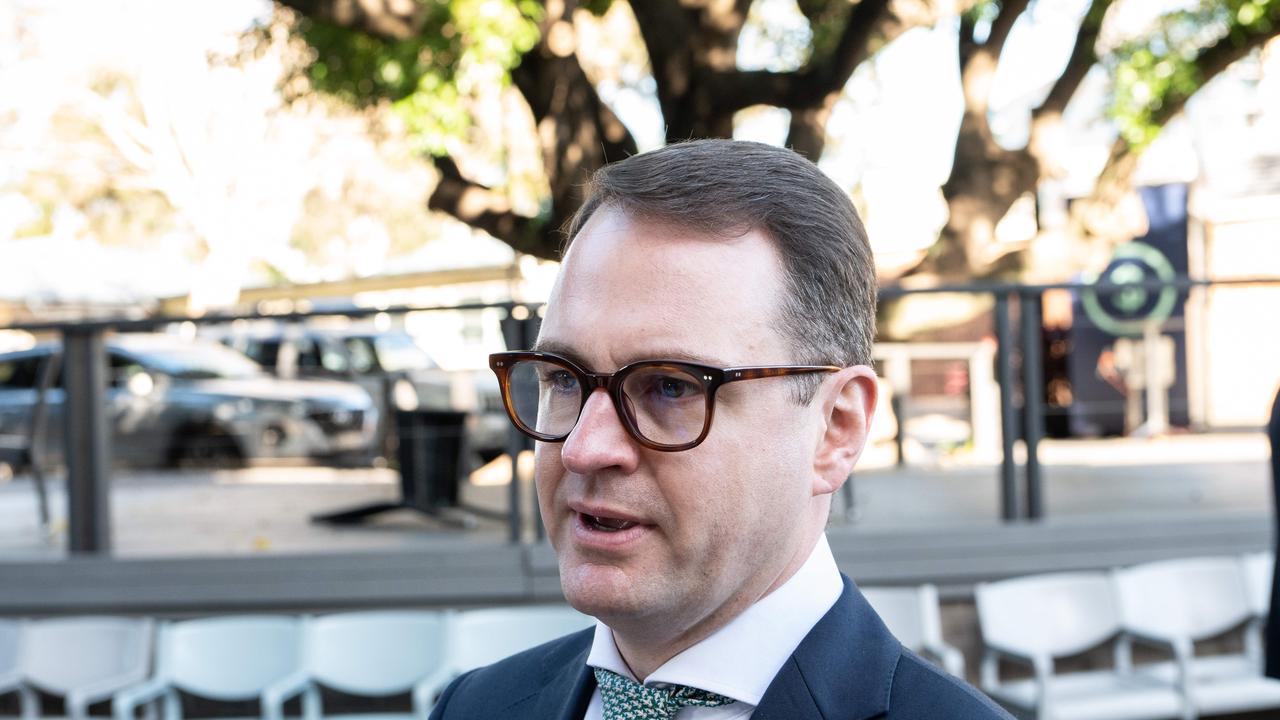 ASIC has around 2000 staff and nearly $800 million in funding, according to its latest publicly available report.
"It's not a question of money and resourcing, it's a question of focus," Senator Bragg continued. "The community expectation of ASIC is not particularly good. People need to be made examples of."
Other senators have also voiced their support for an inquiry, including Senator Louise Pratt, from the Labor Party.
"We should expect better from our Australia's corporate regulator," she said earlier this month.
Then there's Senator Gerard Rennick of the LNP, who told news.com.au: "White collar crime in this country doesn't get the punishment it deserves.
"Start actually putting these people in jail when they start doing the wrong thing."
Senator Rennick labelled ASIC "toothless" and added "It's almost profitable to commit the crime and get the slap on the wrist".
Malcolm Roberts, a One Nation senator from Queensland, said that "ASIC's failings deserve an inquiry".
The inquiry was partly spurred on from a report released by economist John Adams, who found that financial misconduct complaints to ASIC had a less than one per cent chance of reaching an investigation stage.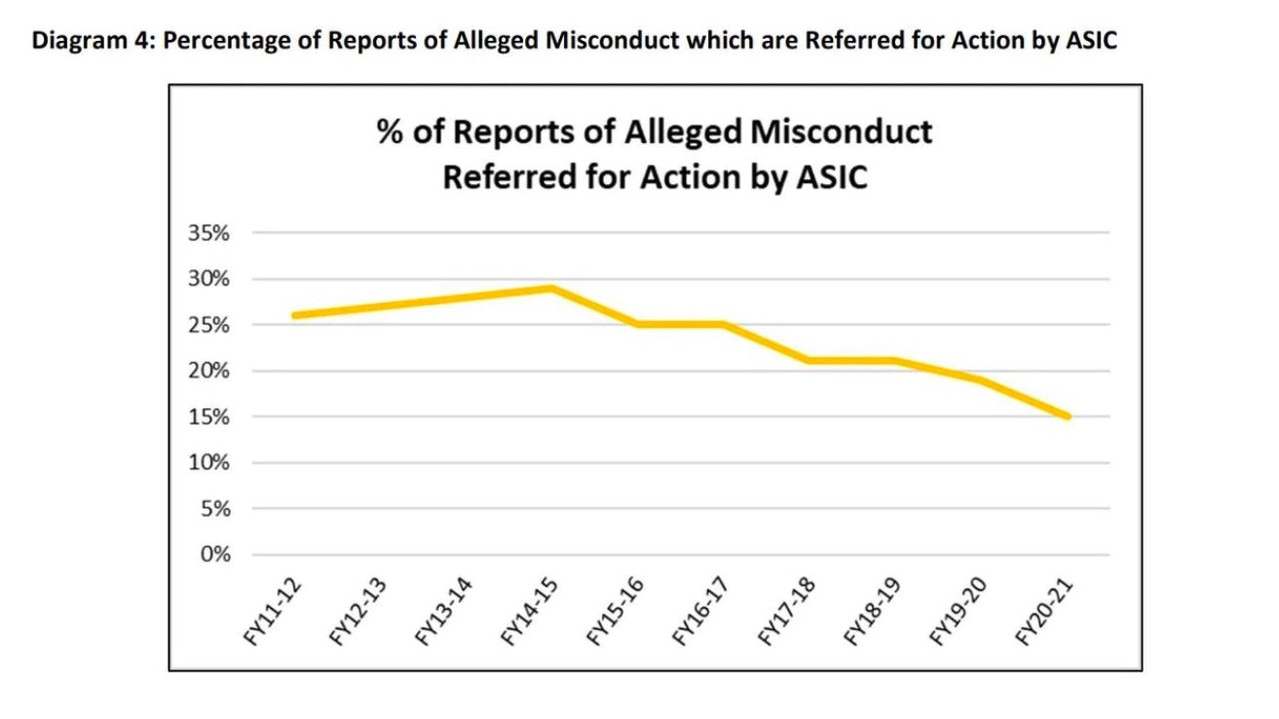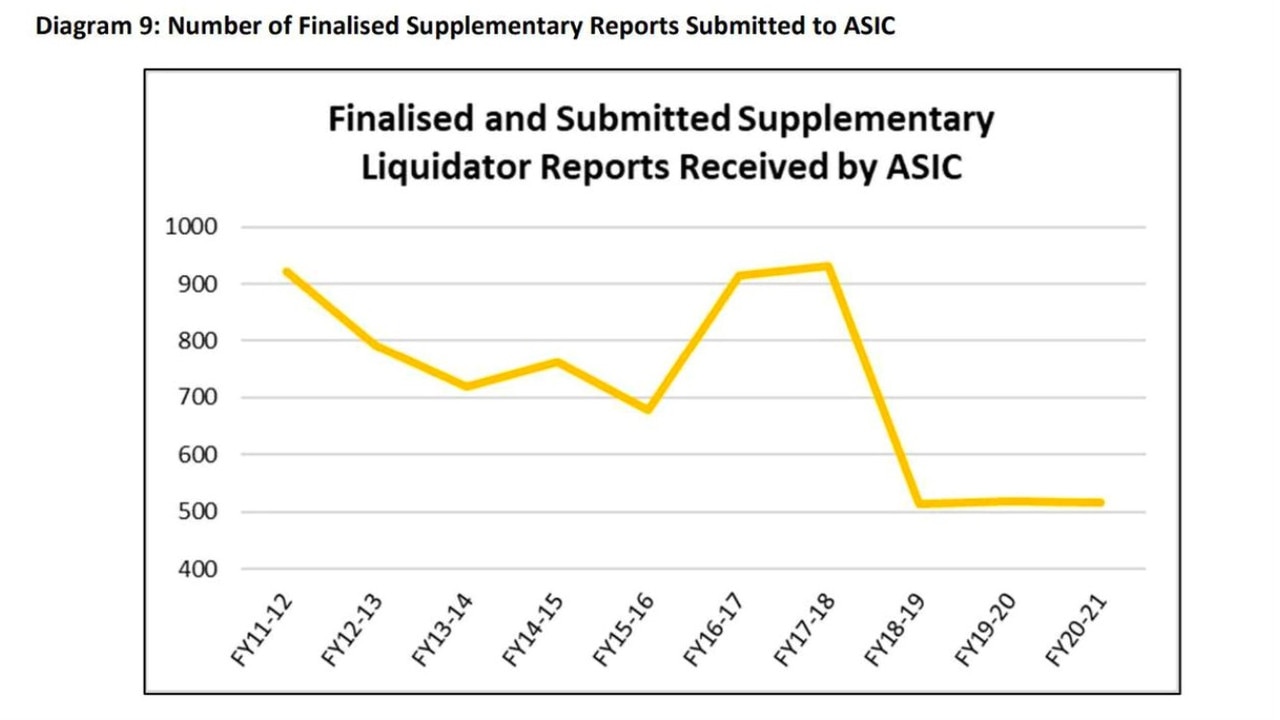 Mr Adams' analysis, pulled from publicly available data from the regulator spanning the last decade from 2011, had "worrisome implications", according to his report.
He found that of the 134,000 reports of alleged misconduct over the last decade, only 1709 progressed to a formal ASIC investigation.
That's 1.27 per cent of the total reports of alleged misconduct.
Although Australia was hailed as a white collar crime "paradise" by a former ASIC chairman in a 2014 public inquiry, it appears that enforcement actions have gone down, not up, since then, according to Mr Adams.
The annual ratio of formal investigations compared to misconduct reports has declined over the years, peaking in the 2014-2015 financial period at 1.9 per cent.
The latest financial year which ASIC has released records for, 2020-2021, "saw the lowest annual ratio of investigations to the total reports of alleged misconduct in the past 10 years" at just 0.74 per cent.
Around 81 per cent of collapsed companies have been accused of misconduct but only a tiny portion are investigated, according to Mr Adams. And yet, the percentage of all initial statutory liquidator reports submitted to ASIC in the last decade that ultimately get referred for action is on average only 1.7 per cent.
ASIC disputed these figures, saying that 15 per cent of misconduct reports are "referred for action". Of that, a smaller number turns into an official investigation.
However, Mr Adams' research includes self-reported breach reports, liquidation reports as well as tip-offs from members of the public such as corporate whistleblowers. ASIC was only factoring in members of the public making reports of misconduct.
An ASIC spokesperson said of the 3810 initial reports of possible misconduct received from liquidators in 2020-2021, they requested additional information for 709 cases. Out of those, 18 per cent of those reports led to compliance, investigative or surveillance action.
Senator Bragg said an inquiry was also necessary because a new proposal from the government would take most of the pressure to enforce the law off ASIC, he warned.
Late last month, the Senate proposed the Compensation Scheme of Last Resort (CSLR), which would start off with about $100 million worth of funds to give to people who had fallen victim to financial misconduct and had nowhere else to turn.
"There's been a lot of difficult deliberation about whether a scheme like this is ideal," Mr Bragg told news.com.au.
"I think it's a huge risk, it could create further moral hazard. ASIC will have an even lower level of incentive to enforce the law.
"The introduction of this new CSLR legislation makes for a much stronger case for an additional inquiry."
Source – https://www.news.com.au/finance/business/other-industries/parliamentary-inquiry-announced-into-asic-after-concerns-regulator-has-become-a-toothless-tiger/news-story/fc63318c8e6dc239911f3e73a71a5297