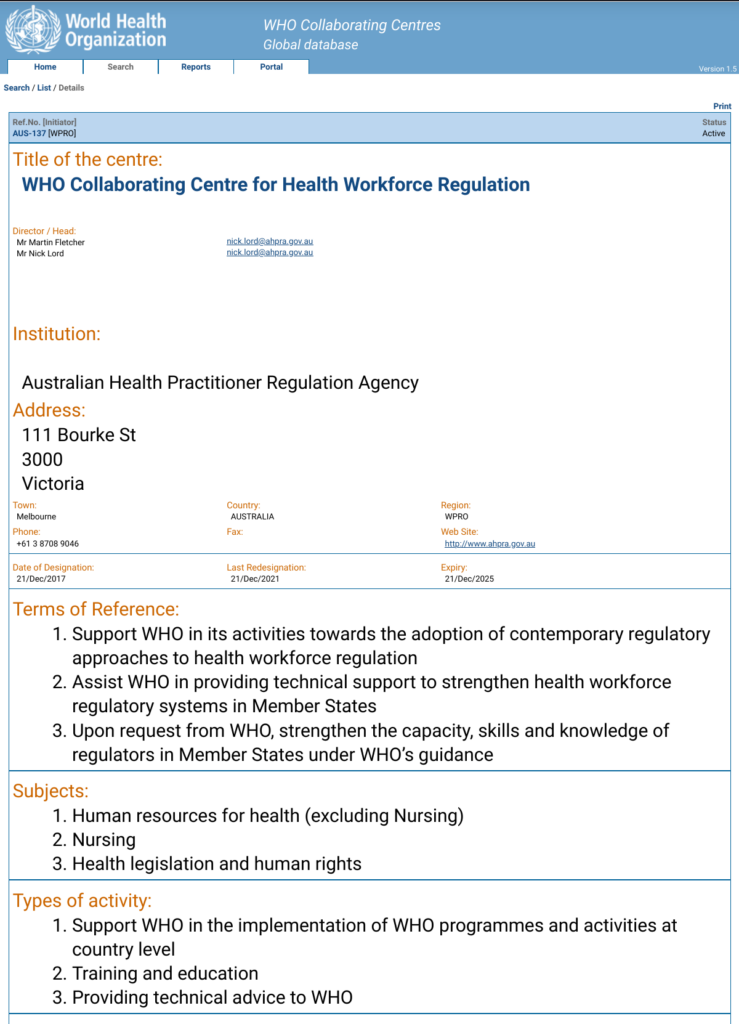 WHO collaborating centres are institutions such as research institutes, parts of universities or academies, which are designated by the Director-General to carry out activities in support of the Organization's programmes. Currently there are over 800 WHO collaborating centres in over 80 Member States working with WHO on areas such as nursing, occupational health, communicable diseases, nutrition, mental health, chronic diseases and health technologies.
Background
The idea of using national institutions for international purposes dates back to the days of the League of Nations, when national laboratories were first designated as reference centres for the standardization of biological products. As soon as WHO was established, it appointed more reference centres, starting in 1947 with the World Influenza Centre in London for worldwide epidemiological surveillance.

As early as 1949, the Second World Health Assembly laid down the policy (which has been constantly followed since) that the Organization should not consider "the establishment, under its own auspices, of international research institutions" and the "research in the field of health is best advanced by assisting, coordinating and making use of the activities of existing institutions".

All WHO collaborating centres, irrespective of their type of work, have been designated under that policy, which has undoubtedly enhanced national participation in the Organization's activities.
Definition
By definition, a WHO collaborating centre is an institution designated by the Director-General of WHO to form part of an international collaborative network set up by WHO in support of its programme at the country, intercountry, regional, interregional and global levels. In line with the WHO policy and strategy of technical cooperation, a WHO collaborating centre also participates in the strengthening of country resources, in terms of information, services, research and training, in support of national health development.
Designation is made with the agreement of the head of the establishment to which the institution is attached or with that of the director of the institution, if it is independent, and after consultation with the national government. An institution is designated initially for a term of four years; the designation may be renewed for the same or a shorter period.
Designation is independent of financial support being given to the institution by WHO. Grants may be made to any institution that is able to perform a specific task connected with WHO's programme but this has no relevance to the eligibility or ineligibility of an institution for designation.
Not eligible for designation as WHO collaborating centres are, for example, networks, working groups, partnerships and programmes; or nongovernmental organizations and similar bodies with a membership structure, including professional associations or foundations. For collaboration with nongovernmental organizations, please refer to the Principles governing relations between WHO and Nongovernmental organizations contained in the Basic Documents.
Functions and role
The functions of the WHO collaborating centres are diverse, and may include the following:
collection, collation and dissemination of information;
standardization of terminology and nomenclature, of technology, of diagnostic, therapeutic and prophylactic substances, and of methods and procedures;
development and application of appropriate technology;
provision of reference substances and other services;
participation in collaborative research developed under the Organization's leadership, including the planning, conduct, monitoring and evaluation of research, as well as promotion of the application of the results of research;
training, including research training; and
the coordination of activities carried out by several institutions on a given subject.
The WHO collaborating centres are an essential and cost-effective cooperation mechanism, which enables the Organization to fulfill its mandated activities and to harness resources far exceeding its own.
WHO gains access to top centres worldwide and the institutional capacity to ensure the scientific validity of global health work. Through these global networks, the Organization is able exercise leadership in shaping the international health agenda.
Conversely, designation as a WHO collaborating centre provides institutions with enhanced visibility and recognition by national authorities, calling public attention to the health issues on which they work. It opens up improved opportunities for them to exchange information and develop technical cooperation with other institutions, in particular at international level, and to mobilize additional and sometimes important resources from funding partners.
The main role of the WHO collaborating centres is to provide strategic support to the Organization to meet two main needs:
Implementing WHO's mandated work and programme objectives
Developing and strengthening institutional capacity in countries and regions.
Management and evaluation
The management of collaboration with a centre is the responsibility primarily of the responsible officer within the technical programme that initiated the designation. Interaction between technical units in regions and headquarters ensures that the centre's collaboration is available to the whole Organization. In each WHO regional office, as at headquarters, focal points are designated to manage and coordinate statutory information and procedures on WHO collaborating centres. Overall guidelines and schedules have also been developed for the management and monitoring of collaboration with the centres, these are common to all regions and programmes.
Successful collaboration requires that particular attention be paid to the joint preparation of the centre's terms of reference and work plans. This should involve the institution, the regional office and the technical unit concerned in headquarters. The work plan should comprise clearly defined objectives and expected results, explicitly related to WHO's activities as set out in its programme budget. WHO will dedicate its own staff time and other resources, although not necessarily direct financial support, to ensure that collaboration can develop successfully.
Monitoring takes place on a continuing basis and at the end of each twelve month period a WHO collaborating centre must submit a report on the implementation of activities with the concerned programme in WHO. This report should reflect progress achieved in respect of the work plan, underlining possible difficulties and formulating suggestions for improvements for future course of cooperation. A final evaluation takes place at the end of the four-year designation period. It includes an assessment of WHO's support for, and actual use of, collaboration with the centre. No decision may be made on redesignation of any centre until completion of a thorough evaluation of its past performance and the continued relevance of this collaboration in view of WHO's evolving needs and policy.
To facilitate management, cooperation and networking, a global information system on all WHO collaborating centres has been developed, to be accessible worldwide to WHO staff, WHO collaborating centres, and eventually Member States and the public health community at large. Exchange of experience and collaboration between centres is supported by regular meetings at country and regional levels and on specific topics.
Source – https://www.who.int/about/collaboration/collaborating-centres