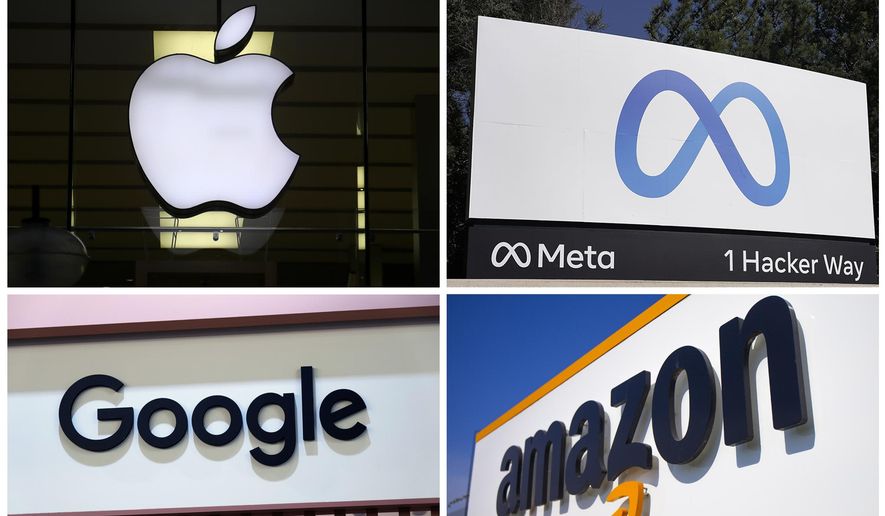 The National Security Agency is doggedly courting laid-off Big Tech workers as the spy agency undertakes one of its largest hiring surges in the past 30 years.
The NSA began reaching out to technology workers privately over LinkedIn last fall as word spread that major U.S. companies such as Meta and Amazon were bleeding tens of thousands of skilled employees.
NSA talent management senior strategist Christine Parker said the spy agency also saw predictions of more job cuts and sprang into action.
"NSA started reaching out through LinkedIn, through some of our career boards, specifically sending messages to people that we thought might be linked to some companies that either were in the news saying they are going to lay off or were predicted to be laid off," Ms. Parker said in an interview. "Just kind of let them know that we're here and that we have this robust, ongoing hiring program."
With the NSA using the social platform LinkedIn in tandem with job boards such as Glassdoor and Indeed, plus technology development message boards such as Stack Overflow, nearly 30,000 people looked at the agency's overtures and about 2,000 people applied, Ms. Parker said. ‌
The NSA is hiring 3,000 more employees to work in the Washington area and in Alaska, Colorado, Georgia, Hawaii, Texas and Utah, said Molly Moore, NSA deputy director of workforce support activities.
The NSA declined to say how much taxpayer money has been allotted for the hiring effort. Total spending on the intelligence community for fiscal 2022 was $89.8 billion.
Meta said in November that it would shed 11,000 workers and freeze hiring. Amazon said last month that it would eliminate more than 18,000 jobs, and Google's parent company, Alphabet, said in January that it would cut about 12,000 positions. Other large technology companies also have announced layoffs of thousands of employees, and additional cuts are expected this year.
Ms. Moore, who has worked at the NSA for several decades, said the pitch to Big Tech workers involves promoting job security and an opportunity to try different things. She said she started as a Farsi linguist before working in other parts of the agency, including the cybersecurity directorate.
"We certainly offer stability, and that's what's really kind of front of mind for a lot of people these days in the wake of these layoffs," Ms. Moore said. "But we offer amazing missions, things that people can't do in private-sector companies for the most part. This is not just a job; it's a mission."
The NSA also is looking to change its image from a buttoned-up culture with the smirking moniker "No Such Agency" to a more permissive environment.
NSA Cybersecurity Director Rob Joyce has deployed the slogan "you do you" in Twitter posts encouraging people to apply for work. He noted that previous marijuana use is no longer prohibitive for employment but ongoing drug use would be unacceptable.
When one Twitter user noted that Mr. Joyce was replying to an anonymous user with a pink teddy bear in January, Mr. Joyce took the chance to deploy his it-takes-all-kinds mantra.
"NSA is actually a place that embraces diversity," Mr. Joyce replied. "I'm definitely down with pink teddy bears."
A pink teddy bear, yes; a Cozy Bear, no. Cozy Bear is a hacking group connected to Russia's Foreign Intelligence Service. The Biden administration said it was responsible for the SolarWinds breach of federal agencies' computer networks discovered in 2020.
Russian hackers also are in the market for technology workers despite economic sanctions. One sanctioned cybersecurity firm's annual hacker conference in Russia grew from 500 attendees in 2011 to 8,700 in 2022 after COVID-19 pandemic restrictions were lifted, according to a Brookings Institution report in January. The Positive Hack Days event appears to be one of several gatherings facilitating recruitment for Russia's intelligence services, according to Brookings.
Ms. Moore said the NSA's attention to Big Tech workers was not intended to prevent them from finding employment elsewhere, including with foreign governments. She also noted that the NSA has a demand for Russian and Chinese language analysts.
More than half of the NSA's 3,000 open positions are for science, technology, engineering and mathematics work. The spy agency, which is focused on signals intelligence collection, is in the market for data and computer scientists, software engineers, cybersecurity specialists, human-machine teaming experts and mathematicians, said Natalie Laing, NSA director of operations.
The NSA's hiring needs are similar to those of other technology companies. Bill Driscoll, senior district president of the Washington-area staffing firm Robert Half, handles technology staffing in the Northeast and Midwest. He said companies are hiring cybersecurity professionals, front- and back-end developers, and user experience and user interface designers.
He has spotted government agencies looking to hire in his regions of expertise, and he thinks some of the Big Tech companies "got over their skis" after the onset of the COVID-19 pandemic.
"On the one hand, it's cyclical, but on the other hand, the pandemic has changed things and the nature of conflict has changed in cyber," Mr. Driscoll said about the churn of technology workers away from business and into government.
As the NSA competes for technology talent, its major opponents may be midsize employers offering hybrid work rather than hostile adversaries or foreign businesses.
Although the biggest technology companies have shed workers, Robert Half said, 70% of managers at midsize technology companies are looking to expand and add positions in the first half of this year, according to data compiled in October and November. The firm defines midsize companies as those with annual revenue of $50 million to $1 billion.
Source – https://washingtontimes.com/news/2023/feb/3/nsa-wooing-thousands-laid-big-tech-workers-spy-age/