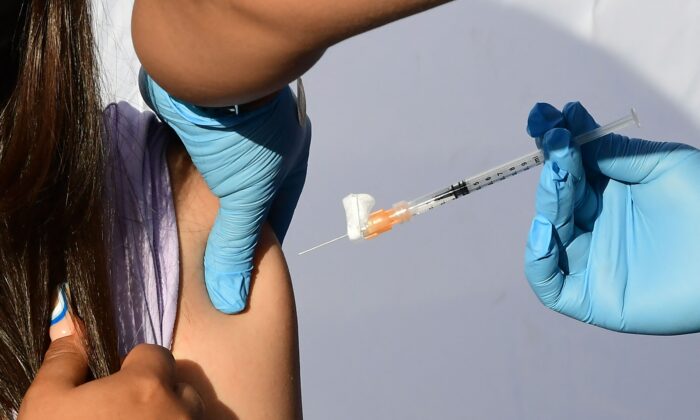 The effectiveness of Pfizer's COVID-19 vaccine against infection turned negative over time for children aged 5 to 11, according to a new study.
Researchers found that for kids in the age group, the effectiveness peaked at 60 percent to 70 percent several weeks after the first dose. It then dropped, nearing zero at week 18 for previously uninfected children and week 20 for previously infected children. After that, the effectiveness was pegged as turning negative, which means the vaccinated children were more likely to contract COVID-19 than unvaccinated children.
Researchers cautioned against reading too much into the estimates because of potential confounding factors.
"Our study showed a decline over time of vaccine effectiveness against omicron infection in children. However, not many children had been vaccinated for more than 5 months, so there was great uncertainty in the estimate of vaccine effectiveness after 5 months," Dan-Yu Lin, a professor of biostatistics at the University of North Carolina, told The Epoch Times via email. "Thus, one should focus on the trend of waning effectiveness rather than the estimate at the end."
Researchers said in the study, which was published by the New England Journal of Medicine, that the effectiveness estimates may have been confounded by earlier infection and vaccination in children more at-risk from COVID-19 due to underlying serious health problems. That could have led to the vaccine's effectiveness being underestimated.
The group analyzed data from the North Carolina COVID-19 Surveillance System and the COVID-19 Vaccine Management System, with records on 887,193 children aged 5 to 11 available. That included data on vaccination from Nov. 1, 2021, to June 3, 2022, and data on clinical outcomes such as a positive COVID-19 test from March 11, 2020, to June 3, 2022. The group employed a Cox regression model to estimate the vaccine effectiveness.
The research was funded in part by a National Institutes of Health grant.
Pfizer did not respond to a request for comment.
Other Findings
In addition to studying vaccine effectiveness, the researchers wanted to see what kind of protection previous infection, or natural immunity, provided against the Omicron variant of the COVID-19 virus.
Omicron became dominant in the United States in late 2021 and one of its subvariants is the currently dominant strain.
While natural immunity was better than the hybrid natural immunity–vaccination during the Delta wave, getting a vaccine in addition to natural immunity provided better shielding during the Omicron era, according to the study.
Unvaccinated children with natural immunity had 90.7 percent protection against infection at two months past infection and 51 percent protection at five months, researchers estimated. Among vaccinated children who also had natural immunity, protection was 94.3 percent at two months and 60.9 percent at five months.
Natural immunity did appear to do better against hospitalization. After starting at 99.5 percent in the first month, the protection was still high, at 86.9 percent, after 10 months, according to the estimates. The effectiveness of Pfizer's vaccine, known as BNT162b2, against hospitalization peaked at 88.2 percent at four weeks after dose one and was down to 76.1 percent at week 20.
The uncertainties surrounding the estimates of protection against hospitalization in both groups were greater because of the small number of hospitalizations, researchers said.
"Both the BNT162b2 vaccine and previous infection were found to confer considerable immunity against omicron infection and protection against hospitalization and death," the researchers said. "The rapid decline in protection against omicron infection that was conferred by vaccination and previous infection provides support for booster vaccination."
Source – https://www.theepochtimes.com/covid-19-vaccine-effectiveness-estimated-to-turn-negative-over-time-in-children-study_4730006.html