Bowel cancer claims the lives of 5255 Australians every year, including 290 people under the age of 50. Despite a perception that it only affects older Australians, it is the deadliest cancer for young adults.
In the first Australian report of its kind, Cancer Australia raised a red flag last Septemberabout the potential number of people going undiagnosed with cancer because of the impact of the pandemic.
During 2020, the number of colonoscopies performed nationally was 13 percent lower than expected, the Cancer Australia data showed. There were 610,000 colonoscopies performed, which was 90,000 less than expected.
Sydney colorectal surgeon and Bowel Cancer Australia director Graham Newstead said there was a significant concern some patients have been getting diagnosed with bowel cancer at later stages because of the impact of the pandemic.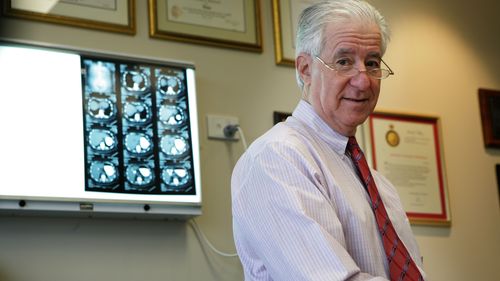 Colonoscopies, which are classed as day procedures and not elective surgery, had been scaled back intermittently in most states due COVID-19, leading to procedures being delayed, Professor Newstead said.
Some patients had also pushed back their appointments out of fear of going to hospital during the pandemic, he added."We have experienced patients cancelling their routine colonoscopies because they want to defer until the COVID-19 situation has settled," Professor Newstead said."I've seen several patients with really big (potentially pre-cancerous) polyps that have come in after due date. And I know for sure that a number of colleagues are seeing cancers after patients have put off the procedure."In some cases, the delays could mean the difference between life and death,
Professor Newstead said."You can go from having a cancer which is early and curable – a stage one or two – to stage three or four, which is then potentially incurable."
Bowel cancer patients have told 9news.com.au that – in addition to difficulties in getting diagnosed – the cancellation of elective surgeries during the pandemic has added to their distress.
Different states and territories have responded differently to the pressures the latest Omicron variant has put their health systems, however many suspended non-urgent elective surgeries in early January.
In Victoria, only category one emergency surgery has been going ahead under its code brown system, while in NSW category one and category two surgeries have proceeded.
This week, the NSW Government announced all non-urgent elective surgeries will begin a staggered return from February 7.
The South Australian Government, which has suspended category three and non-urgent category two procedures, said yesterday a staged return of elective surgeries would begin from next week.
In Victoria, private hospitals are expected to resume a half-load of elective surgeries next week, according to The Age, however no official announcement has been made
Read More – https://www.9news.com.au/national/tanyas-routine-procedure-was-put-off-for-more-than-two-years-during-covid-then-doctors-found-a-tumour/23ac8c38-e315-49c4-8073-aed2e4d2301a