The Australian Technical Advisory Group on Immunisation (ATAGI) has revealed it did not know about the heightened risk of a heart condition called myocarditis from Covid vaccines until five months after they were approved for the public.
An updated document published by the health authority in late September has attracted serious attention this month — as it showed the side-effect was unknown to the group until May 2021.
The vaccine was provisionally approved for use on 25 January, 2021 – almost five months prior.
The revelation raises questions over Australia's vaccine mandates considering the risks associated with both Moderna and Pfizer jabs – which were highlighted by the health body.
"A small increased risk of myocarditis and/or pericarditis has been observed in people following vaccination with an mRNA vaccine (Pfizer or Moderna) compared with unvaccinated people," the fact sheet read.
The dossier points out the risk of heart issues in young males is higher with Moderna than with Pfizer.
"Pericarditis and myocarditis after Covid-19 vaccines have been mostly reported in males under 40 years of age, and mostly after the second dose," it read.
"However, these conditions do occur in both females and males, at any age, and after any dose, including a third or fourth dose.
"The recommended interval of eight weeks between dose one and dose two of an mRNA vaccine may reduce the risk of these conditions, compared with a shorter interval."
ATAGI now says it is "uncertain" whether the risk of myocarditis following Covid-19 infection remains higher than the risk following vaccination in the male 16-40 age group.
However, it told news.com.au the threat of the virus continues to outweigh any risk that comes with mRNA vaccines in the younger population.
The AstraZeneca vaccine is also associated with an increased risk of myocarditis and pericarditis, however ATAGI says the risk "appears" lower than with Moderna or Pfizer.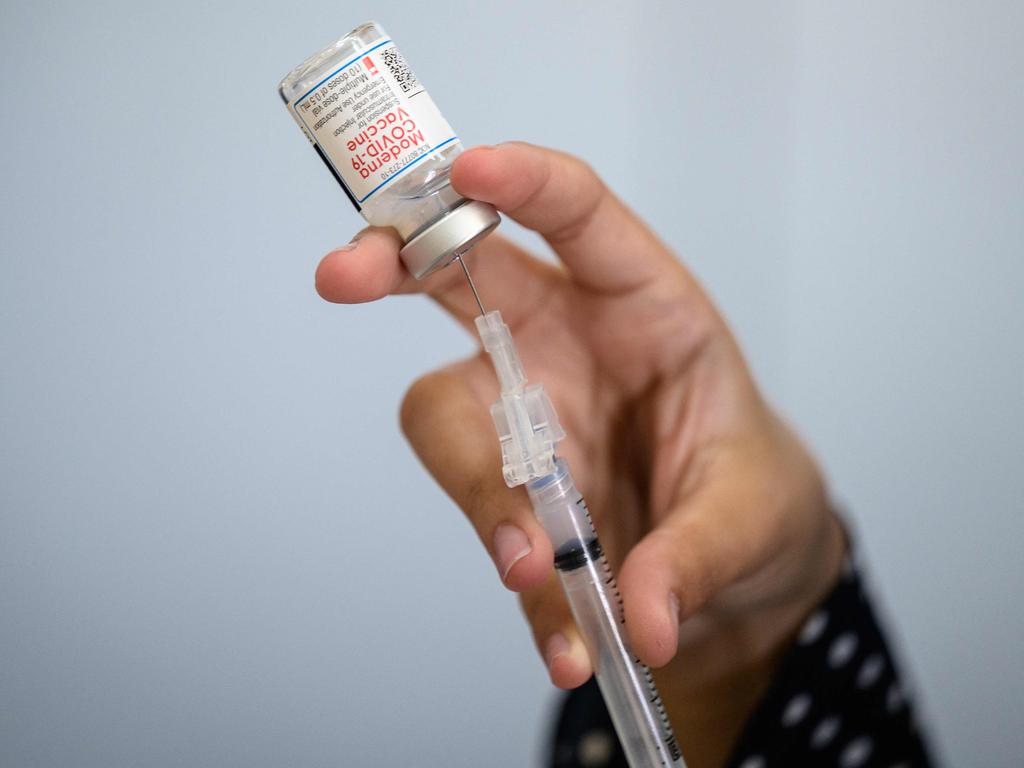 ATAGI says the risk of heart issues in young males is higher with Moderna than with Pfizer.
A study from the Kaiser Permanente Northern California and the US Centers for Disease Control and Prevention (CDC) reported the risk of myocarditis or pericarditis was about one in 6700 in 12 to 15-year-old boys following a second vaccine dose.
ATAGI says it still encourages booster shots for young people despite data indicating heart issues will more commonly arise after each successive jab.
In 16 and 17-year-olds, the risk was about one-in-8000 after the second dose and one-in-6000 after the first booster.
ATAGI now says it did not know about the heightened risk of myocarditis from the Pfizer vaccine until May 2021.
The vaccine was provisionally approved for use on 25 January, 2021 – almost five months prior.
In 2021, Covid-19 vaccinations were mandatory to enter public spaces and still continue to be a requirement for employment in a number of sectors.
Responding to an email from news.com.au, ATAGI said its role is to reduce severe disease and therefore "does not have a role in determining or commenting on vaccine mandates".
ATAGI is still conducting regular reviews of "emerging evidence" from the most accelerated vaccination rollout in history.
However, the group maintains that the threat of the virus continues to outweigh the heightened heart risk that comes with mRNA vaccines in the younger population.
"ATAGI advise that myocarditis and pericarditis are rare adverse events associated with mRNA Covid-19 vaccines which occur more commonly among younger people aged 16-40," a representative said in a statement.
"This advice is reached through regular review of emerging evidence and safety signals for all Covid-19 vaccine side effects including for myocarditis and pericarditis.
"Booster doses of Covid-19 vaccine are important to maintain protection and are recommended for males aged 16-40."
In 2021, 22 (1.9 per cent) of Australia's 1122 Covid deaths came from the 0-39 age group.
The median age at death was 79.1.
Official statistics say were there were 15 deaths "for which the information provided to the ABS indicated that Covid-19 vaccination was the underlying cause of death" in 2021.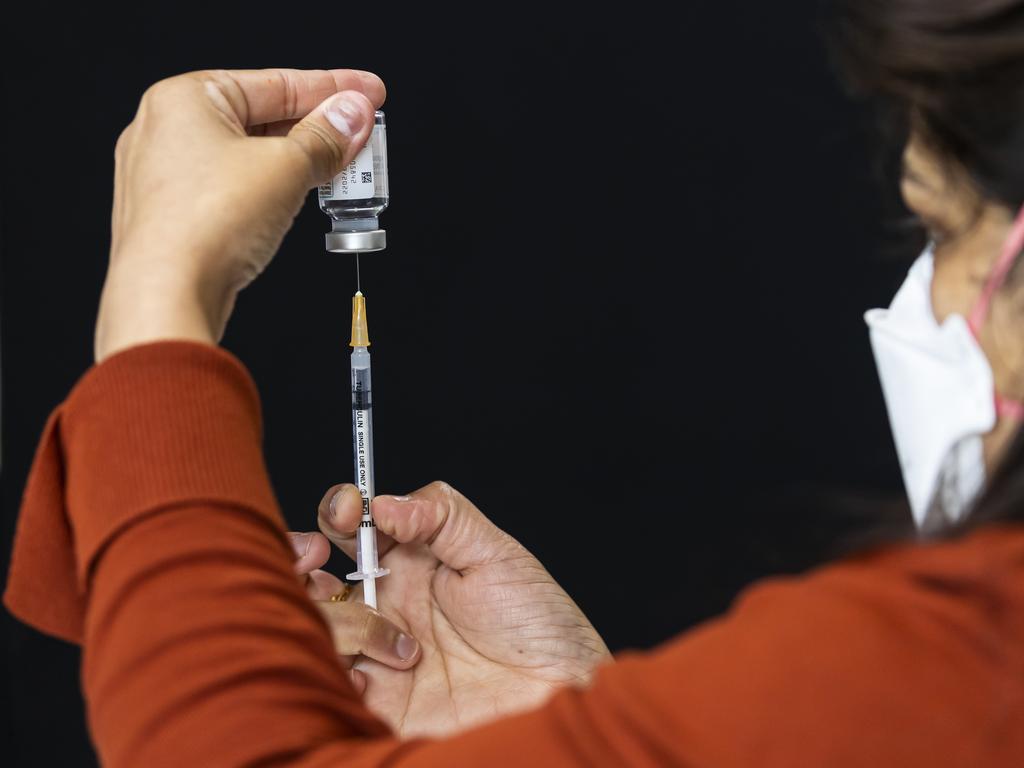 Vaccine mandates have been called into question amid revelations over their effectiveness in reducing transmission.
This all comes as recent revelations have brought Australia's pandemic response into question once again.
An admission from a Pfizer executive about the company's knowledge about the vaccines' effectiveness in stopping transmission – compounded with the ATAGI's new response to increasing numbers of myocarditis in young people – have added fuel to the fire for those opposed to the government's public health measures. 
Since their rollout, a number of organisations have attempted to raise alarm over potential adverse effects of the vaccines and the ethical conundrum that came from making them mandatory for some.
The Public Health and Medical Professionals for Transparency (PHMPT), a group of over 500 health professionals located across the globe, has spent months pushing for transparency from vaccine manufacturers and approval boards.
In December 2021, the non-profit demanded the US Food and Drug Administration (FDA) release all of the data within Pfizer's Covid-19 vaccine biological product file.
Some of the several side effects listed in the thousands of pages of released data included "heart palpitations", "chest pain" and "irregular heartbeats".
In email correspondence with news.com.au in February 2022, the Therapeutic Goods Administration refuted published adverse effects data obtained by the PHMPT, claiming it was "invalid".
"The post-marketing experience report from Pfizer is an analysis of worldwide adverse event reports following Comirnaty," a TGA spokesperson said.
"Simple review of the number and nature of adverse event reports in this document is not a valid method for assessing the safety of the vaccines.
"Reporting of an adverse event does not mean that it was caused by the vaccine. The event may be related to an underlying disease or some other factor such as past medical history or concomitant medication."
A similar email thread initiated by Infectious Disease Ethics to ATAGI showed just one reply from a representative saying they believed the risk of myocarditis caused by Covid-19 outweighed that of the vaccine.
Professor of Epidemiology at the University of South Australia, Adrian Esterman, said it "might be safer" for higher risk groups to take Pfizer over Moderna and encouraged the younger population to get their boosters.
"I would probably still recommend a booster shot for men under 40," he told news.com.au. "However, if they are concerned, they should discuss this with their GP. It also might be safer to go for Pfizer rather than Moderna, and to wait at least two months after their second dose.
"Those younger people who have only had two doses will by now have very little protection against serious illness due to waning immunity."
As of October 12, a total of 63,807,197 vaccine doses had been administered in Australia.
A total of 95 per cent of people aged 16 and over have had their second dose.
A poll conducted by news.com.au on October 22, showed more than half of the 50,000 respondents regretted getting vaccinated, or were unvaccinated and happy with their decision.
Only 35 per cent out of more than 45,000 people said they were vaccinated and would make the same decision again.
Not a single person said they were unvaccinated and regret the decision.
The Australian Government's Health website now states Australians "maintain the option to choose" to get vaccinated against Covid-19.
Source – https://www.news.com.au/world/coronavirus/australia/atagi-didnt-know-about-heightened-risk-of-myocarditis-in-young-men-until-five-months-after-pfizer-moderna-approval/news-story/8d9874d0acca0edbb49e626663625e39