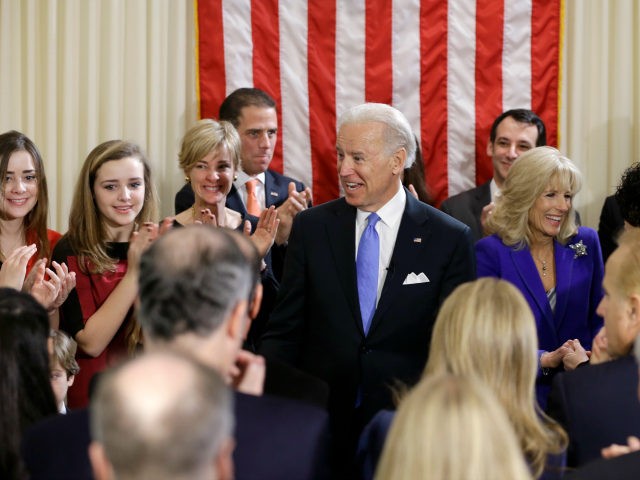 At least five whistleblowers have come forward to allege wrongdoing by the Biden family in connection with business schemes and corresponding coverups.
The whistleblowers are in addition to the multitude of witnesses that Republican members of Congress have interviewed behind closed doors.
The whistleblowers range from an IRS agent to an Obama administration stenographer, encompassing alleged corruption in Ukraine and Mexico, along with the FBI and DOJ.
1) Chuck Grassley: Whistleblowers Say FBI Has Evidence Joe Biden Involved in Family Business Schemes
Sen. Chuck Grassley (R-IA), who testified before the House's new Select Subcommittee on Political Weaponization in 2023, said whistleblower disclosures indicate the FBI has evidence that Joe Biden is aware of the family business schemes, a statement that directly contradicts the president.
Grassley said the whistleblower disclosures "make clear the FBI has within its possession very significant, impactful, and voluminous evidence with respect to potential criminal conduct by Hunter and James Biden."
It is unclear why the FBI has not acted on the alleged evidence.
The FBI is in possession of Hunter Biden's infamous "Laptop from Hell," which has caused many to dub the Biden family the "Biden Crime Family."
2) Former Hunter Biden Partner Tony Bobulinski Meeting with Senate Investigators to Turn Over Information
Tony Bobulinski, a former business associate of Hunter, personally met with Joe and Hunter Biden in 2017 for an hour to discuss "the Bidens' family business plans" for a Chinese energy deal. That deal appears to have never been finalized. The deal included ten percent "held by H for the big guy," who Bobulinski said was Joe Biden.
"We discussed the Bidens' history, the Bidens' family business plans with the Chinese, with which he was plainly familiar at least at a high level," Bobulinski told reporters in 2020 about the business meeting with Joe Biden.
Bobulinski has handed over intelligence about the deal to former FBI "point man" Timothy Thibault, who reportedly buried the information.
He also has conveyed emails, WhatsApp chats, agreements, documents, and other evidence to a Senate investigation committee.
3) Ex-White House Aide: FBI Ignored Joe Biden's Role in Ukraine Business Dealings
Former Obama White House stenographer Mike McCormick alleged in 2023 that the FBI has ignored Joe Biden's role in the family's foreign influence-peddling "conspiracy" in Ukraine.
McCormick, who told the New York Post he has relevant information implicating Joe Biden in the family's business affairs in Ukraine, submitted a tip to the FBI in February. McCormick said he never heard back from the FBI — the same law enforcement agency which allegedly "shut down" the investigation into Hunter's abandoned "Laptop from Hell."
According to McCormick, Biden's former national security aide, Sullivan, told reporters on April 21, 2014, on Air Force Two as an anonymous "senior administration official" that the United States intended to help Ukraine's natural gas industry.
Unknown to the public at the time, Hunter Biden was already a board member of Burisma, a Ukrainian natural gas company. Hunter's position on the board was not disclosed by the company until May 12, 2014, nearly a month after Sullivan's statement to reporters.
4) IRS Whistleblower Says Biden Admin Interfering in Hunter Tax Fraud Probe
An IRS whistleblower alleged in 2023 that two Biden administration political appointees within the Justice Department are working to block charges against Hunter Biden for tax violations against recommendations.
In addition, the whistleblower alleges Weiss asked to be named as a special counsel in the probe to provide a degree of separation between the probe and Joe Biden. That request was apparently turned down.
According to the whistleblower's attorney, Mark Lytle, his client wishes to speak with congressional investigators to corroborate his claims of political interference in the probe, which he has reported to the Justice Department's top watchdog, according to a report.
5) Joe Biden Bribery Allegations Were Flagged to DOJ in 2018
Bribery allegations were brought to the Justice Department by a whistleblower in 2018 against President Joe Biden; but the allegations were ignored, a former federal prosecutor revealed last week. The second allegation of bribery against Joe Biden involves Hunter Biden's board membership for Burisma, a Ukrainian energy company, the New York Post reported:
Bud Cummins, a former federal prosecutor, first reported the bribery allegations to then-New York US Attorney Geoff Berman on Oct. 4, 2018, in an email claiming he had evidence that Joe Biden had "exercised influence to protect" his son's Ukrainian employer "in exchange for payments to Hunter Biden, Devon Archer, and Joe Biden."

In the email obtained by John Solomon's Just The News, Cummins said that Ukraine's then-Prosecutor General Yuriy Lutsenko wanted to travel to the United States to meet Berman, and could produce two "John Doe" witnesses to corroborate his claims about the Bidens.
Despite Cummins claims, Berman did not respond.
Source – https://www.breitbart.com/politics/2023/05/15/least-5-whistleblowers-come-forward-biden-family/