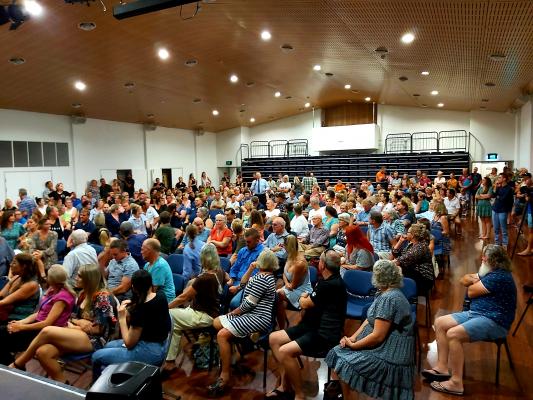 This week some businesses in Yeppoon organised a meeting to express concerns about the Queensland Government's introduction of a mandatory vaccine passport. With just four days of planning, around 600 passionate and concerned people crammed into the Yeppoon town hall. I have never seen a political reaction like it.
The outpouring of concern has confirmed for me why we are wrong to divide our society by requiring people to show medical papers. The vaccine works (to reduce the risk of a severe reaction) but these vaccine mandates do not work because the vaccine does a poor job at stopping transmission. Why take away people's jobs and businesses for something that will not work?
There are not many details of the Queensland Government's plan, they have yet to issue the full regulation. The basic plan is that when Queensland hits an 80 per cent vaccination rate (currently scheduled to be on 17 December) it will be mandatory to show your vaccine passport to enter hotels, pubs, restaurants and entertainment venues. Weddings will be capped at just 20 people unless everyone attending is vaccinated. These restrictions are in addition to the already announced policy of making all Queensland health workers get vaccinated.
The Queensland Government only gives one reason for the removal of people's freedom to decide what medical treatment they receive. Their explanation document says, "To ensure we don't overwhelm our hospital system when we have outbreaks, some restrictions on unvaccinated people are necessary."
The Queensland Government revealed that five per cent of nurses have left their jobs rather than get the vaccine. So how does a policy that has caused us to have 4,000 fewer health workers help in stopping our hospital system becoming 'overwhelmed'?
Because we have not had widespread coronavirus cases, Queensland can benefit from looking at what other countries have done, and compare what works and what does not. It is clear that vaccine mandates do not work.
Germany, the Netherlands, Austria, Belgium, Bulgaria, the Czech Republic and Serbia all have policies that require vaccination to enter venues. They all have high vaccination rates. They have all experienced record numbers of coronavirus cases over the past month. Vaccine mandates do not work.
Read More – https://cqtoday.com.au/news/2021/11/19/yes-to-vax-no-to-passport/