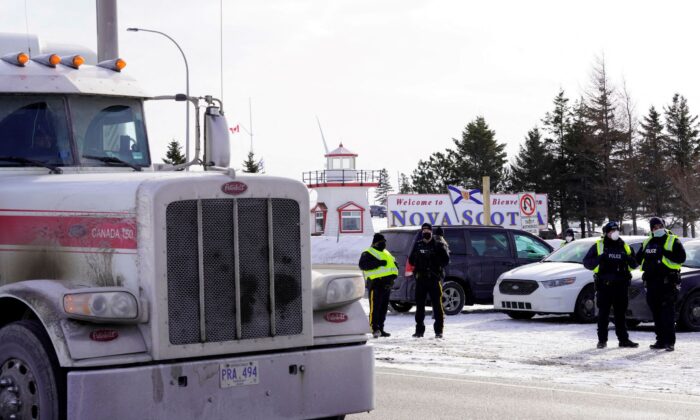 A massive group of truckers protesting the COVID-19 vaccine mandate on truck drivers started their march from Vancouver on Sunday.
The Freedom Convoy 2022 left northern British Columbia en route to the Canadian capital city Ottawa in demonstration against the mandate, and truckers from Ontario and eastern Canada are also expected to arrive in Ottawa, according to local media.
Once there, drivers from every province then plan to join under a group called Canada Unity and form a large demonstration against the mandate on Jan. 29.
One truck driver told the Vancouver Sun that he estimates around 500 trucks from B.C. will join the rally before growing to around 5,000 to 10,000 trucks from across the country once in Ottawa.
Ontario Provincial Police East Region reported a convoy from Pembroke to Ottawa on Saturday, and told locals to "please be patient and exercise care."
The march comes after the federal mandate for truck drivers went into effect on Jan. 15, despite opposition from members of the trucking industry.
Under the mandate, Canadian drivers returning to Canada must be vaccinated in order to avoid entering quarantine. The U.S. Department of Homeland Security announced similar requirements starting Jan. 22 for non-U.S. nationals crossing into the United States who are not vaccinated, including non-U.S. truck drivers.
Prior to the mandate going into effect, Canadian truck drivers were deemed an essential service meaning they were exempt from such border restrictions.
The convoy raised over $3 million in a week prior to the demonstration via a GoFundMe campaign. The money raised will be used to provide fuel, food, and lodging for the marchers, organizers said.
"Our current government is implementing rules and mandates that are destroying the foundation of our businesses, industries, and livelihoods. Canadians have been integral to the fabric of humanity in many ways that have shaped the planet," the GoFundMe page reads.
"We are taking our fight to the doorsteps of our Federal Government and demanding that they cease all mandates against its people. Small businesses are being destroyed, homes are being destroyed, and people are being mistreated and denied fundamental necessities to survive. It's our duty as Canadians to put an end to this mandate," the page continues.
Source – https://www.theepochtimes.com/truck-drivers-protesting-covid-19-vaccine-mandate-begin-march-from-vancouver-to-ottawa_4232170.html