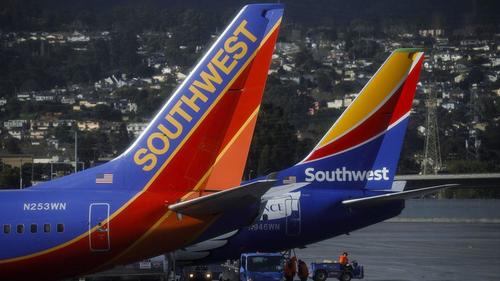 The airline has set a Dec. 8 deadline for vaccinations, which the Pilots Union claim "imposes new conditions of employment" and threatens termination.
"What was a minor temporary event for other carriers devastated Southwest Airlines because our operation has become brittle and subject to massive failures under the slightest pressure," said Casey Murray, president of the Southwest Airlines Pilots Association. "Our pilots are tired and frustrated because our operation is running on empty due to a lack of support from the company."
Murray denied that the cancellations were due to any sort of pilot protest.
"I can say with certainty that there are no work slowdowns or sickouts either related to the recent mandatory vaccine mandate or otherwise," he said, adding that under federal law "our union is forbidden from taking job action to resolve labor disputes under these circumstances. SWAPA has not authorized, and will not condone, any job action."
On Monday, Southwest was once again at the top of the cancellation list, according to FlightAware – which lists 356 cancellations as of this writing (23% of the day's 1,539 total cancellations), prompting Sen. Ron Johnson (R-WI) to tweet: "As a loyal Southwest customer who has been flying safely throughout the pandemic and is utterly opposed to vaccine mandates, I'm asking, stop the madness before more damage is done."
Seemingly out of nowhere what appears to be a Southwest Airlines rebellion has taken flight this weekend. According to media reports, scores of pilots and other Southwest employees have coordinated the taking of "sick days" to use them up in advance of a Southwest Airlines mandate to get the jab or lose the job. Over Saturday and Sunday more than 2,000 flights have been cancelled, with airports experiencing full-on mayhem.
The Southwest Airlines Pilots Association is suing the airline over the imposed vaccine mandate, bolstering the claim that there is a "sick out" underway among angry Southwest pilots.
The mainstream media is doing its best to keep a lid on the expanding rebellion against the vaccine mandates, and Southwest Airlines itself is blaming the cancellations on bad weather and a lack of air traffic controllers. However, the weather problems that Southwest claims to be experiencing seem unique to that carrier: no other airline (thus far) is reporting such weather-related cancellations. And FAA spokesperson Steve Kulm told USA Today that "No FAA air traffic staffing shortages have been reported since Friday."
Read More – https://www.zerohedge.com/covid-19/southwest-cancels-hundreds-more-flights-monday-ron-paul-opines-great-rebellion-over?