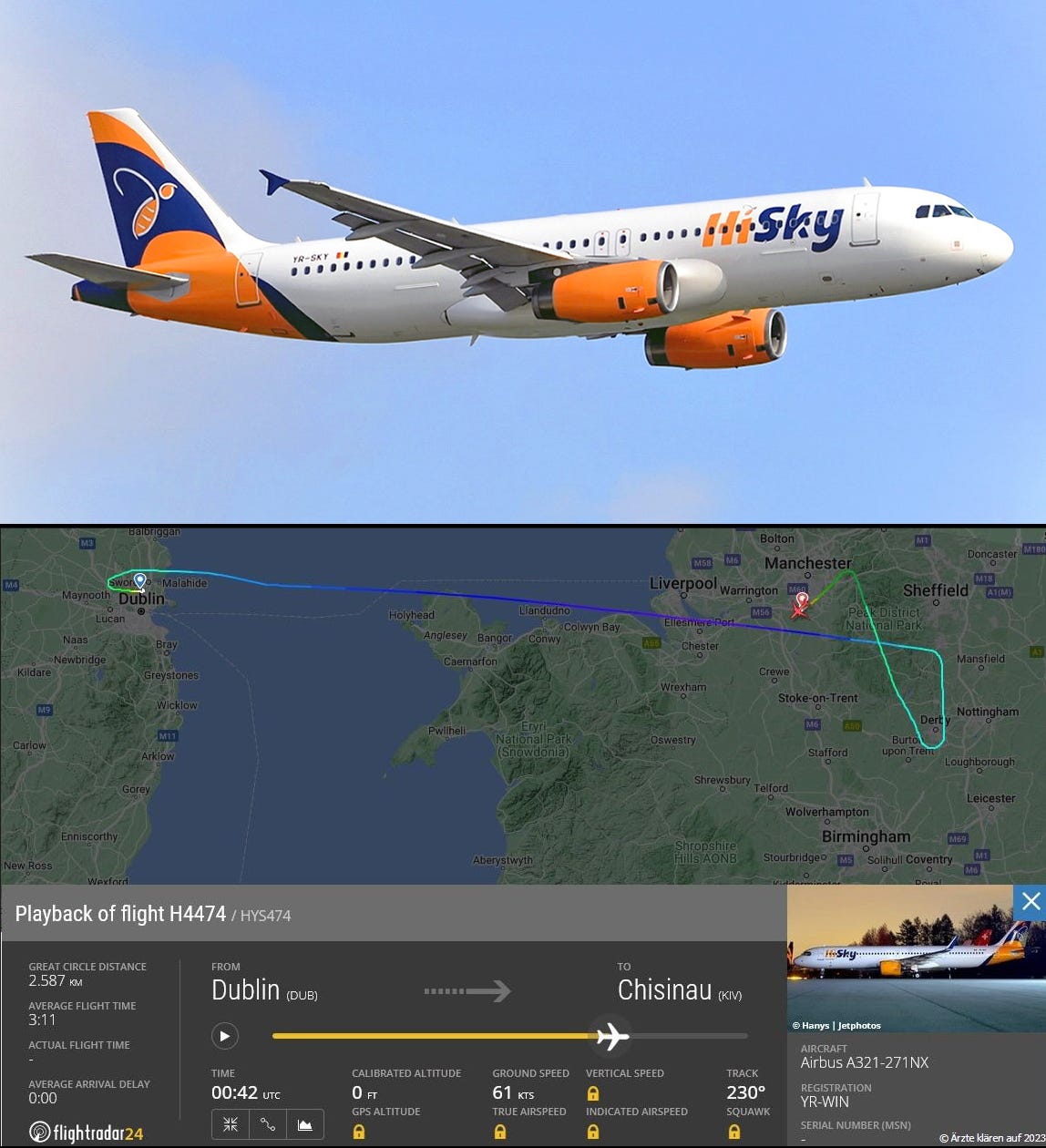 Air traffic situation – Pilot is unable to act (click here)
The plane was then immediately redirected to Manchester / UK ( MAN ), where the sick crew member was transferred to medical care after landing. About 14 hours after landing in Manchester, the plane started again with an exchange crew for the onward flight to Chisinau, where it landed safely without further incidents.
9 other recent Pilot incapacitations in-flight:
May 4, 2023 – British Charter TUI Airways Flight BY-1424 (NCL-LPA) Newcastle to Las Palmas Spain pilot became ill, plane diverted back to NCL. (click here)
April 4, 2023 – United Airlines Flight 2102 (BOI-SFO) – captain was incapacitated, first officer was only one in control of the aircraft. (click here)
March 25, 2023 – TAROM Flight RO-7673 TSR-HRG diverted to Bucharest as 30 yo pilot had chest pain, then collapsed (click here)
March 22, 2023 – Southwest Flight WN6013 LAS-CMH diverted as pilot collapsed shortly after take-off, replaced by non-Southwest pilot (click here)
March 18, 2023 – Air Transat Flight TS739 FDF-YUL first officer was incapacitated about 200NM south of Montreal (click here)
March 13, 2023 – Emirates Flight EK205 MXP-JFK diverted due to pilot illness hour and a half after take-off (click here)
March 11, 2023 – United Airlines Flight UA2007 GUA-ORD diverted due to "incapacitated pilot" who had chest pains (click here)
March 11, 2023? – British Airways (CAI-LHR) pilot collapsed in Cairo hotel and died, was scheduled to fly Airbus A321 from Cairo to London (click here)
March, 3, 2023 – Virgin Australia Flight VA-717 ADL-PER Adelaide to Perth flight was forced to make an emergency landing after First Officer suffered heart attack 30 min after departure. (click here)
3 recent Pilot deaths:
Pilot death – April 13, 2023 – Phil Thomas, graduate of Flight Training Pilot academy in Cadiz, Spain (FTEJerez) died suddenly.
Pilot death – March 17, 2023 – 39 year old Westjet Pilot Benjamin Paul Vige died suddenly in Calgary
Pilot death – March 11, 2023 – British Airways pilot died of heart attack in crew hotel in Cairo before a Cairo to London flight (name & age not released)
Epoch Times articles on pilot incapacitations
I helped Epoch Times prepare two excellent articles on pilot incidents in-flight:
April 18, 2023 – IN-DEPTH: One Moment He Was in Command of a 150,000-Pound Plane, Next He Was Technically Dead
March 30, 2023 – Reports of 'Incapacitated' Airline Pilots Stoke Concerns, Calls for Investigations
Source – https://makismd.substack.com/p/pilot-incapacitation-hisky-flight