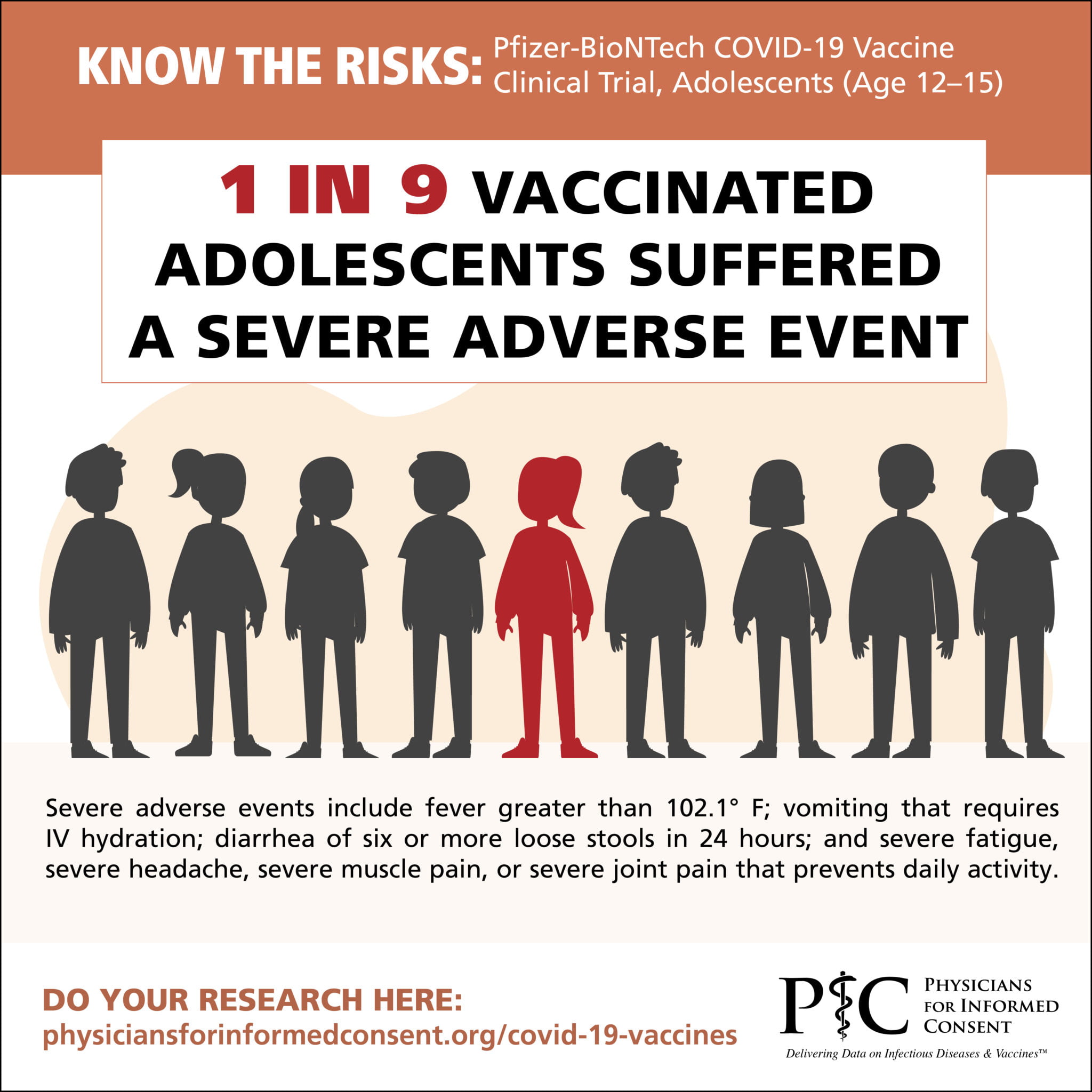 Physicians for Informed Consent (PIC), an educational nonprofit organization focused on science and statistics, recently published an update of its Pfizer-BioNTech COVID-19 Vaccine Risk Statement, which includes key questions and answers about the clinical trial data. The Pfizer COVID-19 vaccine is the first COVID-19 vaccine to receive expanded emergency use authorization (EUA) for adolescents; however, the vaccine is still not FDA-approved.
The PIC Pfizer-BioNTech COVID-19 Vaccine Risk Statement (VRS) answers important questions such as:
How effective is the vaccine in children, adults, and the elderly?
Is the vaccine effective in preventing hospitalizations and deaths?
Is the vaccine effective and safer than the COVID-19 virus?
Does the vaccine prevent the spread of the virus?
The updated document indicates that for children 12 to 15 years of age, the Pfizer COVID-19 vaccine clinical trial found the overall incidence of severe adverse events during the two-month observation period to be 10.7% or 1 in 9 in the vaccinated group. In addition, the incidence of COVID-19 in the unvaccinated group was 1.6%; therefore, there were almost seven times more severe adverse events observed in the vaccinated group than there were COVID-19 cases in the unvaccinated group.
Furthermore, since only about 1,100 vaccinated children 12 to 15 years of age were observed in the clinical trial, there were not enough children included in the trial to be able to prove the vaccine is safer than the disease in children 12 to 15 years of age. The chance of a child 0 to 17 years of age contracting SARS-CoV-2 and dying from COVID-19 is 1 in 290,000.