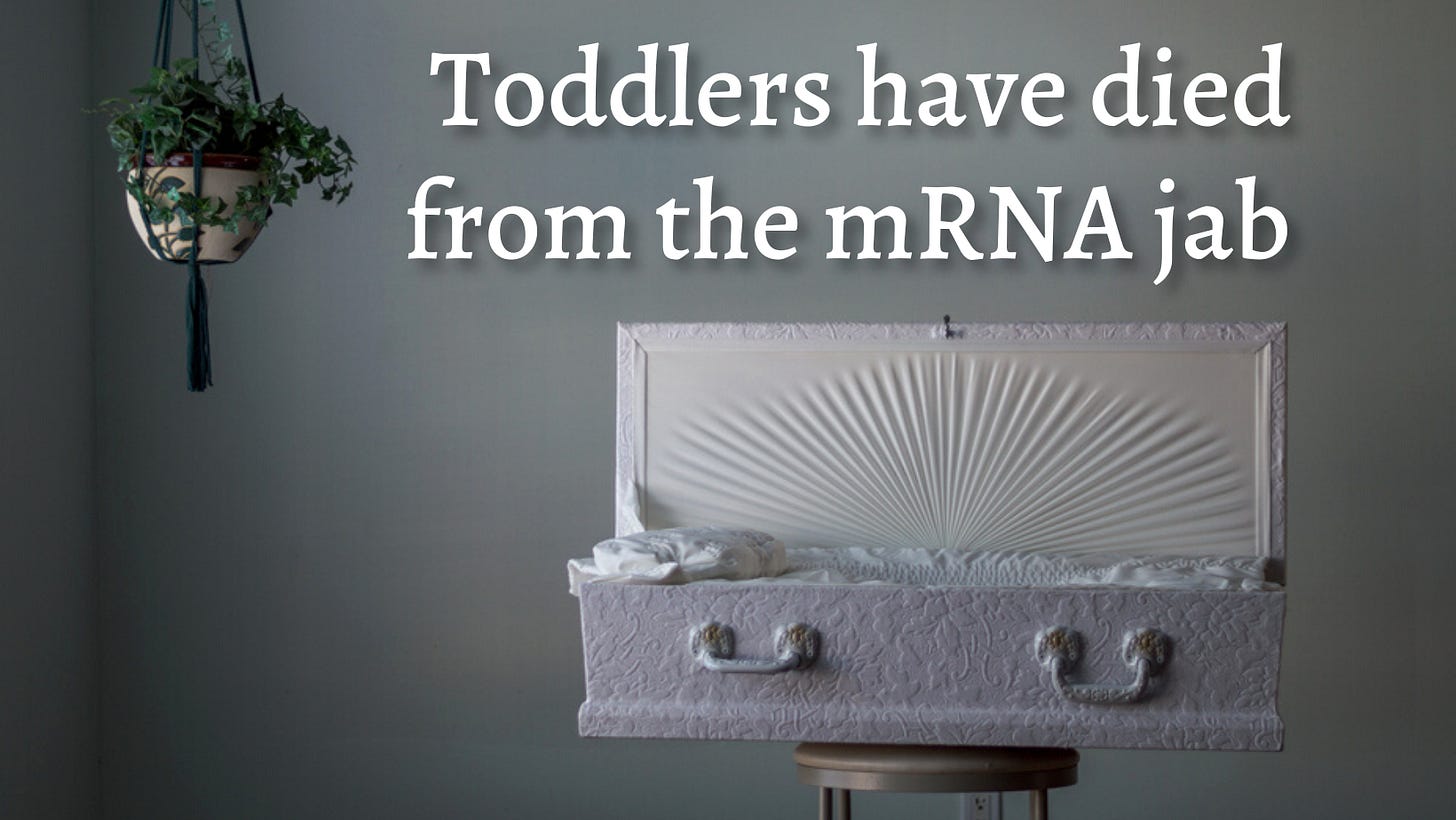 Today, we look into the risk that these so-called 'vaccines' pose to children aged six months to five years.
And our findings show that the approval of these jabs for the toddler cohort is near criminal.
A risk analysis would then go on to the question of whether or not the so-called 'vaccines' posed any significant safety issue or life-threatening concern for those same young children.
It would seem to me to be an open-and-shut case if it was revealed one healthy toddler died from receiving a mRNA shot.
Well, Nation First has the receipts to prove that they have died because of the jab.
Earlier this month, Global Research ran with a story about a two-month-old American boy who died after being administered the jab.
The information they relied upon for that story was a submission to the Vaccine Adverse Event Reporting System or VAERS as it is more commonly known.
VAERS is jointly managed by the Center for Disease Control and Prevention (CDC), and the Food and Drug Administration (FDA), agencies of the United States' Department of Health and Human Services (HHS).
The fact checkers when into overdrive to debunk this story, but within those fact checks lies a startling truth.
In its fact check, Rappler claimed the story as false but provided this important detail:
"According to official CDC's VAERS Wide-ranging Online Data for Epidemiologic Research (WONDER), the 2-month-old baby with VAERS ID 1015467 did not die after receiving the vaccine. The report also said that although the baby did experience cardiac arrest, the baby's condition stabilized and was transferred for further medical treatment."
While not a death, the two-month-old baby boy — otherwise known by the VAERS ID 1015467 — "did experience cardiac arrest".
Remember that number: 1015467.
That is one of the numbers, babies and reasons why governments should not approve mRNA 'vaccines' for children under five, and why no sane parent should submit their child for a COVID jab.
The report for VAERS ID 1015467 details that the adverse event, a cardiac arrest, was "serious" and "life threatening", and that — concerningly — it is "unknown" if the child recovered with "No follow up attempts possible."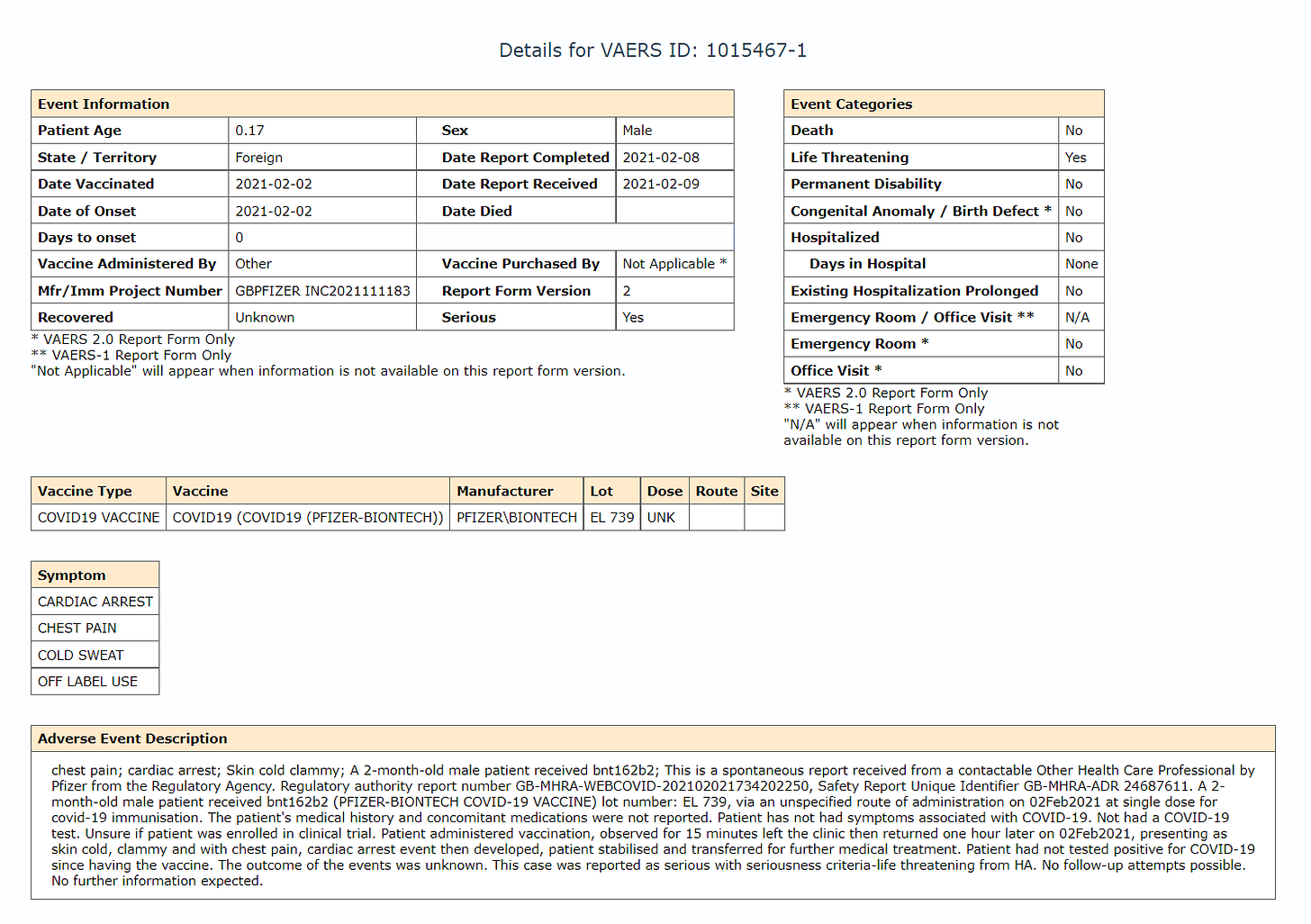 At heart attack at the age of two months is near unheard of, excepting for children who are born with a congenital heart defect.
If VAERS ID 1015467 had such a defect we would know by now, because the authorities and fact checkers would have been at pains to tell us to reinforce the line that the jabs are "safe and effective".
Also, given they don't know if the child recovered and have no way of following up on the matter, how can any fact checker state categorically that the child didn't die?
While 1015467 may have survived, the same tragically can't be said for VAERS ID 1261766, a one-year old Florida boy who received the Moderna jab in early 2021 and died two days later, after his body temperature rose and he had a seizure.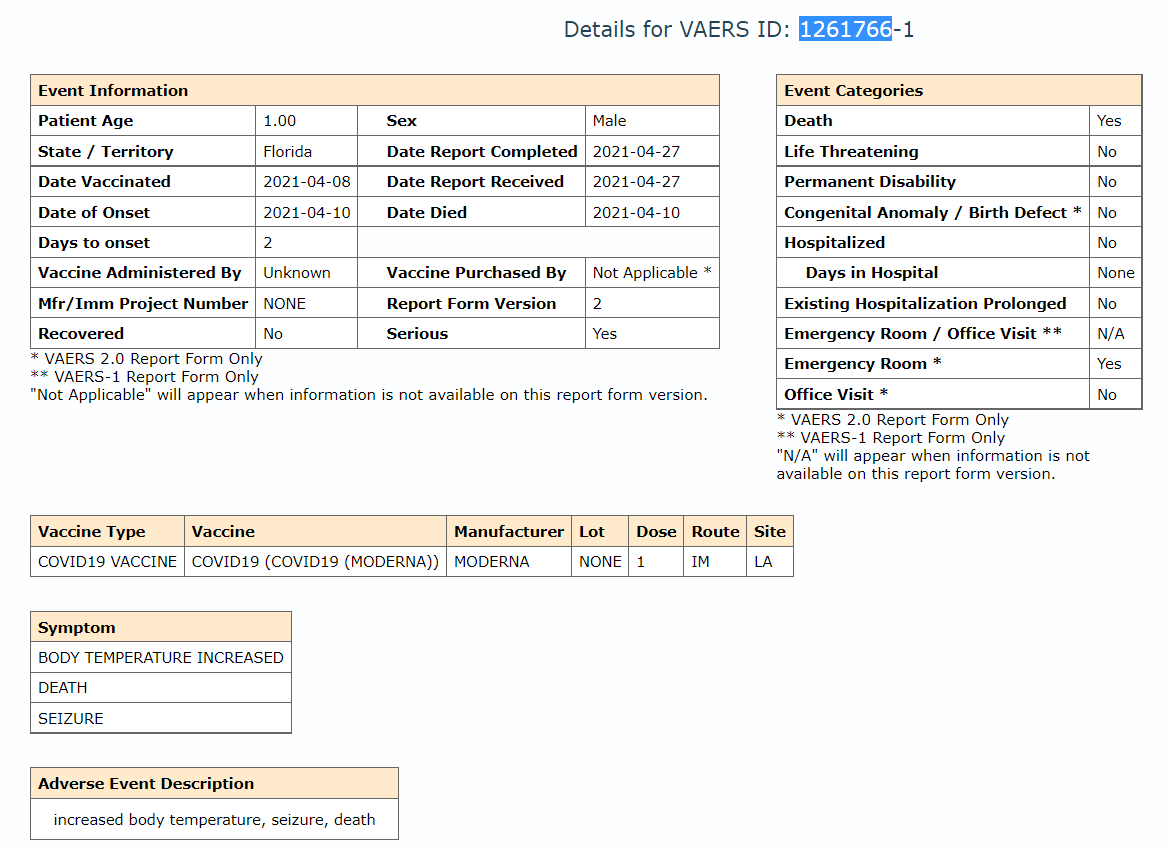 Presumably, VAERS ID 1261766 was part of Moderna's clinical trials.
One death of a toddler should have meant those trials were deemed a failure and the push to vaccine children under five should have ended there and then. It wasn't.
Let's pause here to pray that this poor young child's soul rests in peace and his parents be comforted in their grief. Likewise for all victims of the COVID jabs and their families.
Here's another number to remember: 1074247.
This, according to Natural News and Greater Game India, was the VAERS listing for a two-year-old girl who died in early 2021 within six days of taking the second shot of Pfizer in what was also presumably a clinical trial.
After being publicised, that report was removed from the VAERS system by the CDCon the basis that it was "completely made up", despite any evidence backing up that claim.
The Daily Expose has listed even more adverse events of serious consequence that occurred to children aged five and under.
As brilliant a news source as The Daily Expose is, they are outdone by RTMag which outlines that 58 babies injected with mRNA vaccines had suffered life-threatening adverse events:
An analysis of VAERS reports shows that contrary to the FDA's briefing document claiming that the majority of adverse events in Pfizer's clinical trial were non-serious – at least 58 cases of life-threatening side effects in infants under 3 years old who received mRNA vaccines were reported. For some, it is unclear if they survived.
The details of the adverse events suffered by these toddlers are gory, and include anaphylactic shock, facial paralysis, and vaginal bleeding… in children aged under five!
With all of this real world evidence, some of it coming from before the USA's approval of mRNA 'vaccines' for toddlers, one wonders why experts haven't been coming out against the push to have young children given the COVID jabs.
Source – https://nationfirst.substack.com/p/toddlers-have-died-from-the-mrna