Raheem Kassam , Editor in chief, The National Pulse
Just 42 days ago I reported, here, that Liz Truss's government would be laughable nonsense. Not a bad call, one might argue, given what has happened since then—especially within the past 24 hours.
To recap: Truss was Boris Johnson-lite, still managing to upset the vicious "men in grey suits" who, despite her being elected leader, maintain most of the power inside Britain's Conservative Party. Between the "old guard"—the party donors, the 1922 Committee, and so forth—and a handful of other control mechanisms, there was never really a chance for Truss to get going. Arguably, that may have been a good thing.
But the past 24 hours is nothing compared to what the next week will bring Britain: the most undemocratic leadership stitch-up the nation has seen since the Caesaropapism of 1531.
Easier today, the Conservative Party board decided there would likely be just two candidates for the post of prime minister—still one of the most powerful jobs in the world. Once again, just as last time, the wider British public will have no say in the matter, though the dwindling number of dues-paying Conservative Party members will supposedly get a "say" of some sort.
This entire process—from picking the candidates to holding votes of members of Parliament to holding the membership approval—is supposed to unfold by next Friday. It will doubtless be riddled with more chicanery than the last, and give whoever takes the reins from Truss even less of a mandate than Truss had herself.
In the last competition, Truss had a mandate of just 0.12% of the British population, compared with her final opponent Rishi Sunak's 0.08%. Sunak is currently the bookmakers' favorites to win this next contest. He is also a favorite of the Chinese Communist Party and the World Economic Forum.
Another option would be the equally risible return of Boris Johnson—a man who was plagued by legitimate scandal during his premiership, and who has scarcely turned up to vote in Parliament since he was ousted from the Tories' pole position. Reinstating a man with such outward disdain for the British voting public could be a death knell for the modern Tories, especially if the "real prime minister"—his Clinton-linked wife Carrie Symonds—is allowed back into 10 Downing Street alongside him.
There are frighteningly few other options facing Britain right now. Even if outlier candidates can somehow break through this process in lieu of establishment favorites, they might be competing for nothing more than Liz Truss's title as shortest-serving prime minister ever.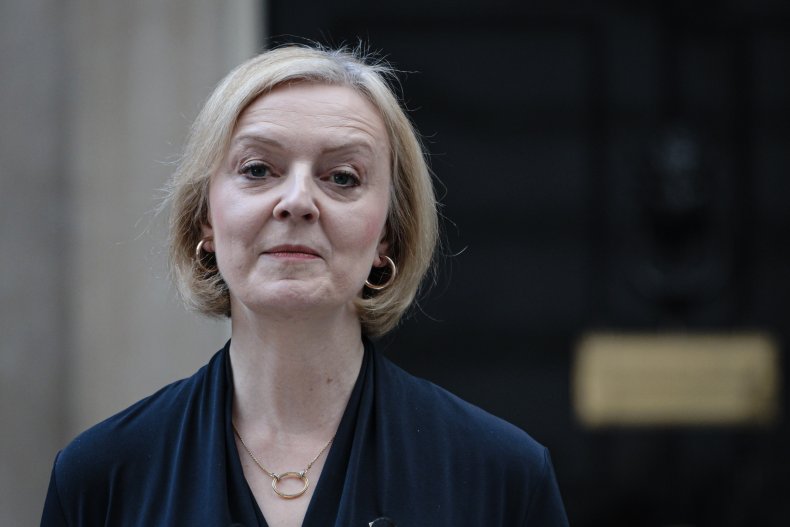 Suella Braverman, who resigned as Truss's home secretary earlier this week, would certainly be more in touch with the British public and the Conservative Party base. The exceedingly "woke" Penny Mordaunt is also in the running. Maybe the party will throw in another name or two: Michael Gove, Ben Wallace, and so on. But at that point, the Tories might as well just pin a blue rosette on a donkey and parade it around Whitehall. We shouldn't put it past them.
The real question is not who the next, short-term prime minister will be, but whether or not the Conservative Party can be allowed to weather this storm unchanged.
With a general election not due before late 2024, the Conservatives will attempt to avoid culpability for the mess that began with, and may now end with, Boris Johnson. Their only salvation comes in the form of a hyper-woke Labour Party leader, Sir Keir Starmer, who cannot publicly state the definition of a woman. Even faced with the open goal of total Tory disarray, Starmer comes across as a thoroughly unlikable, unelectable, and unconvincing avatar of Tony Blair on a bad day.
Add this to the Labour Party's unflinching devotion to rejoining the European Union and handing Brussels its biggest (and perhaps only) victory ever, all at the expense of British sovereignty, and suddenly a much-needed general election begins to feel like a trap.
All this in mind, Britons are ready for a real revolt against their dreadful political system. The critical selling point of the "First Past the Post" electoral system—"strong and stable governments," it is said—has been thoroughly undermined in Britain by the past six years. That "strong and stable" message led defenders of the status quo to emerge victorious over their detractors in a 2011 national referendum on the matter. But those numbers recently appear to be shifting.
A recent survey asked 3,500 Brits, "To what extent, if at all, would you support replacing the First Past the Post system with a form of Proportional Representation?" Only 15% said they opposed the idea. Forty-four percent said they were keen. The rest are all up for grabs.
My advice to the smaller party leaders and political outsiders would be to focus on this systemic problem, rather than the slumber-inducing, predictable politics of the current party structures. Whoever can manage such a thing, and effect meaningful change on that scale, would reap massive political rewards up and down the country.
Source – https://www.newsweek.com/britains-tory-turmoil-about-more-mere-partisan-blundering-opinion-1753659