Australia has been labelled a "complete flop" for wasting two years on lockdowns only to lead the western world in Covid-19 cases.
Australia has been labelled a "complete flop" for wasting two years on lockdowns only to lead the western world in Covid-19 cases.
An analysis of daily new confirmed cases of coronavirus shows that as of this week Australia's seven-day rolling average is 1,100 cases per million people.
That is higher than the United States, the United Kingdom, France and Italy, as well as dozens of other western nations.
The European average is just 398 cases per million people.
It is not just the number of cases where Australia is struggling.
As news.com.au reported earlier this year, the number of deaths between January and April was more than double the death toll from all of 2020 and 2021 combined.
The figures have been seized upon by conservative commentators in the US who say Australia wasted two years with lockdowns and vaccine mandates only to scrap the rules entirely and lead the western world in new cases.
Jeffrey Turner, who is the President of the anti-lockdown, anti-mask Brownstone Institute, wrote on Twitter on Monday that Australia had failed and that politicians pretend nothing happened.
"Well, look at this, Australia with some of the highest cases in the world," he wrote.
"Now it is fully open with no restrictions or mandates. Zero covid policy: a complete flop. Two years wrecked for no reason. Politicians pretend like nothing happened."
Of course, his comments are not entirely accurate. Australia has not scrapped all restrictions. Masks are still required on public transport and in hospitals, GP clinics and aged care facilities.
Vaccine mandates also still apply to a number of sectors including education and health.
Locking down and introducing mandates also saved countless lives.
Australia has less than 500 deaths per 1 million people over the length of the pandemic compared to more than 3000 per 1 million in the US.
Australia has more cases per million people than the US, UK and Canada.
But the sentiment that Australia was too quick to shrug off covid-19 deaths and cases is not a new one.
Maree Teesson is a professor of psychology at The University of Sydney and director of the Matilda Centre for Research in Mental Health.
She says she is surprised by how quickly Australians switched off, even if she understands what is behind it.
"I fundamentally think that Australians really care about each other so it's quite confronting that we've switched off," she told news.com.au.
"But it's understandable."
She says Australians have become "so tolerant of numbers of cases and deaths" in part because they can only tolerate intense fear of something for so long before their mind starts actively avoiding it.
"Humans respond to fear with fight or flight. And fear was the primary motivator used very intensely for behaviour change in the pandemic.
"It was extremely effective in increasing social distancing and virus spread but it is also a very blunt instrument of change. And while it motivated people to socially distance, it reduced social cohesion and connection in our community."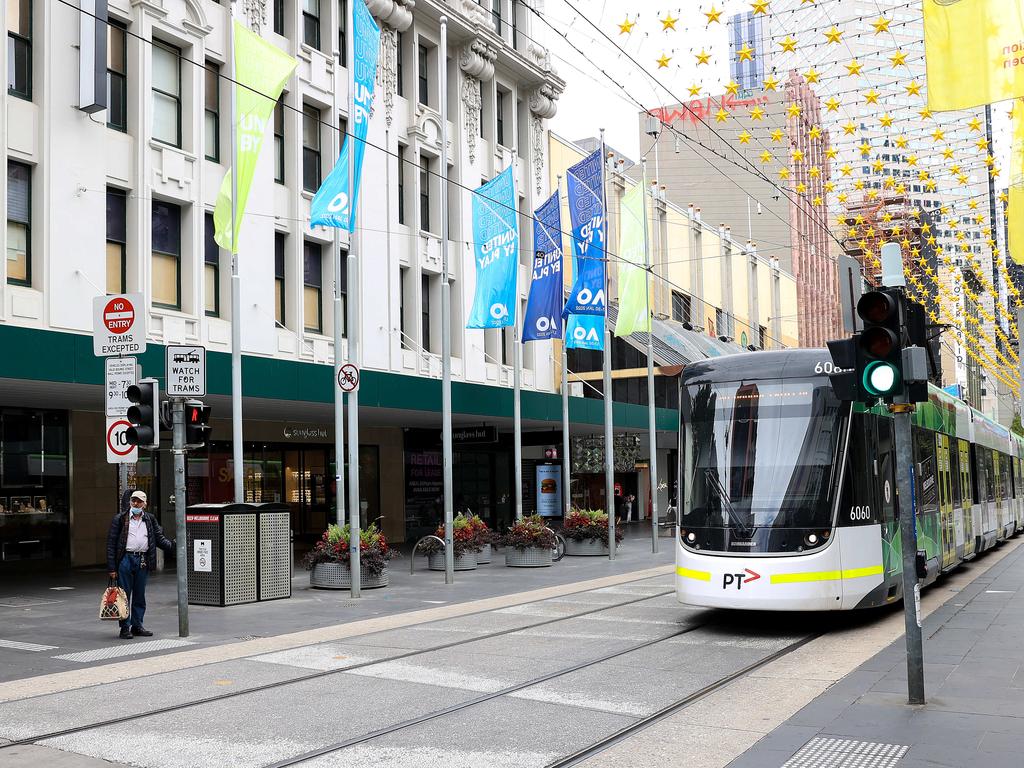 A near-empty Melbourne street. The Victorian capital was locked down for large parts of 2020 and 2021. Picture: NCA NewsWire / Ian Currie
The Australian Medical Association has urged Australians to reconsider wearing masks in crowded places even though they are not mandatory.
"The community needs to decide what's most important – not prejudicing the public hospital system or going to five football matches over five days a week," Victorian AMA branch president Dr Roderick McRae told The Age.
"Today the public hospital system is in crisis. We've heard of nothing but ambulance ramping from summer. It's only set to get worse."
Dr McRae told ABC Radio that pediatric departments are "clogged" and people need to make a sensible decision that is about more than just themselves.
"[Influenza] is rife in the community. The symptoms are very similar to Covid-19 because the body can only react in a couple of ways," he said.
"Influenza is a dreadful dose or combination this year, and the nation is relatively unexposed because of Covid-19."
Source – https://www.news.com.au/lifestyle/health/australia-among-western-nations-with-highest-number-of-covid-cases/news-story/2bb4b257e43a7d7e832ec25ce6f609f9