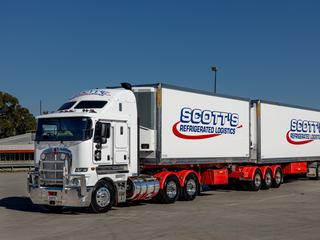 Accounting software company Xero to axe up to 800 jobs in cost-cutting measures
More than $500m worth of frozen food risks going to waste as receivers of collapsed refrigerated logistics group Scott's seek to clear the company's cold storage warehouses to exit costly leases.
Receiver KordaMentha is attempting to relocate about 114,000 pallets of frozen food from Scott's 24 warehouses across the country but alternative cold storage space is scarce, threatening more grocery shortages.
It is negotiating with Scott's landlords and customers to avoid food going to waste. Meanwhile, the federal government has not provided any funding to help shift and store food.
The commonwealth will, however, fund the redundancy entitlements of Scott's 1300 sacked workers, which is estimated to be more than $25m.
Scott's creditors are yet to learn what return they will receive from $100m-plus the company owes them.
Coles – which accounted for about 15 per cent of Scott's business – has retrieved the products it managed directly from Scott's but its many suppliers still have frozen food stored with the group.
Scott's serviced all major supermarkets, delivering directly to Coles and Aldi and on behalf of suppliers to Woolworths and IGA. All supermarkets have been scrambling to redirect deliveries from Scott's to other providers to avoid mass grocery shortages.
KordaMentha began winding up the group on Friday and made 1200 of its 1500 staff redundant late on Monday, retaining 300 staff to clear stock from the company's warehouses and perform other duties.
Voluntary administrator McGrathNicol hosted a creditors meeting on Thursday, although the firm has largely been sidelined after secured creditors called in KordaMentha as receivers.
McGrathNicol partner Jonathan Henry said KordaMentha was working with Scott's customers to take back their stock they had stored with the company. The food belongs to Scott's customers, not the trucking firm.
"However, there is a lot of stock," Mr Henry said. "In addition, there's not enough space in the storage capacity to realistically relocate the stock. Negotiations and site visits have been conducted with landlords and customers to determine a pathway forward.
"At some point in the near future, the receivers intended exiting leases, however, commercial arrangements may be reached to continue to provide customers with ongoing access to stock and the receivers continue to employ a small number of staff to assist with that process."
It is understood Scott's biggest landlord and former owner, ASX-listed car dealer AP Eagers, is receptive to providing a short to medium-term solution but negotiations remain ongoing.
At the creditors meeting on Thursday, McGrathNicol partner Shaun Fraser was not able to say whether the company – Australia's biggest refrigerated logistics provider – was trading while insolvent. It attributed the group's collapse to the costs of maintaining an ageing fleet, "uncommercial customer arrangements", and disruptions from a software upgrade, the Covid-19 pandemic and extreme weather.
The company also failed to secure additional debt and equity funding, while calls to customers to prop up the business after its collapse were not successful.
Sydney private equity firm Anchorage Capital Partners acquired Scott's in mid-2020 for $1 but assumed its debts, totalling $75m.
Anchorage has paid McGrathNicol $1m to cover voluntary administration costs but Mr Henry said the firm's work was "limited" given the appointment of KordaMentha as receivers.
"The receivers assumed control of all aspects of the business. Initial discussions were held with interested parties looking to acquire the business. The sale process ceased once the financial position of Scott's group became too untenable and the receivers made a decision to wind down operations," Mr Henry said.
Meanwhile, Mr Fraser said he could not provide any guidance on a return to creditors.
"Certainly in this matter, it's very complex and it's not possible for us to give you any idea what the return to any class of creditors might be.
"It will take some time for the creditors to work with the receivers to realise assets but of course we will keep you informed as we can."
But Mr Henry said it was unlikely Scott's 650 unsecured creditors – which are owed about $75m – would get their money back.
"As it stands to today, it would be unlikely that there's a return or meaningful return to unsecured creditors. A lot of that hinges on how well the debtors collect and also the value of the security … and have it sold.
"We've estimated $25m worth of employee entitlements so it's fair enough that in order for a return to be made to ordinary unsecured creditors there would need to be circulating recoveries of at least in that magnitude."
It is understood that dozens of potential buyers have expressed interest in Scott's fleet of 600 trucks.
Source – https://www.theaustralian.com.au/business/companies/500m-worth-of-food-at-risk-after-scotts-collapse-as-receiver-struggles-to-clear-warehouses/news-story/c9da700cf562b8db23bd5a20c976a6ec?amp