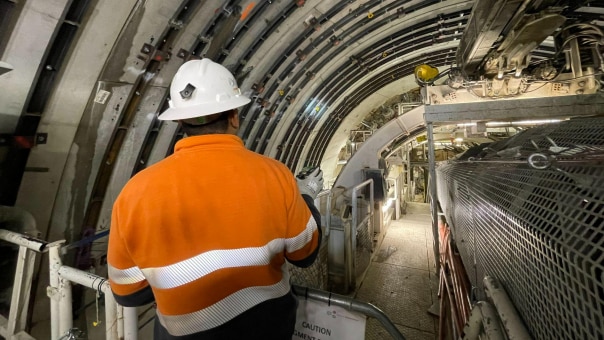 The state-owned company delivering a massive expansion of the Snowy hydro power scheme has revealed it spent $100 million on geotechnical surveys before a tunnel boring machine became stuck underground.
Key points:
Dennis Barnes has revealed stricken boring machine "Florence" may remain trapped underground for weeks or months
The revelations come amid widespread problems with the $5.9 billion pumped hydro project
An analyst says Australia has "lost a decade" in terms of its climate and energy policies
Snowy Hydro boss Dennis Barnes made the admission at a Senate budget estimates hearing on Monday night while he provided an update on the plans for the $5.9-billion Snowy 2.0 pumped hydro project.
The federally-owned energy utility would not be drawn on the likelihood of any further cost increases until the release of a revised business plan later this year.
Despite this, energy analyst Tim Buckley said the project would eventually cost at least $10b.
Snowy 2.0 has been hammered by setbacks since it was announced by Malcolm Turnbull in 2017, when the then-prime minister said it would cost $2b and be online by 2021.
Cost estimates have blown out several times and Snowy Hydro revealed earlier this month that the project might not be finished until 2029.
Mr Barnes has now acknowledged that a huge boring machine known as Florence, which became trapped underground in December, may be stuck for "weeks or months" longer.
He said significant efforts were being made to extricate the 2,000-tonne machine, which triggered a sinkhole when it struck trouble 70 metres into a 17-kilometre journey.
Part of these efforts would include constructing a slurry machine that can "liquefy" the soil in front of the borer, making its passage forwards easier.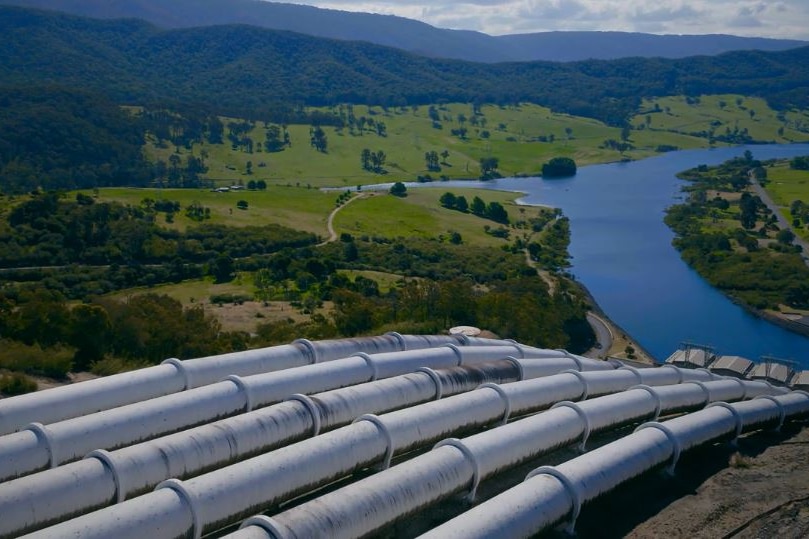 'Absolute bomb'
Under questioning from Nationals senator Perin Davey, Mr Barnes revealed the latest troubles arose despite Snowy Hydro spending tens of millions of dollars on geotechnical work.
"Prior to the financial investment decision there was in the order of $100m spent on geotechnical surveys," Mr Barnes said.
"So we feel we have good coverage of the site.
"We are obviously looking at all sorts of ways to mitigate the schedule delay.
"But once you get the tunnel boring machine going you can … do imaging in front of the tunnel boring machine and go around any significant issues."
Responding to the revelation, Senator Davey said: "No egg on those geologists' faces".
Delays to Snowy 2.0 have sparked fears about the reliability of the National Electricity Market, which covers every state and territory bar Western Australia and the Northern Territory, amid plans to close several big coal-fired power plants.
The project is designed to help stabilise power supplies by acting as a giant battery, pumping water to an upper reservoir when renewable energy is abundant and prices are low and discharging the water when wind and solar supplies are low and prices are high.
Mr Buckley, the director of Clean Energy Finance, doubted Snowy Hydro could abandon the project given the amount of money that had already gone into its development.
But he said the project's handling had so far been a "fiasco" and made a mockery of the initial rosy cost and construction time estimates.
"It is going to cost an absolute bomb — at least five times what Turnbull announced," Mr Buckley said.
"It's all taxpayer money.
"The question is, how far have they gone? Is it too late to withdraw? I would've thought it is."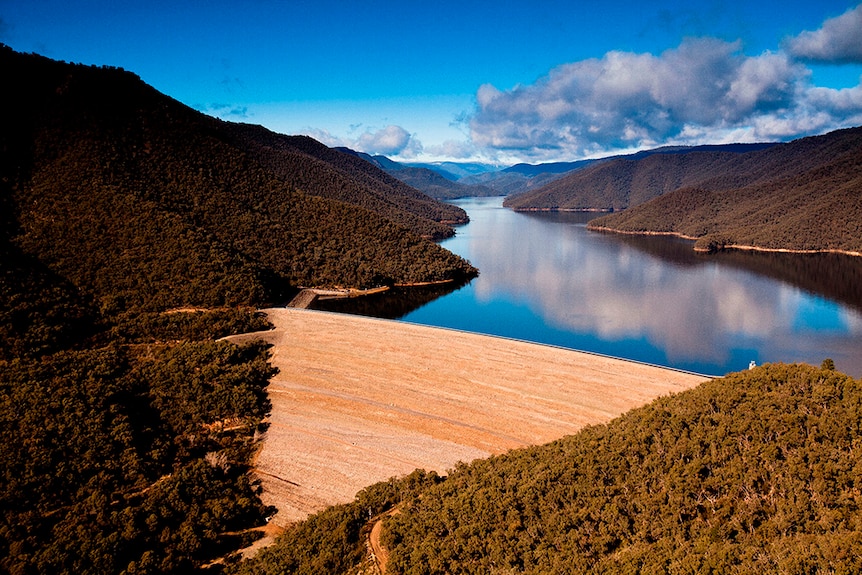 'Lost a decade'
More broadly, Mr Buckley said energy users were now paying for what he described as a "lost decade" in Australia's climate and energy policies.
He warned that the troubles with Snowy 2.0 were unlikely to be isolated and noted that the scale and complexity of the energy transition meant it was bound to hit hurdles.
"It all gets back to the whole issue of the fact we've lost a decade," Mr Buckley said.
"Trying to accelerate it all now is going to come at serious taxpayer cost."
Despite calls from some critics for Snowy 2.0 to be scrapped altogether, Mr Barnes insisted the project would be a valuable asset for the national energy system when it was finally delivered.
Unlike other forms of storage such as batteries, which typically can only discharge for a matter of hours, Snowy 2.0 would be able to provide power continuously for up to seven days.
It was this capability, Mr Barnes said, that made pumped hydro so critical to backing up intermittent wind and solar generation.
"I think it's an incredibly important asset to the energy transition and I fully expect it to be very commercial," Mr Barnes said.
"We're trying to deal with the hardest part of the transition, which is providing deep storage to enable more renewables."
Source – https://www.abc.net.au/news/2023-05-23/snowy-hydro-spent-100m-on-geotech-surveys-before-boring-woes/102381864