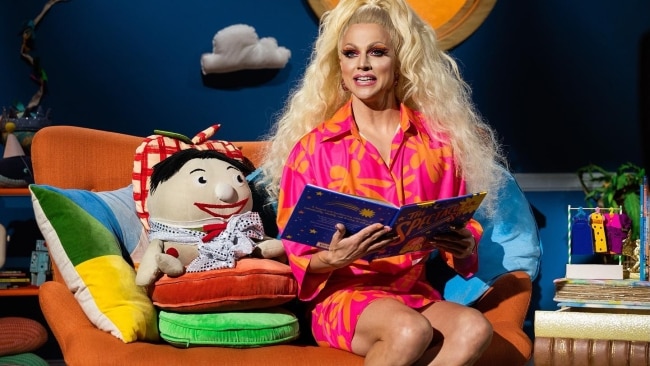 In October 2022, ABC and Playschool showcased Shane Jenek reading a story about a girl who wanted to wear pants instead of a dress. Jenek is a cross-dressing entertainer who performs under the drag name of 'Courtney Act' (with all its attendant sexual innuendo).
In Senate Estimates Committee on November 8, 2022, Senator Alex Antic questioned David Anderson, Managing Director of ABC, about the segment and the grooming of children. Senator Antic said that 'gender dysphoria was being encouraged' by allowing a male parodying regressive sex stereotypes to read a children's book about a gender non-conforming girl on the Playschool program.
Despite Greens Senator Hanson-Young's strenuous exhortations in the committee about victims of sexual abuse being offended, the word 'grooming' has broadened its scope from sexual predators targeting children to prepare them for sexual abuse or exploitation. Known as 'systemic grooming', 'grooming' is now understood to encompass a broad range of strategies designed to inculcate and indoctrinate children, through education and entertainment, into ideologies such as critical race theory and queer theory.
Boundaries that were previously accepted and commonplace are eroded, creating conditions that evade safeguarding and leave children vulnerable to more nefarious predation. Such tactics are often presented as harmless, espousing values of kindness, inclusion, and diversity, but can be an unwanted intrusion into the moral framework and values that parents want to instil into their family life, and undermine their efforts to keep their children safe from harm.
Jenek first appeared in national media on Australian Idol in 2003; failing to make the final cut as himself, he was selected when he re-entered in his drag persona 'Courtney Act'. Jenek did not make the top 10, but nevertheless arose to public prominence saying, 'A lot of people thought I was prettier than most of the girls on the show … more glamorous.' Jenek appeared on reality TV shows such as Big Brother and RuPaul's Drag Race: Untucked. He was signed by BMG (now Sony Music), peaking at No. 29 on the ARIA Singles Chart with Rub Me Wrong and releasing further singles such as Ecstasy, AAA with William and Alaska Thunderf*ck, and Drop of Fluid In 2020, he appeared in a documentary called Meet the Glamcocks.
Jenek has publicly identified as 'pansexual, queer and polyamorous'. On 21 October 2022, Out Magazine confirmed that Jenek had been in a 'group sex situation' with Rob Mills, another 2003 Australian Idol contender, and reported that Jenek said, 'I'm absolutely gobsmacked by the revelation that Rob Mills thinks that three people is an orgy…'
Some feminists, women's rights advocates, and conservatives criticise drag as parody of womanhood, a performance that mocks and sexualises regressive stereotypes of femininity, and it can be referred to as 'woman face'. Others regard it as a harmless creative art form. I suspect some Australians would be accepting of drag provided it is performed in an appropriate setting, such as an over-18s venue.
The vast majority of Australians are fully accepting of people with same-sex sexual orientations, our country is one of the best exemplars of the inclusion of gay and lesbian people in society. But rainbow activists, substantially funded by generous grants from taxpayers – whether it is the $13 million+ annually given to the AIDS Council of NSW (ACON) or $25 million to the Victorian Pride Centre in St Kilda – would have us all believe that those who 'self-identify' into the 'LGBTQ+ community' are the most oppressed, vulnerable, and at risk of violence. Despite these claims, the evidence is clear that it is Aboriginal women most at risk of violence and homicide in Australia.
Gays and lesbians achieved equality under the law in 2017 with the amendment of the Marriage Act 1961 after an overwhelming majority of Australians voted in favour in the plebiscite – myself included. Despite securing this last piece of the legislative rights battle, 'diversity, inclusion and equality' remains a lucrative gig for LGBTQ+ organisations, who continue to to busily promote their agenda to government institutions, departments, and private enterprise, including the ABC, and demand extra rights under the law, such as protections for self-declared 'gender identities' at the expense of biological sex.
The ABC, as revealed in the ACON Exposed project spearheaded by researcher Kit Kowalski, has been arguably compromised by its relationship with the AIDS Council of NSW and membership to the controversial Australian Workplace Equality Index (AWEI). This scheme grades organisations on their compliance with embedding and prioritising a LGBTQ+ centric worldview, and directly conflicts with the rights of women. Platforming LGBTQ+ identified people and pushing their agenda earns an organisation points on the Index, it remains to be seen if featuring 'Courtney Act' on Playschool will earn the ABC points in their annual submission to AWEI. ABC Managing Director David Anderson dancing on a float Mardi Gras did not earn them any points in their last submission because he failed to speak publicly about 'inclusion' at any ACON-approved LGBTQ+ events.
At the end of this month, Lyle Shelton is appearing at the Queensland Civil and Administrative Tribunal to defend a complaint brought by Dwayne Hill, a cross-dressing male, and recipient of an Adult Entertainment Industry Award who performs as a drag queen called 'Diamond Good-rim', and trans-identified female, Johnny Valkyrie, who performs as 'Queeny' and had a Gofundme page to raise money for a bilateral mastectomy. They complained about Mr. Shelton's blog where he criticised the Drag Queen Story Time Session, and demanded a public apology, a purging of his blog of any warnings of the harms of drag queens reading to children, and $20,000. Mr Shelton intends to vigorously defend himself on the basis of his right to free speech.
The Drag Queen Story Time session at Brisbane City Council Library where these two individuals were reading to preschool aged children was protested by a group of University of Queensland students. The footage went viral causing a vicious online backlash; the organiser of the protest, Wilson Gavin, a young, conservative gay man, took his own life the following day.
In this day and age, it is unlikely that anyone would think twice about reading a story to children about a little girl wanting to wear pants instead of a dress. But there is a raging global controversy about children being exposed to gender identity ideology and queer theory through media and schools without parental knowledge or consent, an explosion in children and teenagers presenting with gender dysphoria, and a mounting body count of detransitioners, those who regret hormonal and surgical interventions to achieve a facsimile of the body of the opposite sex. Mr Shelton's impending litigation is an example of the lengths to which LGBTQ+ activists will go to silence any criticism of men and women posturing as arguably sexualised parodies of the opposite sex reading stories to very young children.
In light of this, Senator Antic was right to object to a cross-dressing male reading a story about a gender non-conforming girl on television program targeted at pre-primary children and funded by Australian taxpayers. The ABC executive clearly sees things differently, at the Senate Estimates Committee Hearing, David Anderson responded to Senator Antic's questions, saying, 'I don't see that as grooming children with our content.'
Source – https://spectator.com.au/2022/11/the-abc-playschool-and-drag-queen-story-hour/