World Freedom Alliance Conference in collaboration with Doctors For Truth – Day 2!
To watch the event live online please go to:  https://odysee.com/@SZK_Arch%C3%ADvum:6/Conference:6 – Please refer to the conference schedule. The day starts at 9 am CET.
Links to day 3 will be distributed tomorrow evening.
World Freedom Alliance Assembly – Implementing the WFA Action Plan!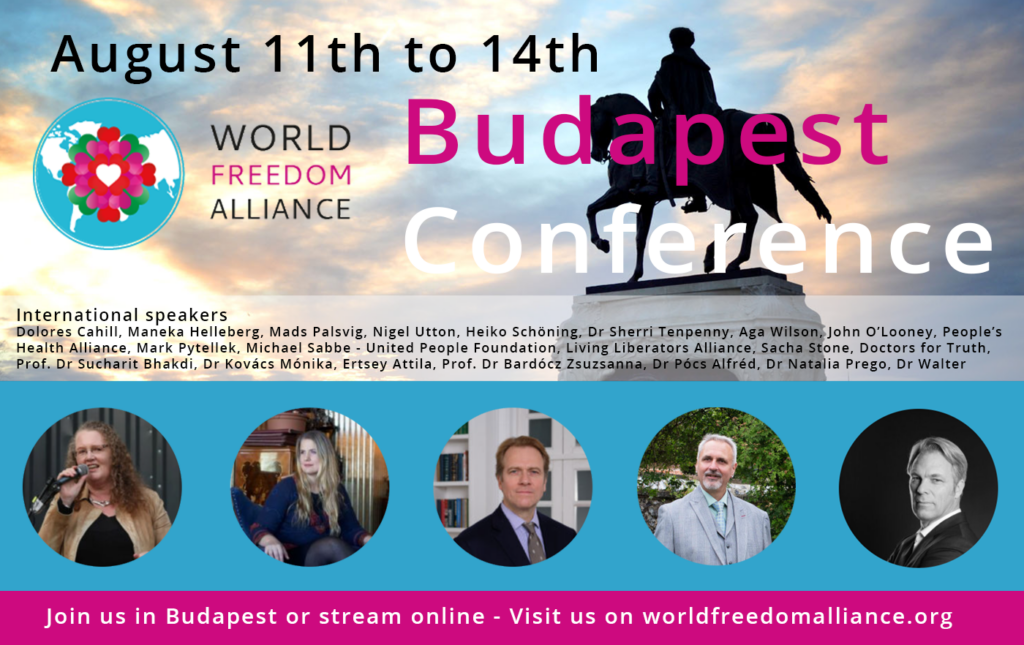 SOLD OUT! YOU CAN JOIN OUR LIVESTREAM ONLINE!
Become a WFA member (click here) and watch the Budapest conference on live stream. Fill out the form at the bottom of this page to receive more information about the conference and how to access the live stream.
There will be two open sessions for all of you to join in:
– Friday the 12:th 9.30 – 11.45, presentation of the Educational charter and Action Plan
– Sunday the 14:th 16.30-18.30 The World Freedom Alliance General Assembly
Use this zoom link to join the open sessions:
World Freedom Alliance is inviting you to a scheduled Zoom meeting.
Topic: WFA Budapest Conference – Sunday the of August'22
Time: Aug 14, 2022 04:30 PM Budapest
Join Zoom Meeting
https://us06web.zoom.us/j/8122872020?pwd=MzhRMi93MG5LQmdlSkhTVFVnSWcrdz09
Meeting ID: 812 287 2020
Passcode: Freedom
Budapest 11th of August to the 14th of August, 2022
For updates on the WFA Conference agenda please keep your eyes on this page!


World Freedom Alliance Conference in Budapest Schedule
Schedule:
Arrival Day – Thursday evening the 11th of August
Schedule time zone: Central European Time Zone (CET). Please see time converter here: https://www.worldclock.com/time-zone-converter'
Friday the 12:th of August – Implementation of the WFA Action Plan
08.30 Meet and Greet – Registration
09.15 Welcome and introduction to the weekend
09:30 Nigel Utton – WFA Education Charter
10:30 Coffee Break
11:00 Presentation of the WFA Action Plan
Maneka Helleberg (Sweden)
Prof Dolores Cahill (Ireland)
Nigel Utton (UK)
11:45 Our Partners on Health and Adverse Events – Online presentations
John O'Looney Funeral Director
Video Presentation People's Health Alliance
Aga Wilson Can We Talk About It?
13:00 Lunch
14.30 Mark Pytellek Solutions Empowerment (Australia)
Michael Sabbe United People Foundation (Worldwide)
Chad Manian Guardians 300 (UK)
16.00 Daniel Estulin (keynote speaker)
Psychological manipulation/Bilderberg Group/Tavistock
17:00 Coffee Break
17:15 Sacha Stone New Earth Horizon
18.00 Rally with Doctors For Truth
Erzsebet ter, in front of the Ferriswheel 4
Speakers:
EnikoNoll-Szatmari| Miklos Patrubany| Dr Tamasi Jozsef| Prof.
Dolores Cahill | Dr HeikoSchoning | Mads Palsvig| Nigel Utton
Saturday the 13th of August – Doctors For Truth Partnered with World Freedom Alliance
09.00 The Conference will be opened by Miklós Patrubány, patron-general, president of the World Federation of Hungarians
9.10 Music
9:00 Opening of the Conference, music
9:30 Prof. Dr Sucharit Bhakdi (Germany) – Video Why injection of gene-based "vaccines" is an unforgivable crime
10:00 Prof. Dolores Cahill (Ireland)
10:30 Coffee Break
11:00 Dr Kovács Mónika (Hungary) COVID–1984: Black Box – A Mental Epidemic Scenario and the Way Out
11:15 Ertsey Attila (Hungary) Our scenario: How to build the second Hungary, between East and West
11:30 Prof. Dr Bardócz Zsuzsanna (Hungary) "Nutrition,
health and agriculture"
11.50 Dr Heiko Schöning (Germany) "Novavax and Emergent BioSolutions: How are vaccine makers for COVID, Anthrax and Pox are connected to a worldwide mafia?
Lunch break
14:00 Dr Natalia Prego (Spain) Ivermectin: a key piece in the treatment of post-covid-19 vaccine side effects
14:30 Dr Walter Weber (Germany) The Effects of the mRNS COVID Vaccines on Chemical and Physical Levels. Recognition and treatment of side effects, the Phenomenon of Shedding
15:00 Pamela Popper (US) – live zoom How Citizens of the
World Regain Their Freedoms
15:20 Dr Biserka Ilin (Slovenia) The new WHO convention – a road to medical dictatorship?
15:40 Coffe Break
16:10 Dr. Grabner Esteban (Argentina) – video / or live zoom Preliminary study of the toxicological results of intravenous administration of chlorine dioxide solution (CDS) in rats
16:20 Willem Engel (NL) One world, One health ideology, the new moral code
16:40 Győrffy Orsolya (H) WHO
17:00 Dr Tuzson Rita (Switzerland) How did we get to this
point? An overview of the medical history of vaccinations
17:30 Coffee Break
18.00 Pianist Tünde-Ilona Krasznai (Connecticut-Cluj) plays
works by Beethoven, Schubert, Rachmaninoff, Chopin, Liszt
and Kodály. In the meantime, József Balla (Brisbane,
Australia)'s poem Bad Planet will be performed
19.00 Round table discussion
20:00 Dinner
Sunday the 14th of August – Morning Doctors for Truth – Afternoon World Freedom Alliance General Assembly
9:00 Prof. Dr Boros László (Hungary) The Covid performance of the soap opera of the targeted genomic medicine
9:30 Prof. Vlad Slava Shafalinov (Russia)
10:00 Dr Maria Hubmer-Mogg (Austria) The power of the people for the people is an endless source of enlightenment and
love!
10:20 Dr Péter Ormay (Hungary) "Vaccination complications in dental practice
10.40 Coffee Break
11.10 Mads Palsvig (Denmark) "The World is Abundant, if anyone is poor = then it is by design"
11.30 Dr Farkas András (Germany) COVID as a synonym for change
11.50 Dr Margareta Griesz-Brisson
12.00 Dr Tamasi József (Hungary) "Where are the vaccine victims in the statistics? Where did medical ethics go in ethics committees? Where is the Hippocratic Oath in the vaccine?
12.10 Final Round table discussion
13.20 End of conference concert
WFA General Assembly
13:30 Welcome and Introduction – Maneka Helleberg – Implementation of WFA Action Plan & Building the New
14:00 Strengthen the Individual
– Nigel Utton
– WFAPsychology Group
14:30 Resist & Protect
World Integrity Project – Prof. Dolores Cahill
– Prof. Antonietta Gatti
15:00 Coffee Break
15:30 Dr Sherry Tenpenny (keynote speaker) (USA)
16:30-18:00 WFA Assembly
Country Representatives from all over the World give a short report and their feedback on the implementation of WFA Action Plan
Robert Burrowes – Australia
Ilana Rachel – Israel
Max Winter – Sweden
Zafeiria Kakaletri/riaNikos Vakoidis – Greece
and more
18:00-18:30 Q&A from participants & Final Discussion
End of the Conference
Speakers
Dr. Sherri Tenpenny: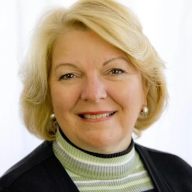 Dr Sherri Tenpenny is an osteopathic medical doctor, board certified in osteopathic medicine, with a proficiency certification in Integrative Medicine. She was board certified in Emergency medicine from 1986 to 1998, when worked as a full-time Emergency Medicine physician and served as Director of a Level II Trauma center
The founder of Tenpenny Integrative Medical Center, a clinic located near Cleveland, Ohio, her clinic provides natural, holistic approaches to getting well. Their success has attracted patients from all 50 states and at least 17 countries.
Dr. Tenpenny has invested nearly 22 years and far more than 50,000 hours researching, documenting, and exposing problems associated with vaccines. She is a frequent speaker at national and international conferences and a regular guest on radio shows, podcasts and on TV, sharing her highly researched information on why we should just say no to vaccines. Her many articles have been translated into at least 12 languages.
Between March 2020 and December 2021, she participated in more than 600 interviews on Covid-topic, which included London Real with Brian Rose, InfoWars with Alex Jones, The Stew Peters Show, The Hagemann Show, DayStar TV with Joni Lamb and many more. She has been featured in several high-profile documentaries, including The Truth about Vaccines, The Truth About Cancer, and Plandemic.
Dr. Tenpenny continues to see patients at the Tenpenny Integrative Medical Center. In addition, she has recently opened new wellness centers focusing on ECP (External Counter Pulsation) to treat heart disease and blood disorders. She loves to write, producing two Substacks each week and articles for The Tenpenny Report. Her four weekly podcasts, 'This Week with DrT' (interviews with amazing guests) and 'Happy Hour with DrT' (an online Bible studay) have are listened to widely through various podcast formats. She is also co-host of three educational boot camps per year that reach a global audience.
While Dr. Tenpenny is a very busy professional, her walk with the Lord is paramount in her life. She enjoys being quiet at home, listening to Christian music on her back patio with her Japanese Chin puppy, Teegan. She has traveled extensively, having been to nearly 70 countries. Her favorite locations (to date) are Latvia, Russia and Turkey. She is hoping to visit the Central Asian Republics in the near future.
Website: www.DrTenpenny.com
Mads Palsvig: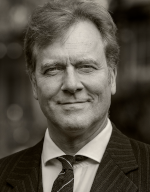 Mads Palsvig is the party leader of JFK21 (Earth freedom and knowledge) whose main key issue is the issue of banking reform, where the value of money creation should benefit the people instead of mainly multinational corporations and real estate investors.
Mads Palsvig has a background in investment banking where he worked at Credit Suisse First Boston and later Barclays and Morgan Stanley. After stumbling across some interesting books at Harrods in 2002, an enlightenment journey began that made it increasingly difficult to work for the financial system. For Mads, the banking world increasingly appeared as a thoroughly immoral Construction whose exercise of power left entire nations devastated.
JFK21 started in 2016 and runs a party program for extensive system changes such as the abolition of central bank rule, that the means of payment should be state-issued and interest-free and that Denmark's tax system should undergo a thorough reform with total abolition of income and corporate tax, the revenue for the government should come from a 1% tax on all digital transfers of money.
JFK21 works for the decentralization of political power, the introduction of criminal liability for crimes against humanity, withdrawal from the EU in its current form, as well as the Prohibition of lobbying organizations and free trade agreements benefitting multinational corporations. In addition to its organizational policy, the party works on issues related to public health, agriculture, education, the environment and public administration and governance.
Michael Sabbe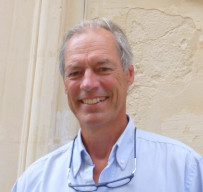 Michael Sabbe ('55) is an economist. He studied economics at the American university AUP. He is an entrepreneur and has experience in various sectors such as ISP provider, information systems, the textile and automotive industry. For the last few years his focus is on the development of green energy solutions, and lectures on sustainable financial systems. A sound economy (household) leads to a prosperous world for all. Click here for more info about Michael.
United People Foundation is engaged in the development and promotion of innovative projects, products and services that serve society. United People ensures a balanced implementation of its subservient projects, products and services in collaboration with third parties. In this way we return money to a means, to make our lives easier. Our activities provide returns only on the basis of natural growth. The result is a society in which people build an existence based on respect and compassion. We ourselves are the change.
The great key to achieving truly positive change in this world in a peaceful manner is to realize a comprehensive financial platform with its own currency. The URA platform and the URA currency offer this possibility to every person on earth. This marks the beginning of our liberation!
Agnieszka Wilson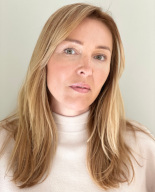 Agnieszka Wilson is a humanitarian expert, human rights advocate and a social entrepreneur. Her experience involves working as a global consultant and project manager on human rights, policy development, and international training for nonprofits, NGOs and the United Nations. She began her career at the United Nations HQ in New York working on development and post conflict settings. Her work within the non-profit sector also involved women's empowerment and reproductive health. Her ambition to inspire more collaboration and unity across sectors has led her to build successful partnerships, networks and campaigns worldwide.
Agnieszka holds a Master's of Political Science from Uppsala University, Sweden. She also worked as an adjunct professor at St. John's University teaching on media, communication and international relations. She is currently a news reporter for the Swedish media channel, News Voice and the Aga Wilson Show, where she presents transparent and uncensored news. Becoming a mother and her interest in healthy living, led her to start her own non-toxic all organic skincare line, Urban Witches. She has been a practitioner of yoga, meditation, mindfulness and clean eating for over 15 years and has found it to be essential to everything she creates in life.
Sacha Stone
Former rock musician and artist​ Sacha Stone​ grew up in Rhodesia-Zimbabwe throughout the war for independence. He established​ Humanitad​ in 1999 and has worked across both the NGO and IGO sectors as an outspoken advocate of human rights and natural justice. He has instigated peace initiatives and education programs, lobbied against human-rights abuses in different parts of the globe and continues to prosecute for the protection of vanguard innovators, scientists and doctors.
Most recently Sacha launched the New Earth Horizon web platform, which highlights all of the initiatives he has spearheaded over the years including the two most recent: Thr Lazarus Initiative (
lazarusinitiative.com
) and ARISE! Guerrilla News (
ariseguerrillanews.com
) along with all those you will find outlined below.​
Sacha created the New Earth Project​ an evolving blueprint for sustainable, sovereign and self-determining communities, headquartered out of the world renowned (Akasha) NewEarth Haven in Bali. Sacha is also founder of the​ ITNJ International Tribunal for Natural Justice, which launched under multilateral observership in June 2015 via a ceremonial seating and ratification ceremony at Westminster Central Hall in London on the 800th anniversary of the signing of Magna Carta. This new planetary court is committed to the dispensation of natural justice:​
https://www.humanitad.org
The​ ITNJ​ launched the​ Judicial Commission of Inquiry into Human Trafficking & Child Sex Abuse​ at Westminster Central Hall in London in Spring 2018. The Commission continues to hear witness testimonies from survivors and expert witnesses from around the globe via on-line virtual court seatings. A​ Judicial Commission of Inquiry into Weaponisation of the Biosphere​ launched in 2019 and in 2020 the court launched an inquiry into Corona/Covid (still underway as of Q4/2020): ​
https://commission.itnj.org
Sacha is founder of the​ World Health Sovereignty Summit​ with many of the worlds leading advocates in the sector including: Robert Kennedy Jr., Del Bigtree, G. Edward Griffin, Professor Dolores Cahill, Dr Christiane Northrup, Marla Maples, Charlene Bollinger, Dr Rashid Buttar, Dr Sherri Tenpenny, Andrew Wakefield, Dr David Martin, etc…:​
https://www.reclaimyourlives.com
Sacha is an activist, public speaker, publisher, writer and film-maker:​ https://sachastone.com
Mark Pytellek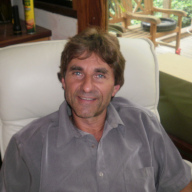 Mark Pytellek is a 1st generation Australian of German parents who immigrated to Australia in 1960 to escape the communist dictatorship in former East Germany, in the hope of achieving a free and prosperous life in free & prosperous Australia.
Mark grew up in country Victoria, loving the rural country side, life and the freedoms then prevalent in Australia. His love of rural Australia drove him to complete a Bachelor in Agricultural Science at La Trobe University, Melbourne in 1985, before beginning a 15 career in marketing & sales, instead of Agriculture, by reason he'd personally witnesses the collapse of the Australian Agricultural industry (and subsequent manufacturing industry too) while going through University. The collapse left no opportunity to enter the Agricultural Industry in Australia.
Later, in 1991 Mark moved to the Gold Coast, Queensland, where he established and ran a convenience – corner store in Cotton Street, Nerang commonly & affectionately called "The Mark's Brothers" (a pun on words) Corner Store, by reason the two principal proprietor's were named "Mark".
Following that business, Mark began a career by accident in the problem solving industry, when it became apparent he had a natural flare and skill in settling matters between rival adversaries through predominantly private negotiations as a professional mediator. For 21 years now Mark spent almost every waking hour assisting fellow Australians who approach him in dire need of help for one reason or another, commonly working 100 hours or more per week, often voluntarily, to assist them in saving their homes, businesses, other assets and even their sanity and life.
More recently Mark founded a website, www.solutionsempowerment.org, in an effort to leverage his time, knowledge, experience & successful processes & outcomes and permit him some time out to enjoy life, even dream of a holiday, the last holiday being a one dayer in 2013!
Having an aversion to politics, Mark elected to ignore politics in Australia by reason it became apparent to him early in life that no matter which of the two mainstream parties were incumbent, the country was sliding into economic oblivion, as a direct result of the failed and predominantly irrelevant policies, concerning the welfare of Australians and Australia in general, of the mainstream parties.
It became even more apparent to Mark that the only way to restore Australia and Australians to its/their former prosperity, integrity, upright moral standing, freedoms, glory and ranking as the number 1 standard of living country on earth in 1960, was to roll up the sleeves and take personal action, encourage and lead Queenslanders and Australians to take action to reclaim and restore Australia to the country of freedom and prosperity enjoyed by everyone in the 1960's and 1970's. Mark therefore joined the "Civil Liberties & Motorists Party".
Robert Burrowes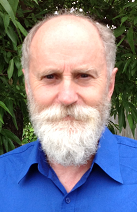 Robert Burrowes has been a geopolitical analyst (including studying and critiquing the Global Elite) since 1971. He has done extensive research since 1966 to understand the cause of human violence and has been a nonviolent activist and educator since 1981; he has been arrested for nonviolent acts of conscience about 30 times. He has also done extensive research on the strategy of nonviolent campaigns and liberation struggles.
You can find out more about his organisation We Are Human We Are Free on: https://wearehumanwearefree.org
Please register your interest by the 1st of August'22
For updates on the WFA Conference please keep your eyes on this page!
Register your interest in participating in the event in Budapest 2022 please fill in and submit the form.
Daniel Estulin's presentation for the Budapest conference
Daniel Estulin's presentation for the Budapest conference