Open Letter
To the National Bioethics Committee
To the Hellenic Dental Federation
To the Panhellenic Medical Association
To the Panhellenic Association of Nurses
To the Panhellenic Pharmaceutical Association
To the Panhellenic Association of Physiotherapists
Notification: Hellenic Ministry of Health
15 June 2021
Dear Chiefs,
We are surprised to find that there is no formal public intervention and stance in defending the legal right of those of your members who do not wish to be vaccinated with the unlicensed experimental vaccines against Sars-Cov-2 (not been approved or licensed), for which has only been authorized ONLY Emergency Use Authorization (EUA) by the FDA and EMA.
As you are already aware of, the International Legislation (detailed in a separate attached document in this email from the study of the political scientist Mrs. Nelly Psarrou) on civil rights and the Nuremberg Code (also detailed in the attached),
do not allow any medical procedure (in this case vaccination),
without the consent of the individual (informed consent).
Therefore, any vaccination cannot be mandatory.
This is all the more true for these vaccines, which have not completed their safety and efficacy testing time, which is explicitly stated by the manufacturers themselves (page 8 of the Pfizer vaccine leaflet attached to this letter).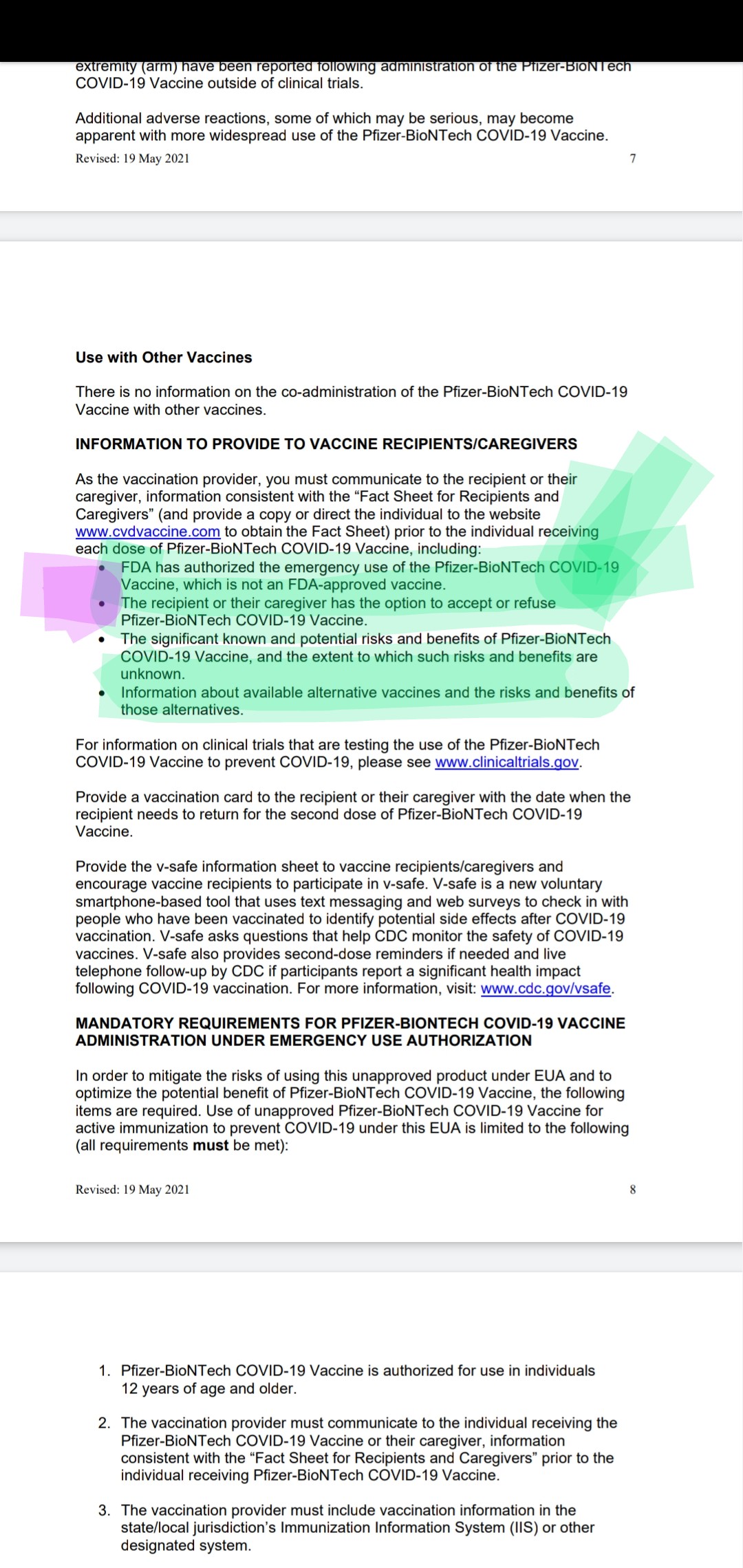 You are also aware better than anyone that the vaccinated people for Covid-19, (as long as the vaccine works for them, as this is not sufficiently predictable or fully proven at the moment and to what extent), partially protects exclusively themselves and no one else!
Especially in this case, the person vaccinated with these vaccines can be infected with the virus, get sick and transmit it, as is the case for any vaccination against any mutating virus, something that has been publicly admitted by Greek Professor Dr Linou.
As you also know, to date no vaccines have been produced sufficiently and long-term against mutating viruses.
Moreover, in the specific case of this unlicensed experimental vaccine, the rate of deaths and immediate side effects is at unprecedented levels, which has never happened before in the history of Medicine with any other vaccine, according to official Pharmacovigilance data from Europe, with over 10,000 deaths and over 400,000 very serious side effects such as paralysis https://www.eyewideopen.org/?p=1306
Based on the above which are fully proven,
beyond any doubt as clear scientific data,
plus the additional results of adequate therapeutic intervention with protocols that include drugs, such as:
Hydroxychloroquine
indicative relevant study https://www.sciencedirect.com/science/article/pii/S0924857920304258
and
Ivermectin
(FLCCC International Team of Physicians who have collected all the data www.covid19criticalcare.com),
and while for the illegal and unscientific slander of the latter, the Indian Bar Association filed a lawsuit with the World Health Organization (https://indianbarassociation.in/wp-content/uploads/2021/05/Legal-Notice-to-Dr.-Soum Swaminathan_Chief-Scientist-WHO-1.pdf),
We ask you to immediately suggest our full protection,
of each member of the Hellenic Dental Federation,
the Panhellenic Medical Association, the Panhellenic Nurses Association, the Panhellenic Pharmaceutical Association, and the Panhellenic Association of Physiotherapists, and every employee in a health unit,
by safeguarding our professional position and our salary security,
both in the public and private sectors,
INDEPENDENT OF WHETHER WE HAVE BEEN VACCINATED OR NOT.
And we remind you of the violation of Greek and International law that results from the, scientifically unsupported and legally not at all justified, announcements of the Prime Minister and the President of the Greek Republic, regarding the obligation of vaccination.
If you do not defend us, we will have to resort to any legal means, in order for you and each of you, to take the responsibility due to the lack of action for the unprecedented circumvention of so much and so clear scientific evidence, as well as constitutionally guaranteed rights, both nationally and internationally, so you do not protect your members (us) from any illegal acts and psychological blackmail against us.
Waiting for logic and camaraderie to prevail on the basis of scientific evidence, against any external pressure for any reason, and informing you of the publication of this in the press,
Greek Scientists for Health and Freedom
Steering Committee and Collaborating Scientists
George Vergoulas, Nephrologist, Former Commander of AHEPA Thessaloniki Hospital
Pantelis Oikonomou, General Practitioner
Nikos Vakolidis, Orthodontist
Evangelos Nannos, IT engineer
Aris Christidis, Professor in German School of Informatics
Zafeiria Kakaletri, Dental Surgeon
Angeliki Galata, Nurse
Konstantinos Andreou, Nurse
Ioannis Aggelakos, Physiotherapist