Would you vaccinate your child if you knew that the Therapeutic Goods Administration (TGA) were hiding the deaths of two children, aged 7 and 9, in March 2022, following a fatal Pfizer vaccination?
Last year an FOI was lodged that asked for the one page causality assessments of reported deaths to the TGA of young people.
The Adverse Event Following Immunisation Assessment Team prepares these reports and can be considered the government's version of the truth.
There were ten reports provided in the FOI. Two of these reports had the outcome of "causality." They were for a 7 and 9 year old boy.
The TGA refused to publish this data on the FOI log. The person who lodged the FOI then took the TGA to the AAT (Administrative Appeals Tribunal) to get the information released, but like every other bureaucracy in the country, the AAT took the side of secrecy rather than transparency.
The deaths haven't been reported in the fortnightly Covid reports either. This decision has clearly been overruled by the bureaucrats looking to protect the narrative rather than our health.
I've been trying to get a mainstream media organisation to run this story for the last two months as this level of deceit needs to be exposed outside social media.
Unfortunately they pulled the story last Friday morning.
If the TGA can cover up the deaths of children from the vaccine what else have they covered up? I suspect quite a lot.
I will pursue this issue this week in estimates.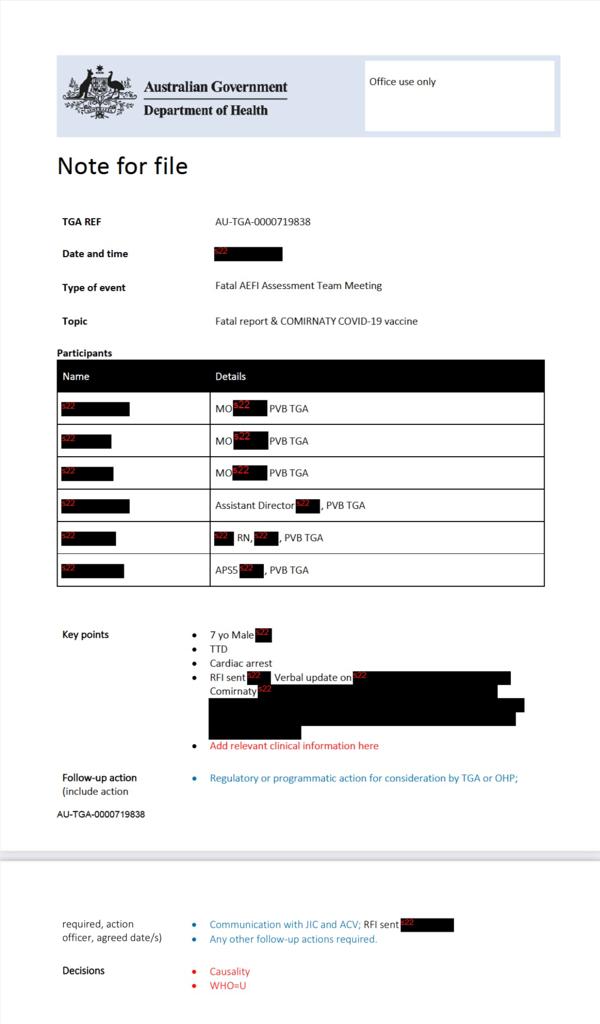 1. TGA's DAEN (Database of Adverse Event Notifications) does not specify that the children died
Below is what you will find by searching the DAEN database. As you can see the case numbers below match the 2 fatality reports above, and as mentioned there is a 5 year old listed too however we have not yet been provided with what that outcome was.
Further, you can see the 'reaction terms' however there is no reference to death at all.

2. The above information is from FOI 3845 and specifies the children's case numbers 734187, 724023, 719838 as cardiac arrests but doesn't specify death
Source – https://gerardrennick.com.au/tga-cover-up-child-deaths