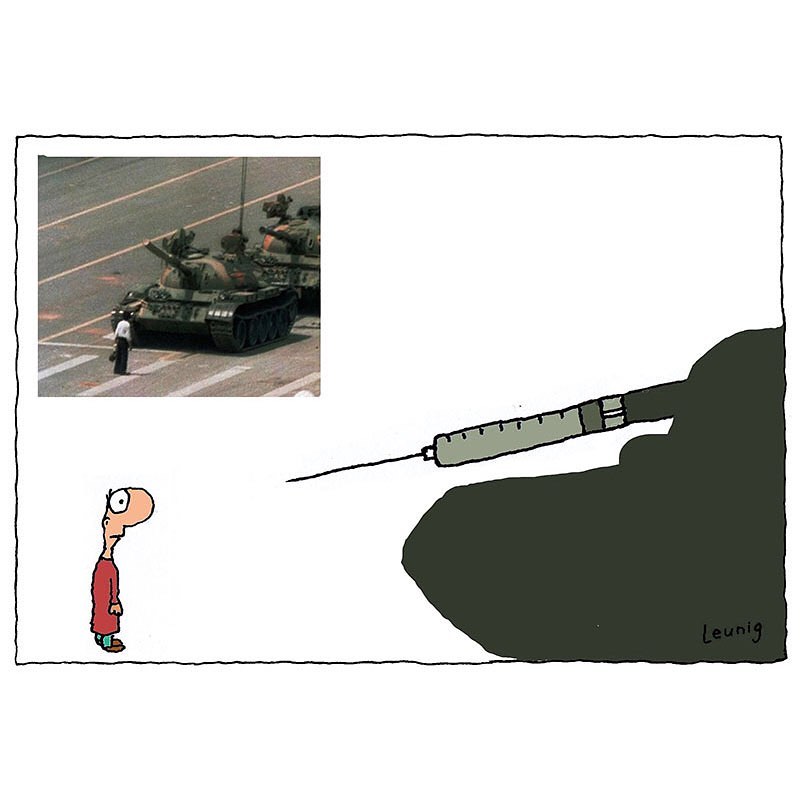 Controversial cartoonist Michael Leunig has been axed from his prime spot in The Age newspaper after a cartoon comparing resistance against mandatory Covid vaccines to the fight for democracy in Tiananmen Square was censored.
'Apparently, I'm out of touch with the readership,' Leunig told The Australian's Media Diary of his sacking from providing the editorial page cartoon in Monday editions of the Melbourne-based publication.
Leunig's cartoon, which never made the paper, featured one of his typically fragile, big-nosed figures facing the silhouette of a tank with a syringe in place of the gun turret.
In the top left corner, the 76-year-old copied the iconic 'Tank Man' image showing a Beijing demonstrator standing in the path of a column of tanks in 1989.
He posted the drawing on his Instagram page in late September with the word 'mandate', after it was rejected for publication by The Age editor, Gay Alcorn.
Leunig confirmed to The Australian he had been dumped from the editorial page spot, with the paper saying it was 'trialling new cartoonists' on the page.
'If what Gay says is right, I don't much want to work for the sorts of readers who are so censorious,' Leunig said.
'It seems that at The Age in particular, you can't go near the Covid story except in a way that's supportive of the Victorian government's handling of it. And if you're not supportive, that's reason enough for you to be cancelled."
Leunig revealed that 12 of his other cartoons, also about vaccines and the Victorian government, had been censored by the paper this year.