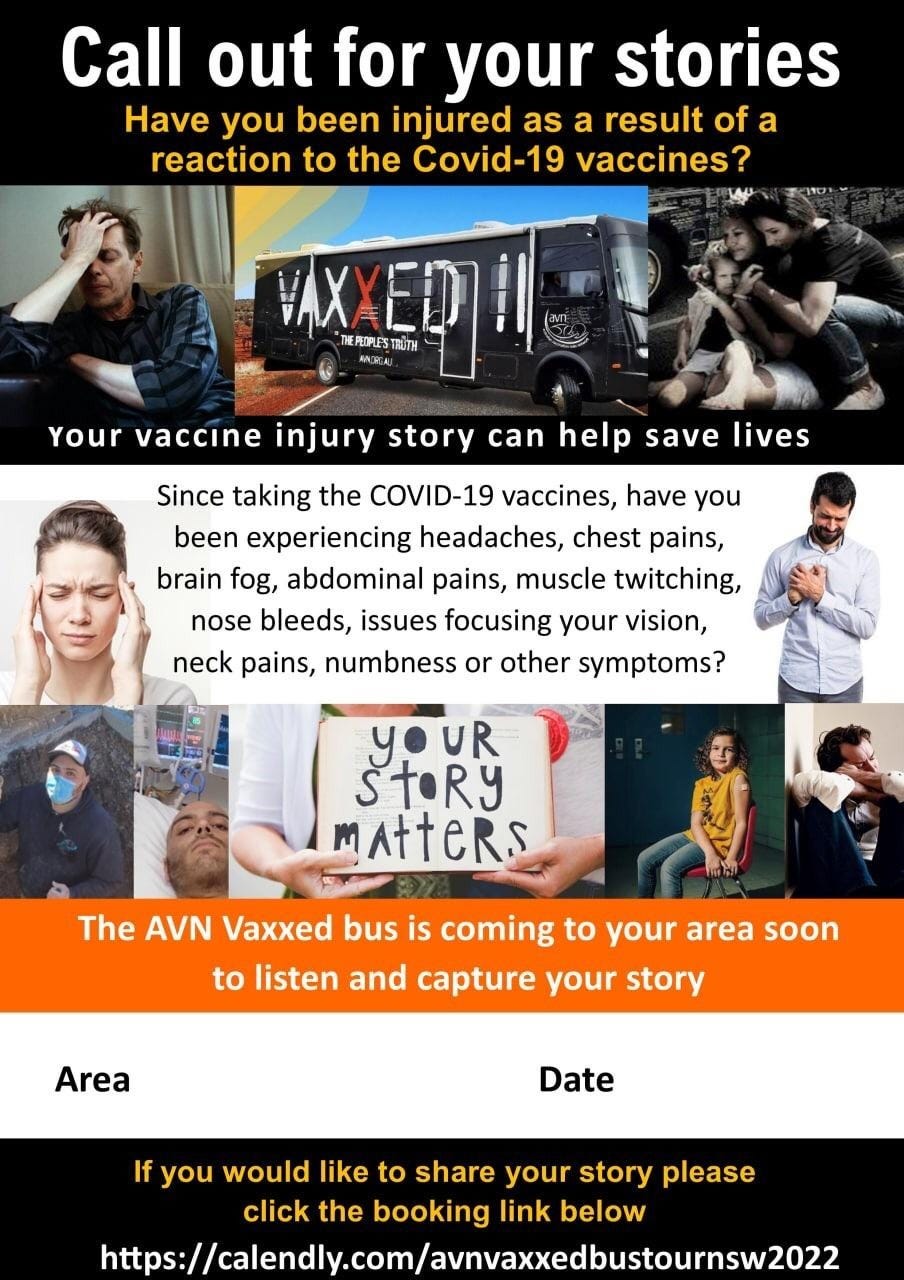 Two years ago, before lockdowns were really a 'thing', the Australian Vaccination-risks Network (AVN) planned on bringing its VaxXed Bus through NSW including the area encompassed by the Blue Mountains Shire. After all, we have a lot of members there and, from what I've been told, this is the area of the State with the lowest vaccination rate. We expected a warm welcome and respect for the rights of Council ratepayers to come along, meet the team and tell their stories of vaccine injuries, deaths and stories of those who did not take vaccines.
We had a local person volunteer his property for us to park the bus on and all was going really well until the council held an EMERGENCY meeting (I kid you not! Having people exercising their legal rights to speak freely constitutes an emergency!) at which a resolution was passed stating that the Vaxxed Bus was not welcome in the Shire nor would it be allowed on any Council property.
Sadly, before we could arrive at the lovely property that had been so generously loaned to us, lockdowns prevented us from getting to the Blue Mountains so Council was saved the embarrassment of finding how far outside of the legal limits they were actually operating.
That didn't stop them from meeting once again in the meantime, even though we had no plans at that point to go anywhere near their area, to reiterate that in no way, was the bus to enter the Shire – hobbits and elves would set upon us were we to even think of trying! It was a preemptive strike and, since we didn't try to go there, it was really effective, right?
Three Strikes – and we were OUT! Or…were we?
But once again, the AVN planned on visiting our friends in the Blue Mountains and boy, were they ever excited to hear that we'd be coming! Wanting to do the right thing, we applied for permission to park on Council land. The response was prompt and clear:
Blue Mountains City Council has made resolutions on the VAXXED bus and activities before. Please see the minutes from the Ordinary Council meetings on our website for 28 July 2020 and 27 October 2020. I have reproduced those resolutions from the minutes below.

The Mayor of the City of the Blue Mountains will be taking a Mayoral Matter of Urgency to the next meeting of Blue Mountains City Council directing that no council owned land be made available for this.
They were so terrified that we might drive onto the hallowed ground and speak with their ratepayers who wanted to speak with us, they were holding yet ANOTHER meeting to make it really, really clear – like, so clear nobody could possibly misunderstand – that the bus was not to come even an inch inside of the Council's borders. Right.
The AVN's President, Nadine Sisterson, wrote to provide the Council with information about what the VaxXed Bus is all about and to ask to present at the meeting and/or meet with the Mayor. His response was nearly immediate:
Hi Nadine

I am not available to meet with you.

I will present my Mayoral Minute to Council tomorrow night and I am very confident it will pass.

Regards
Mark
Cr Mark Greenhill OAM
Mayor, City of Blue Mountains
Brave fella!
I guess he knew the other councillors and how powerful their fear of anyone learning the truth about these experimental jabs was because sure enough, the motion to bar the Bus once again passed. And, once again, it won't make a darned bit of difference because, not only will we be in the Blue Mountains (at Katoomba, as a matter of interest), but the curiosity and ire of the local citizenry have been raised and we found an incredible amount of support from the community. Huzzah, Cr Greenhill – you have been at the helm of a backfire of epic propertions! Well done YOU!
Monkey See, Monkey Do
Inspired by the bastardry of the Blue Mountains Council, no doubt, two other Councils jumped on the 'let's stop free speech and democracy' bandwagon – Hilltops and Young.
Luckily, just like we found in the Blue Mountains, this attempt at oppression by people whose role is to pick up the garbage and close up potholes has backfired beautifully!
Local supporters have provided us with not only accommodation but also with a location at which to speak with those in the area who want to meet us and share their stories.
Freedom: 3
Tyranny: 0
If you would like to share your opinions about the actions of these petty dictators (Please, keep it civil. We are better than they are!) you will find their email addresses below.
In the meantime, here are a couple of really good articles about this situation showing that some people have not been fooled into believing that councils can do as they please to Australians. I have had several others shared with me in hard copy and I'm going to try to get the files for them because ain't nobody got time to type those things up!
If you write to the councils, feel free to share the same letter to all 3 (just change the location) and if you can, cc or bcc me your message at admin@myinformedchoice.com.au. It will make my day, week, month and perhaps even year!
We Must Protect The Fear: Meet Its Protectors
Mayor to Ban Group From Holding Events Due to Their 'Dangerous Vaccination Misinformation'
Lastly, I am leaving on Monday for the start of this VaxXed Bus tour of NSW. Bookings are essential as only those who book will receive notification of the exact location. We would love to see you and speak with you/share your stories. So please click this link to book if you are anywhere along our route and whether you are or are not, your sharing of this information would be such a huge help! Your stories matter! In fact, they can save a life. So please come along and tell others too.
Feel free to print out this flyer, put in the closest location (click here to see them all) and distribute in your area.
Source – https://informedchoice.substack.com/p/some-councils-believe-they-have-the?r=l7og0&s=w&utm_campaign=post&utm_medium=web